In today's article, we will focus our attention on El Salvador's typical food. Of course, their cuisine is varied and there are many more dishes to talk about but we have compiled the top 5 so that next time you want to pay a visit to this amazing country, you will know where to start.
Learning About Food Makes Your Learning Fun
Learning a language through Gastronomy can be fun. When going out or gathering with friends, we almost always have food to eat or snack on. Imagine how fun would it be to order in a different language, to cook with a native without needing to translate, to have your shopping list in a different language, or to be able to participate in gastronomy activities in another country without having to worry about the language. You can even impress your family and friends.
So let's get started with our top 5 typical foods
Pupusas
Pupusa is the #1 well-known food from El Salvador, so much that even Leonardo Dicaprio, in an interview, said that it is one of the best things he has ever tried! Its reputation has crossed borders!
Pupusas are tortillas made of corn or rice dough. Similar to Mexican tortillas but these are thicker and stuffed with different ingredients such as:
Cheese
Cheese with beans
Revueltas which is a mix of cheese, pork, and vegetables
Loroco which is a flower found in El Salvador
Chicken
Fish and many more options…
You may wonder which type of dough to go for, both corn and rice are delicious but corn seems to be more popular.
You eat Pupusas with your hands! No need for a knife and fork, and make sure you eat them with curtido de repollo (seasoned cabbage) and with tomato sauce to have a full and wonderful experience.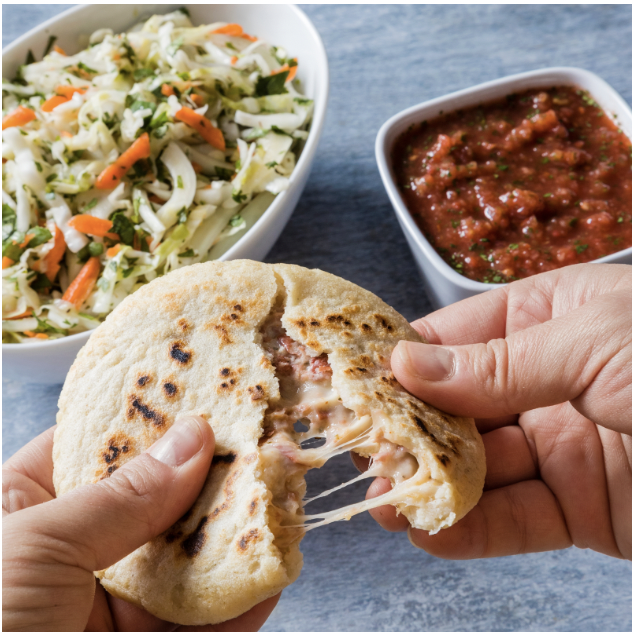 Yuca Frita/Fried Yuca
Once you see them and try them, you can say they are like the french fries of El Salvador. Yuca Frita is fried yuca (Cassava) and it is served with raw cabbage with lemon or "curtido" like the one for pupusas, tomato sauce, and some slices of cucumber, radish, and tomato. You can top it with chicharrones (fried pork skin) or small fried river fish.
This combination is amazing! You will love it. We can say Yuca is a sweeter and firmer version of potatoes.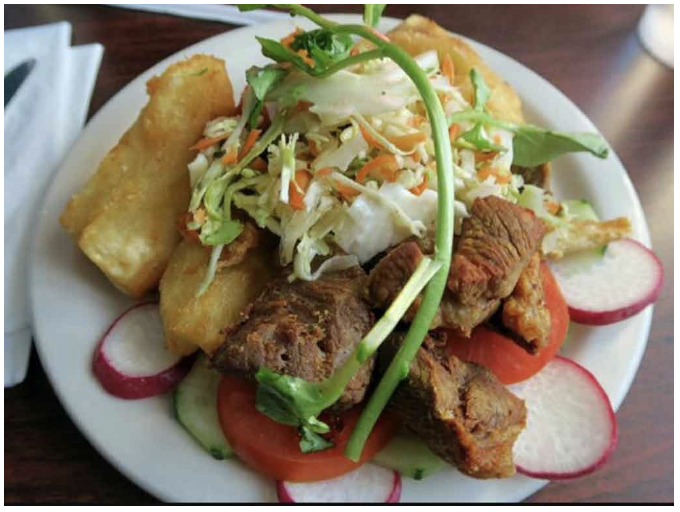 Sopa De Pata or Cow's Foot Soup
This is a very delicious soup. Many families in El Salvador have it on Sundays but you can have it any day of the week.
This soup is made with hearty tripe and cow's feet, it is cooked with vegetables such as Yuca (but not fried like the one we previously learned about), corn, plantains, beans, tomatoes and cabbage.
You can add lemon juice to it and the cilantro gives it the perfect flavor. Some locals also call it "Sopa Levanta Muertos" which translates to "Soup that raises the dead" because it is famous for magically curing a Sunday morning hangover!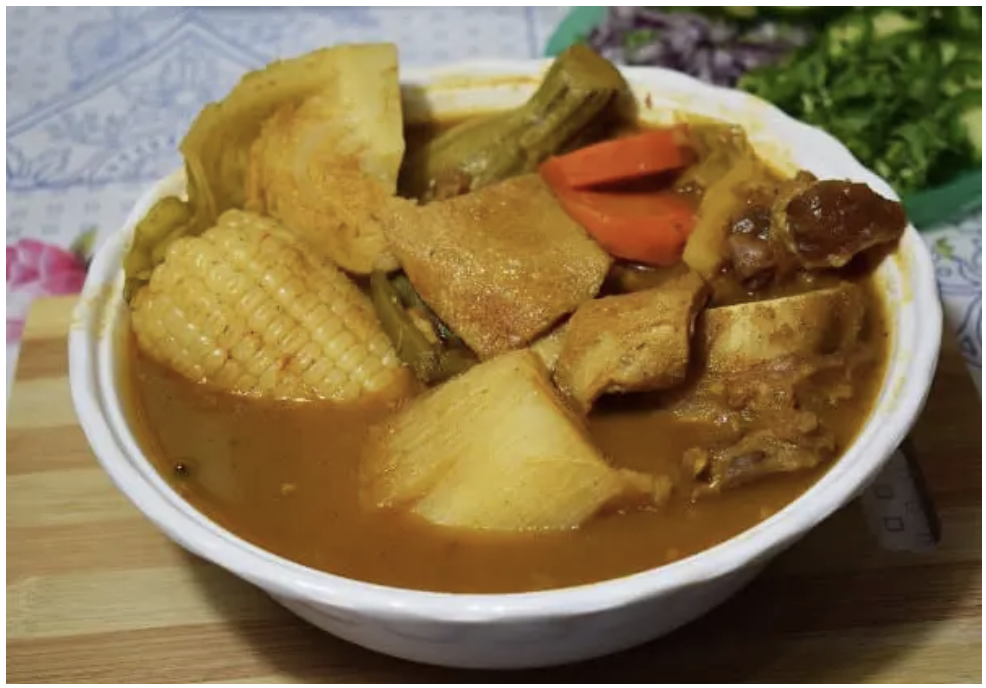 Panes Rellenos - El Salvador's Sandwich
This is a pretty easy-to-prepare dish and its exquisite taste has made it become one of the most popular dishes in El Salvador. The secret to its amazing flavor is its sauce.
It is served in a french bread opened in the middle where you can add either roasted chicken or roasted turkey with fresh vegetables (Fresh tomato, cucumbers, raw onion, watercress, shredded cabbage, radish and, on occasion, hard-boiled eggs) and then add a ton of tomato sauce that has been previously prepared with spices so that you can have a full experience. Don´t worry about making a mess on your plate!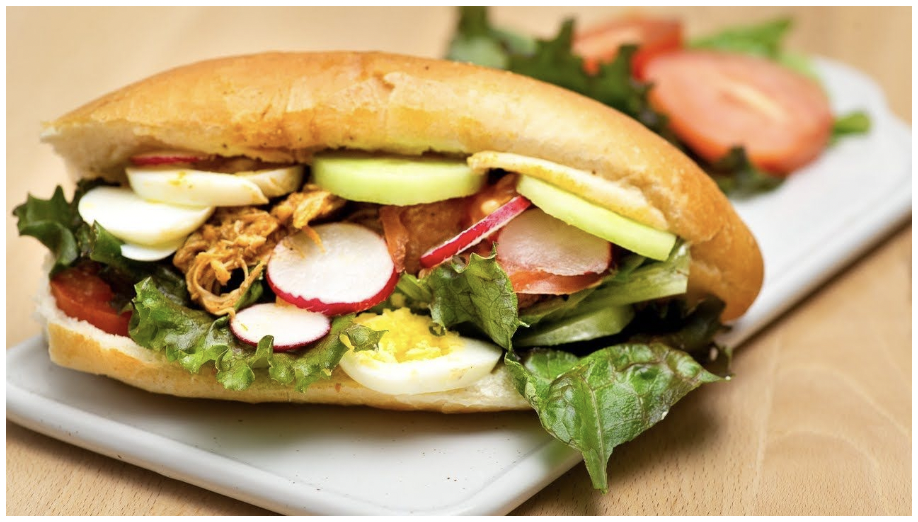 Empanadas de Leche – Salvadoran Plantain Empanadas with Milk Filling
Now time for something sweet! I love empanadas de leche! This is a very good option if you want something to eat with your coffee in the afternoon but really just any time is perfect to enjoy it because they are irresistible.
It is super easy to make! It is ground plantain shaped into small oval balls and stuffed with a milk filling. After you have fried them, sprinkle a little sugar on top.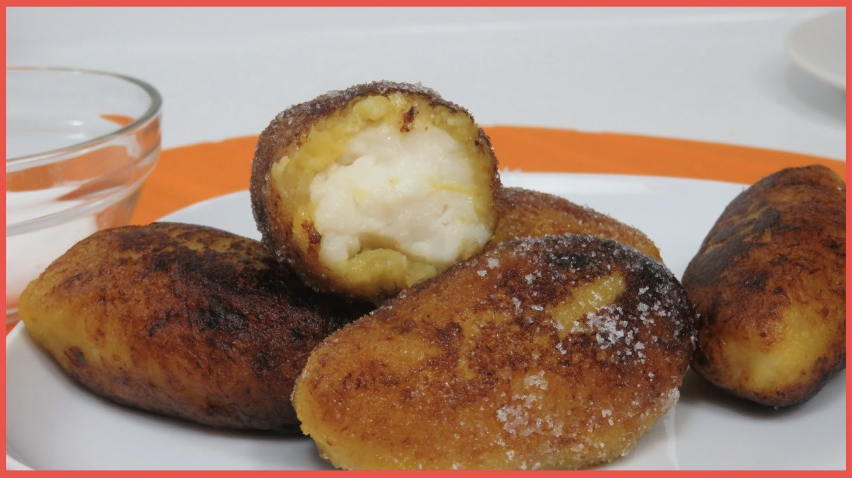 Conclusion
There you have it! The top 5 typical foods of El Salvador. Learning a language is fun and learning about the gastronomy of all the different Latin American countries makes it more fun. You can get to try different amazing dishes and learn vocabulary on the way.
What do you think about online classes? I would love to read your comments in the section below and if you would like me to help you to learn more about my country, book a class with me. I would love to tell you more about my country.