Sometimes, you suddenly really want to learn a new language or elevate the one that you learned in school. You know that language is always going to be a useful skill to have, whether for personal interest, study, or work in the future. So, you go online, and see all these annual package deals for online lessons or ads for local language schools miles away. Then, you realized you might not be that committed after all...
Well, what if we tell you that you don't need to be? There's no need to feel pressured or burdened to learn a language. On italki, all new learners get 3 Trial Lessons. You can learn any language you want, with a professional teacher anytime, and get a huge discount.
Here are 3 Benefits of Trial Lessons.
Start learning for less - Trial Lessons give you the opportunity to meet different teachers at a discounted price. Every new learner has 3 Trial lessons, sometimes starting at $1. Plus, trial Lessons never expire, so you can take all the time you need to explore.
Find the best teacher - Trial Lessons are designed to give you the chance to try out various teachers. Teachers on italki have different backgrounds, personalities, and teaching styles. You'll find the one that suits you best in no time.
Talk to a real person about your goals - With Trial Lessons, you can talk with your teacher about your learning habits, goals, and plans. Then, your teacher will make a customized study plan according to your needs. This way, you can learn more effectively.
Bonus: A Step-by-step Guide on How to Use italki Trial Lessons
Step 1 - Check how many Trial lessons left
Every new learner has 3 discounted Trial Lessons. You can check the quantity of Trial Lessons left on your dashboard.

Step 2 - Choose a teacher who offers Trial Lessons
On the teacher search page, you can filter where teachers are from, what languages they speak, the lesson price, and more. Check which teachers offer Trial Lessons, then check their introduction video and student reviews to see if they suit you.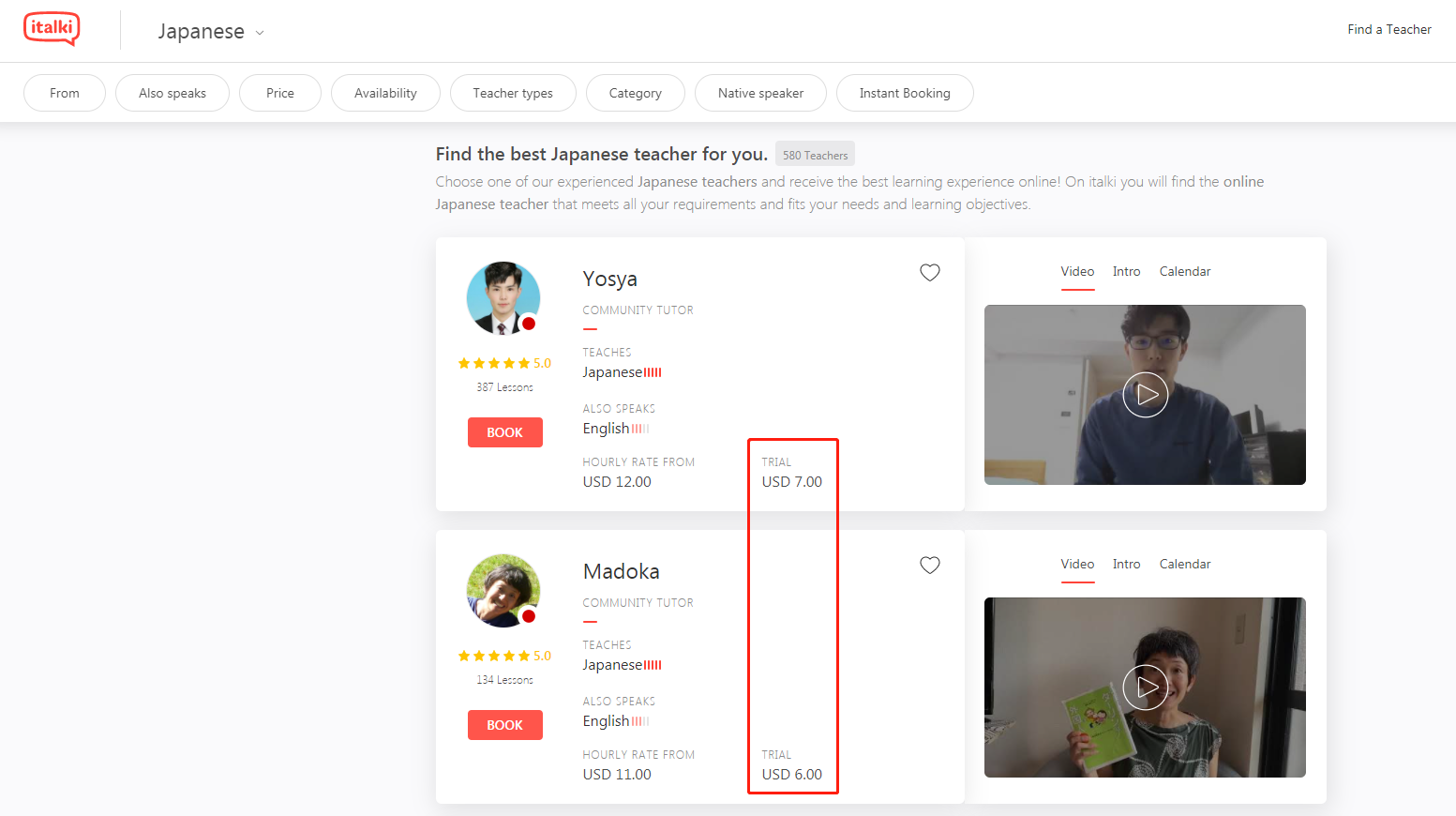 Step 3 - Choose the trial lesson
Teachers on italki usually offer lessons for different levels (beginner, intermediate & advanced) and various skills (conversation or grammar). Book a trial lesson that fits your needs and embark on your language earning journey!