What's CAPLE?


The CAPLE (Centro de Avaliação do Português Língua Estrangeira) exams are an official certification system that assesses competence in Portuguese as a Foreign Language (PLE). The certificates resulting from the CAPLE examinations are the only Portuguese language certification recognized in the European framework.
Who can take the CAPLE exam?


To be eligible to take the CAPLE exam, you need to be 14 or older, and not be a native Portuguese speaker. If you are from a non-Portuguese speaking country, you automatically qualify. If not, you need to fulfill two of the following conditions:
Your parents' first language is not Portuguese.
Portuguese is not your first language.
Portuguese is not your main language of communication.
All or part of your basic or secondary education was not in Portuguese.
Exam Levels
There are six CAPLE exams you can take, which are aligned with the six CEFRL (Common European Framework of Reference for Languages) proficiency levels numbered A1-C2. Each different exam certifies a different level of proficiency.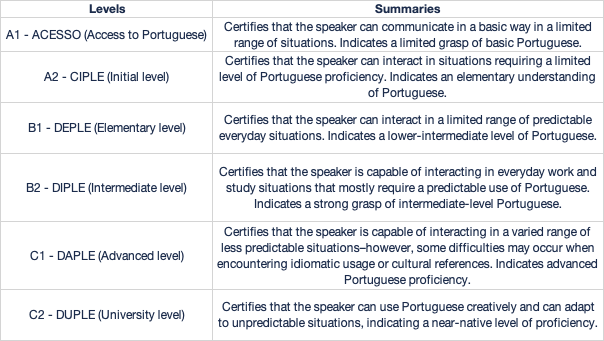 Exam Format


Depending on the level, the CAPLE exam is broken into either four or five parts.

Scoring


The minimum passing mark to receive the certificate or diploma for any test is 55%. Four categories of results dictate how well a candidate does.

Exam Time


The exam times vary slightly each year. To view the latest exam times, please refer to the official website https://caple.letras.ulisboa.pt/epocas
How to Apply


To register for the CAPLE exam, you need to find an authorized test center. There are about 100 centers in 35 countries around the world. All of them are inspected and authorized by CAPLE to conduct exams.
You can register here https://caple.letras.ulisboa.pt/exames
italki brings professional Portuguese language teachers directly to you. Practice your Portuguese and prepare for the CAPLE exam. Click on the link below to find the right teacher for you.