Textbooks play a major role while learning any foreign language. There are tons of books available online these days and digitalization have made it super easy to access them with just a few clicks. Yes! It is now possible for you to learn Korean through textbooks.
Despite all the technological advancements, learning through textbooks is still beneficial. In fact, many textbooks are now available in digital form making it easier for readers to access them.
In this guide, we will explore some of the best books to learn Korean. Read it till the end and you will end up with a list of 11 different textbooks that you can use if you are a Korean learner.
We have also mentioned features of every book so that you can have an idea regarding what you are going to learn from particular books so let's get started!
Living language Korean (complete edition)
Suitable for: General audience
Features: Numerous books, audio CDs, additional learning materials
This Korean textbook has received overwhelmingly positive feedback, and it is easy to see why. It is more than just a textbook in fact it is a complete learning package. When you buy "Living Language Korean," you get four books, nine audio CDs, and a free "Language Lab" with extra learning materials like quizzes, games, and flashcards. Sounds cool, right?
Complicated grammar and difficult vocabulary are broken down into manageable chunks and explained simply and clearly. With this one complete course, you can progress from beginner to advanced, using techniques that have been proven effective by research and experience over time.
If you want to teach yourself Korean, this complete course can be a great tool for you to achieve your desired goal. Get your complete edition today and start the learning process.
Integrated Korean: Beginning 1
Suitable for: Learners at beginner level
Features: Additional workbook and audio files
This textbook is ideal for complete beginners with no prior Korean knowledge or experience. It was developed by Korean linguists and teachers and employs effective teaching techniques to convey information.
Lessons are organized around specific topics, and each one includes a dialogue, relevant vocabulary, grammar explanations, cultural notes, and an additional passage to really put the new information into context.
Based on user feedback, each new edition of the book has been improved and enhanced. The book now includes appealing visuals as well as an accompanying workbook. You can also download audio from the website or purchase it on CD.
The dialogue feature of this book is great to improve Korean pronunciation, as listening to people speaking Korean makes it easier to pronounce Korean words easily.
Korean Made Easy for Beginners
Suitable for: Learners at beginner level
Features: Quiz sections and audio files
This textbook is designed to be finished in a short period of time. It includes 20 lessons, a list of the top 38 Korean phrases, and a link to audio files for pronunciation assistance.
The textbook progresses to basic conversation skills through listening, writing, and reading instruction, with opportunities to assess your progress. Lessons are easily completed as part of a self-study program.
Due to its cartoony and eye-catching interface, this book is one of the best books to learn Korean for children.
Korean for Dummies
Suitable for: People learning Korean basics for business or travel
Features: Attached CD and Korean-English mini-dictionary
The classic "Dummies" series is based on the idea that learning should be enjoyable, and the Korean version is no exception. This "anti-manual" provides an inspiring and effective method for quickly learning the fundamentals of the Korean language and communicating.
It is simple and enjoyable to study Korean with this text. It includes useful vocabulary and idioms, phonetic spellings of Korean words, a review of common sentences and expressions, and cultural and business etiquette tips.
The book comes with a CD with recorded Korean dialogues to help you improve your Korean pronunciation and listening skills.
Essential Korean Vocabulary
Suitable for: People learning Korean vocabulary
Features: 8000 vocabulary words and tips to improve vocabulary
This user-friendly vocabulary book is ideal for beginners who want to improve their spoken and written Korean fluency. The words are organized into topics and include numerous examples to help you understand how to use them in context.
This book will get you started on learning the most common Korean words and expressions, whether you're studying alone or with a tutor. You can use this book to its full potential by making your own flashcards to memorize the vocabulary.
A Handbook of Korean Vocabulary
Suitable for: People learning word recognition and comprehension
Features: Pronunciation guide and root dictionary
The book "A Handbook of Korean Vocabulary" assists second language learners in remembering Korean words by their roots.
This "root dictionary" contains over 1,500 words indexed into lists and is arguably the most effective approach to learning Korean vocabulary. Each list is organized around a specific Hanja/root morpheme and contains a collection of words derived from that root.
If you understand the root system, Korean words are very logical. This system accelerates word recognition, helps you memorize words more quickly, and can even help you guess the meaning of new words.
The Kpop Dictionary
Suitable for: People learning Korean phrases & slang
Features: Pronunciation guide
You are not alone if you are interested in Korean culture and language because of K-Pop. This book is appropriate for Korean learners who enjoy listening to K-Pop. (Even if you're not a big fan, using music to study can be a fun way to spice up your studies!)
This vocabulary/workbook contains 500 modern Korean slang words found frequently in K-Pop music. Be aware that no grammar instruction is provided here. In addition, the example sentences are presented in English with only one Korean term.
Korean Short Stories for Beginners
Suitable for: Reading for beginners
Features: English translation guide and audio files
The textbook "Korean Short Stories for Beginners" is fantastic. This collection of 30 engaging, entertaining stories includes paragraph-by-paragraph translations, allowing beginners to study each paragraph as they go and identify unfamiliar characters.
The book's goal is to teach over 1,500 essential vocabulary words through these short stories. Many common sentence structures and grammar concepts are also used in context. Each story is accompanied by audio files read by a native Korean speaker.
If you are looking for a suitable Korean tutor, italki is the best place for you. Here, you can learn Korean from the best teaching resource (mostly native speakers) making it easier for you to start from scratch. Book your lesson plan with just a few clicks and learn Korean at your own pace.
Find Your Perfect Teacher
At italki, you can find your Korean tutor from all qualified and experienced teachers. Now experience the excellent language learning journey!
Book a trial lesson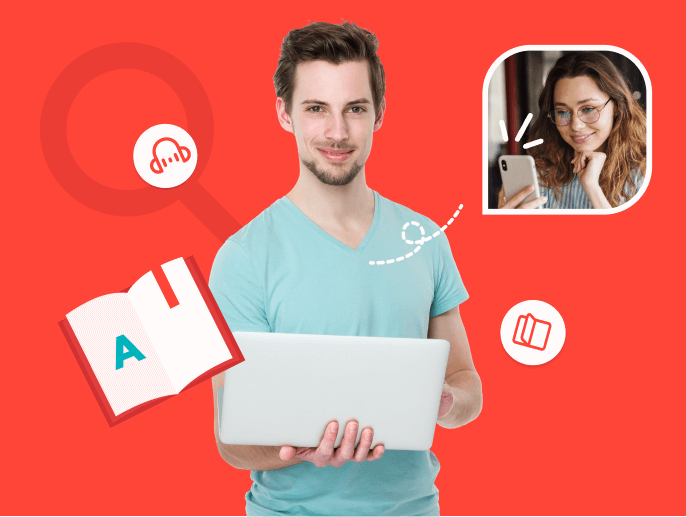 Selected Reading in Korean
Suitable for: Reading for advanced learners
Features: Pre- and post-reading activities, English translations, Korean-English wordlist
This text is designed for students who have completed a fourth-year level of Korean, or approximately 500 hours of study. "Selected Readings in Korean" is ideal for advanced students who want to read authentic Korean material.
You will find a very helpful presentation of Korean traditions, culture, and society throughout the 18 comprehensive lessons. Pre-reading activities, authentic reading texts, explanations of key vocabulary and idioms used in the extract, extensive exercises, and group activities to elevate discussions are all included in each lesson.
Read and Speak Korean for Beginners
Suitable for: Reading and speaking skills for beginner
Features: Flashcards, audio files, games, and puzzles
This book's most recent edition is a refined textbook course designed to make the Korean language learning more approachable for beginners. The textbook covers eight major themes that will get you talking about everyday topics like yourself, your family, directions, descriptions, and more. It is also visually appealing, with elegant illustrations that demonstrate key terms and words during lessons.
Along with the textbook, you will have access to games and puzzles to help you relax while studying. This textbook also comes with flashcards, making it a complete package.
Let's Speak Korean
Suitable for: People developing Korean speaking skills
Features: Audio files
If you want to learn a lot of expressions and phrases in a short amount of time, "Let's Speak Korean" is the book for you.
It aims to teach over 1,400 Korean expressions to beginners. It also includes "grammar guide marks," which clearly connect Korean words to their English translations within larger sentences.
Although no formal grammar instruction is provided, the guide marks help learners gain a more natural understanding of Korean grammar. You can construct your own sentences once you have learned enough phrases!
Conclusion
These 11 books are among the list of best books to learn Korean. They are also helpful if you are looking to learn Korean verb conjugation. Remember, reading Korean books can help you put your Korean language studies into context.
No matter if you are learning the language because you enjoy Korean culture or want to travel to a South Korean city for business, these textbooks can take you a long way!
Want to learn a language at italki?
Here are the best resources for you!