Simply eating can be an excellent way to begin incorporating French culture into your life. Food is a great way to connect with people. You can learn French by yourself to know about French food and drinks and select the restaurant to order the food you like.
Whether you are looking for something traditional, local, or completely new, chances are that you are staying in a French city that has a dish that you have never tasted before. Before learning, how to order food in French, it is important for you to know how to select the restaurant.
Selecting the restaurant
There are many different types of places to eat throughout the French-speaking world. Depending on the type of meal and experience you want, you can choose from a wide range of restaurants, from fancy high-class restaurants to casual ones.
If you travel to rural France, you are likely to come across an auberge or an auberge de campagne. The auberge is similar to rural food at low prices. It is typically small in size and attached to a local hotel or bed and breakfast. Food is typically prepared using local ingredients, so if you are looking for a truly authentic experience, an auberge could be ideal.
When you think of eating in France, you might imagine a traditional brasserie with tables spilling out onto the city streets. The brasserie, one of the most well-known French eating establishments, can be visited from late morning until late at night and will most likely serve every type of meal. The brasserie always has a variety ready to serve, from coffees and wines to course feasts.
If you want something a little more formal, go to a French restaurant. Typically specializing in one type of food, the restaurant has separate lunch and dinner services, closing in between to allow staff to clean up and prepare for the next influx of guests. Although prices vary greatly, you can expect a slightly more formal experience than at other types of restaurants.
Reserving a table in your selected restaurant
Restaurants in larger cities are more likely to be crowded, especially on weekends. Booking ahead of time can save you from long lines and disappointment. Simply say, "Bonjour, je voudrais réserver une table, s'il vous plaît," when you call the restaurant (Hello, I would like to book a table, please). The person taking the booking will most likely ask, "Pour combien?" (How many?), to which you can respond with the number of people. For example, you could say, "Pour quatre personnes" (For four people).
Following that, you will be asked, "Pour quand?" (For when?), to which you can respond with your reservation date and time. If you want to eat at the restaurant that evening, you can say, "Pour ce soir à 20h" (For this evening at 8 p.m.). Finally, you'll be asked for your name (A quel nom?) and must respond with your surname.
Finding your reserved table
When you arrive at the restaurant with a reservation, approach the maître d' and inform them that you have a table reserved:
I have reserved a table for…
(I have reserved a table in your honour…)
If you don't make a reservation ahead of time, you can eat out in France and find a table on the spot. When French speakers enter the restaurant, you might hear them say, "On est deux" (There are two of us). They are simply informing the maître d' that only the two people present will be dining and that no additional guests will be added to the table.
If you walk into a brasserie that serves both food and drinks, you can tell the waiters where you want to sit by saying one of the following:
On va juste boire quelque chose (We will just have a drink.)
On va manger quelque chose (We will eat something.)
Searching out food from the French menu
French restaurants operate in the same way that restaurants around the world do. The maître d' will usually seat you and then direct a waiter or waitress to take your order.
When interacting with your French waiter or waitress, there is nothing to be concerned about. To receive excellent service in France, simply maintain a polite tone of voice and always thank your waiter. "Excusez-moi?" draws the attention of your waiter. (Excuse me?), and don't forget to say "S'il vous plaît" (please) after you've placed your order.
Here are some helpful words for directing the menu:
La carte — Menu
À la carte — From the menu
Prix fixe — Set menu
L'entrée — Appetizer
Le plat principal — Main dish
Le fromage — Cheese plate
Le dessert — Dessert
Le digestif — After-dinner drink
There are two types of menus to choose from when dining in France: à la carte and prix fixe.
A la carte selections, which literally mean "from the menu," can consist of any type of meal combination of your choice; you can choose whatever starter, main course, and dessert you want.
The prix fixe menu consists of a set menu with a number of different meal combinations at a fixed price. Although there are fewer options on this type of menu, they are typically less expensive, and it can be an excellent way to sample an authentic selection of French foods.
If the words du jour (of the day) appear after a menu option, it means that the type of dish changes every day. In that case, you should ask your waiter what's on the menu that day. The soup of the day is frequently a popular choice, and there are usually a variety of flavor options available.
Some options related to drink
Le café — Coffee
Le thé — Tea
La bière — Beer
L'eau — Water
Le vin — Wine
There are a few options to consider when ordering water with your meal. Simply asking for a carafe d'eau (jug of water) will result in a pitcher of water drawn directly from the tap. It's unusual for a restaurant not to serve tap water, so if you want a palate cleanser after your wine, order some. If you want bottled water, you can choose between the plate (still) and gazeuse (sparkling). If you do not specify, your waiter will typically ask which one you prefer.
In France, ordering at a café will bring you an espresso, so if you want something with a little milk or something extra, you must specify it. Un cappuccino, predictably, will yield a cappuccino, whereas un café crème will yield a white coffee—somewhere between a latte and a cappuccino.
Some options related to food
Here are some foods you might see on the menu:
Le fromage — Cheese
Le pain — Bread
Le poisson — Fish
Le bœuf — Beef
L'agneau — Lamb
Le poulet — Chicken
Le porc — Pork
Les légumes — Vegetables
Les pommes de terre — Potatoes
La glace — Ice cream
La pomme — Apple
Les fraises — Strawberries
La banane — Banana
Le riz — Rice
Les pâtes — Pasta
La soupe — Soup
If you want a steak, you may notice that some restaurants serve it haché. This simply means that the meat has been chopped up or ground, giving it a slightly different texture than traditional beef steaks. Eating in France in the fall or winter is a great way to try a étouffée dish. This is a great way to sample local delicacies because many towns use different stew recipes depending on the region.
If you are worried about ordering food in French, you can enroll yourself in italki's learning sessions. With italki, you can learn French online with the assistance of online French tutors. They will not only help you improve your French food vocabulary but also train you to order your food like native speakers.
Find Your Perfect Teacher
At italki, you can find your French tutor from all qualified and experienced teachers. Now experience the excellent language learning journey!
Book a trial lesson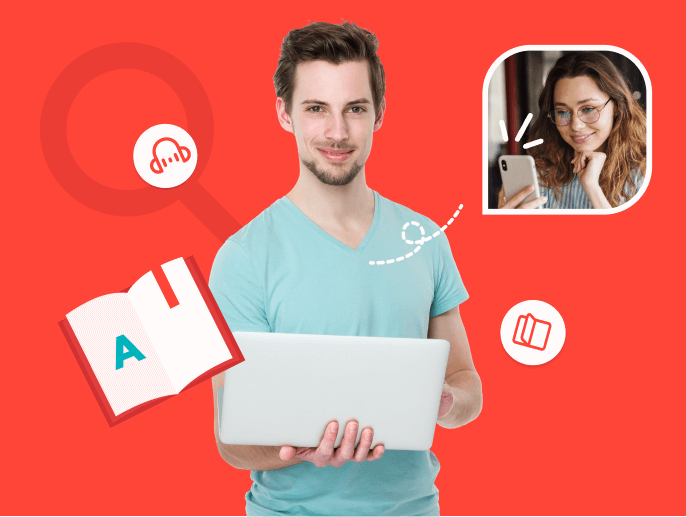 Ordering your meal in French
After successfully ordering drinks and selecting from the menu, it's time to order food. Here are some phrases to help you get through the rest of your meal:
Je voudrais — I would like
Je prendrai — I will take
Je n'ai pas choisi — I haven't chosen
Une minute encore, s'il vous plaît — One more minute, please
Qu'est-ce que vous recommandez ? — What would you recommend?
Quelle est la spécialité du jour ? — What is today's special?
Rosé — Rare
À point — Medium
Bien cuit — Well done
C'est terminé — I/We have finished
L'addition, s'il vous plaît — The bill, please
If you order a steak, your waiter will ask you "Quelle cuisson? While rosé, à point, and bien cuit will get you a rare, medium, and well-done steak.
Finishing the meal
The process of finishing a meal in French restaurants differs from that of other countries. The bag service is extremely rare in French restaurants, so if you don't finish your meal, you probably won't be able to take it home with you. While some restaurants may accommodate your inquiries, many French diners believe that if you don't finish everything on your plate, you didn't want to eat it.
Watching authentic French videos can help you understand a little bit more about proper etiquette. There are particular ways to say thank you in French that you can learn by watching French media.
Conclusion
If you get a chance to visit France or a French-speaking country, then there are some fantastic ways to learn the language, for instance, you can start learning how to tell the time in French and gradually move towards advanced factors.
Want to learn a language at italki?
Here are the best resources for you!