Do you want to learn Italian? Learning a language is always something to look forward to, but it's not an easy task. But don't worry, today's technology makes it easy for you, you just need your Android or iOS smartphone to learn the language. There are thousands of language apps to help you learn Italian online easily and quickly (both free and paid). And because we want to help you as much as possible, in this article we speak about the best apps to learn Italian to help you make your choice and learn the language easily.
1. Mosalingua
One of the apps you can't miss when it comes to learning foreign languages is Mosalingua. Mosalingua has an app version dedicated to each different language you want to learn. The app uses the Spaced Repetition System (SRS): this is a scientifically developed learning method that is based on repetitions.
We all know that the more we repeat something, the more likely we are to remember it. However, few know the most useful way to do your revisions without running the risk of forgetting the content quickly. The worst way to learn something is to repeat the same information 10 times just before an exam, as you tend to forget it a few days later. For the information to be stored in your long-term memory, it is important to define the time slots for each review. For example, a person might spend 5 minutes on their first review, resume reviews 7 hours later, then 3 days later, then again after 10 days, and finally after a month. Until the words are stored in his or her long-term memory. This plan can be calculated by observing and studying the forgetting curve, which allows you to review a concept or a word just before forgetting it, making revisions with defined time intervals.
If you haven't started your Italian lessons yet, you can try Learning Italian for beginners for free. This app allows you to access totally free offline lessons where you can check the pronunciation of words, vocabulary, and more. All in a simple and easy-to-understand interface.
2. Mondly
The next app is Mondly. With this app, apart from basic learning such as vocabulary and others, you will be able to do it with interesting augmented reality games. But not only that. You can also have fictitious conversations of real situations, such as ordering in a restaurant, for example.
There are more than 1000 linguistic combinations so you can learn to speak up to a native level. You can practice real conversations to speak with fluidity in real-life situations in more than 50 situations and themes. You can find grammar exercises and daily lessons so you can practice every day.
3. Duolingo
You can't talk about learning languages and not talk about Duolingo. This famous app with more than a hundred million downloads gives you several games and different ways to learn the language so you can spend some time every day and learn the language little by little, but in leaps and bounds.
Duolingo teaches you to read, listen and speak another language effectively and efficiently. Combining the best of artificial intelligence and language sciences, the lessons adapt to your performance to help you learn at the right level and at your own pace. By feeling like a game and offering you fun challenges, we make it easy to form a language-learning habit. Plus, you'll always have the support and reminders of our friendly mascot, Duo the Owl.
Learning can be effective and fun at the same time! Develop your skills every day with entertaining exercises and endearing characters.
4. Babbel
In Babbel, you will also be able to practice everyday situations to learn to speak the language. Situations such as meeting someone on the street or going to a restaurant will be acted out, so you can practice without pressure. Of course, you also have your lessons which are only 15 minutes long, so you can do them in your downtime.
With this app, you can learn a lot of different vocabulary. With more than 200 lessons, it is sure to be a great way to reinforce the language or learn it from scratch. With more than 5000 phrases and expressions, it is clear that you can almost pass for a native Italian speaker.
You can practice with interactive dialogues on everyday life situations, create a study routine that fits easily into your schedule, and learn at your own pace with courses tailored to your level and needs.
5. Busuu
Another of those famous language-learning app is Busuu. With this app, you can access several Italian lessons and then have corrections, both written and oral from native teachers. This app is based entirely on vocabulary, you can learn words, expressions, or verbs of all kinds. Very useful for a quick moment.
Busuu's model combines self-study, live classes with expert teachers, and the opportunity to practice with more than 120 million native speakers worldwide, which has proven to be the best way to learn a language.
You can set a personalized study plan and get reminders to study using their expertly designed lessons. Another benefit from their smart technology is the review functionality, which tells you what and when to review. Self-study works because you're in control.
With Busuu you can practice the concepts you have learned in live classes. Their private or group classes cover a wide variety of topics, adapted to your level.
6. italki
If you want to learn Italian and improve your confidence in speaking it, then nothing beats what italki has to offer.
italki is a language learning app that allows users to get connected for free to its active community of native speakers who are all keen to help you out improve your skills while learning from you too. italki acts as a language exchange platform where you can simply write your heart out using the "notebook" feature and have native speakers correct your writing at no additional cost.
But this is not all italki has to offer! On this app, you will find more than 1,000 qualified Italian teachers and community tutors who are available to teach you during a wide variety of days and times. If you are more interested in getting a formal and structured lesson, you can also opt for the paid version, where you can book a professional Italian teacher or a community tutor for a one-on-one class at an affordable price.
Find Your Perfect Teacher
At italki, you can find your Italian tutor from all qualified and experienced teachers. Now experience the excellent language learning journey!
Book a trial lesson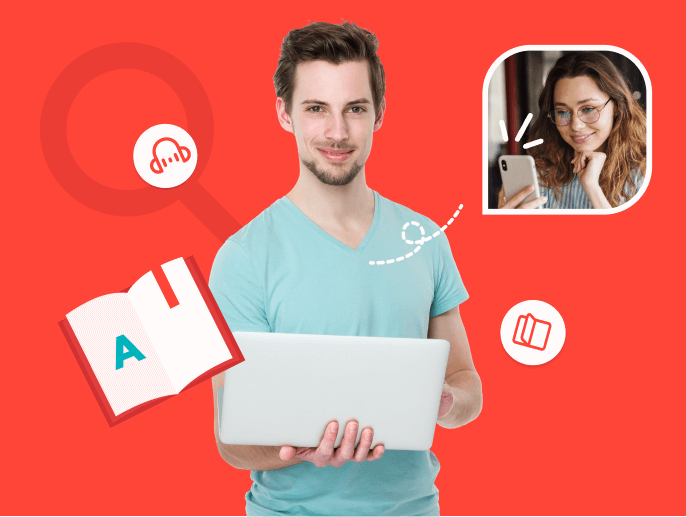 italki will help you to speak Italian with confidence. You can also interact with members of the italki community allows you to get some help, sharing your native language skills. Correct other students' work and get your exercises checked in return. Build real relationships across languages.
Learning Italian on your own
If you want to learn Italian, apps are an excellent choice. Another fascinating and effective thing you can do is learn Italian online with specialized Italian teachers. Our platform allows you to book 1-on-1 lessons at a time and place convenient for you. You can book a trial lesson to see how you can improve your Italian skills.
Want to learn a language at italki?
Here are the best resources for you!