If you are an Italian learner, you will be requiring the Italian translating app at some point. If you are planning a trip to Italy, you will surely need the translating app to convey your meaning to the people there and understand what they are saying.
While there is no substitute for actually learning the Italian language, whether, through a course or self-study, Italian translator apps can be an invaluable tool throughout your learning.
Translator apps can be used in a travel situation or while studying. It is a fast-paced world in Italy, and sometimes all you need is a quick English translation to catch up. But if your plan is to stay there for a longer time, it is more feasible for you to learn Italian online.
In case, you are confused about the right selection of online language learning platform, do visit italki. Here, you will find the best Italian teachers making it easier for you to learn the language in detail. You can also avail of the facility of a free trial with italki!
Find Your Perfect Teacher
At italki, you can find your Italian tutor from all qualified and experienced teachers. Now experience the excellent language learning journey!
Book a trial lesson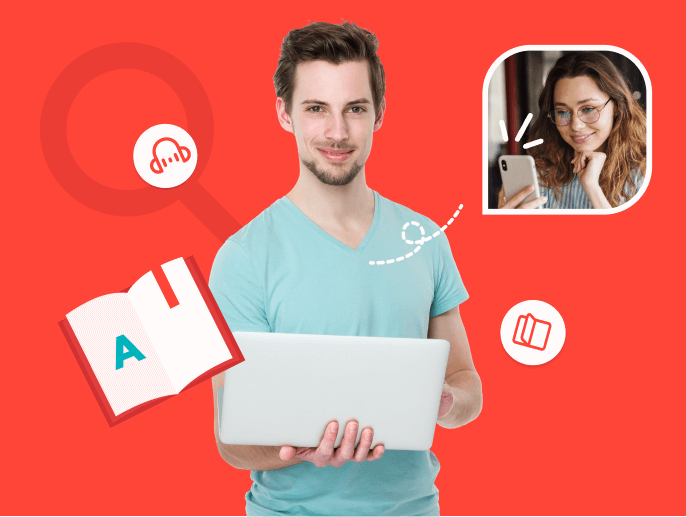 Now, let's explore some Italian translating apps that you can easily download on your smartphone.
Italian English Translator
The Italian English Translator app, which is available on Google Play, is one of the best apps you will ever find. This app has a nice, clean interface, which makes it extremely simple to use for quick Italian translation needs.
The Italian-English dictionary is a key feature of the app. With a single tap of the screen, you can search for almost any word and have it translated into either language. This dictionary is also available offline, so you can use it even when you are traveling around Italian cities, trying to figure out how to get to your next hotel or train.
This app also has a lot of useful features for people learning Italian. To begin with, Italian English Translator supports voice recognition, allowing you to simply say what you have heard in Italian and receive an instant translation. Even better, you can speak in English and the app will translate it into Italian and speak it back to you.
This app includes a Word of the Day feature, which allows students to expand their vocabulary in small, manageable lessons. Furthermore, with in-app sentence correction, you can see mistakes you have made in Italian and learn how to improve your Italian usage in the future.
You can learn Italian on your own using this Italian translating app. Its amazing features will enable you to improve your Italian vocabulary list.
Italian English Dictionary
The Italian English Dictionary app for Apple products is about as comprehensive as language translation apps can possibly get. This app has a dictionary with over 278,000 entries, which is quite a large number even when compared to the competition. This means that if you ever need to translate something into either language, this app will undoubtedly be able to assist you.
The Italian English Dictionary app includes audio files in addition to translations. After looking up a word in the app, students can hear how to pronounce the Italian word. This is a useful tool not only for casual conversation but also for learning the Italian language.
This app also includes essential Italian phrases organized into 18 categories. This is an excellent companion for studying and practicing Italian because it allows for on-the-go revisions and provides a wealth of Italian phrases organized in an easy-to-access format.
The Italian English Dictionary includes a verb conjugator that will assist you in Italian verb conjugation letting you use Italian verbs in any tense!
Translator with Speech
The Translator with Speech app is also available for Apple devices. It is a simple translation app in which you can type in Italian or English words, phrases, and sentences to get an instant translation.
You can also listen to Italian audio files, which are great for hearing how the words are supposed to be pronounced. This audio component also includes audio recognition, so you can speak Italian or English in the app to get your translation.
The Translator with Speech app is unique in that it combines many resources into a single app. Instead of relying on a single translator, Translator with Speech integrates multiple online Italian dictionaries to provide learners with accurate translations. This means that students are literally getting the best Italian translations available on the Internet without having to search for them endlessly.
The Translator with Speech also has offline translations available for learners who do not have access to the Internet. Furthermore, the app remembers previous translations you have looked up. It is a bonus to not have to type the same word or phrase over and over if you have already searched for it.
iTranslate
iTranslate is available on Apple products. While this app is especially useful for Italian learners, it also provides detailed translations for 90 other languages. While this may appear to be a lot, it is beneficial for any learners who do not speak English as their first language because you can translate between Italian and a language you are more familiar with. And if you are learning Italian alongside another language, you can now work on both simultaneously.
The app's voice recognition feature allows you to translate by typing or speaking. This app is available offline when students don't have Internet access and require a translation in a hurry.
WordReference
WordReference is an online dictionary turned app that is available in the Google Play Store and for Apple products. It is the first stop for language learners.
WordReference is available in a number of languages, but that doesn't mean it can't be translated into Italian. This app includes a written pronunciation guide for Italian translation. Its extensive dictionary capabilities more than compensate for the lack of audio.
The dictionary at WordReference is so comprehensive that it provides multiple definitions as well as idiomatic and phrasal meanings for each translated Italian and English word. This means that students receive not only literal translations of Italian words but also figurative meanings.
This app also includes a comprehensive verb conjugation component, which virtually conjugates every single Italian verb into every single verb tense. As if the dictionary and verb conjugator weren't enough, each dictionary entry on WordReference includes links to various threads on the WordReference forums to assist students who require more information than the app provides.
Italian Translator
The Italian Translator app provides detailed word and sentence translations to and from Italian. Furthermore, the app allows users to copy and paste translations so that they can use them immediately in emails or documents. Even better, you can use translations in text messages on your phone for instant communication.
Each translation can also have an audio component with the Italian Translator. Each translation is spoken in clear Italian, and the app's speech recognition capabilities allow it to translate from Italian.
Conclusion
Now after knowing all these Italian Translator apps, you need to ask yourself is Italian important to you? Because it is, undoubtedly, one of the most important international languages. If you are keen to learn Italian, you can consult all the above-mentioned Italian Translator apps.
These apps will enable you to understand Italian conversations easily without losing your cool!
Want to learn a language at italki?
Here are the best resources for you!