If you want to become very good at French, you will need to work at it every day. What can you do to improve your French? If you are looking for more ideas in this article, you will find many things you can do just by yourself. However, it is important to point out that not all things you can do are equally effective.
Learning French (or any foreign language) is never easy. It requires certain linguistic skills. For example, you need to know the French alphabet, and grammar and to have attended some French language classes.
The official language of France is Romance language. So it is easier for students who speak other Romance languages, like Spanish or Portuguese, to become very good at French.
If you want to become very good at French, the first thing you need to know is: don't start by learning French intensively on the first day. Rome was not made in a day. Over the weeks, you will become more comfortable with the French language and will improve progressively.
Here are some tips that will help you on your path to learning the language.
1. Become very good at French by reading newspapers
This is one of the best things you can do to become very good at French. It might be intimidating, but you will eventually start understanding more and more as you read.
You can visit the website of the newspapers and use a translator if you have any issues. If you are into sports, why not start with a more accessible sports reading? If you are tempted, you can read the best known: L'Équipe and France Football. Two titles that are also real European references in terms of soccer news coverage.
For those who want to try other readings, more oriented to French and international current affairs, politics, economics… you can read:
Le Monde,
Libération,
Le Figaro.
If you regularly read these newspapers, you will quickly find yourself confronted with a rather cultured French, with journalistic writing in line with your desire to progress in French towards an excellent level. If at first, you find it hard, progress in written comprehension comes quite quickly. Especially if you work on oral comprehension in parallel by watching French videos on YouTube.
Finally, the advantage of reading the press in a foreign language is to be able to have different sources of information with different editorial lines. You will be able to access different points of view of the same reality.
If you wish to learn French online, you can do so with the support of the best French tutors available.
Find Your Perfect Teacher
At italki, you can find your French tutor from all qualified and experienced teachers. Now experience the excellent language learning journey!
Book a trial lesson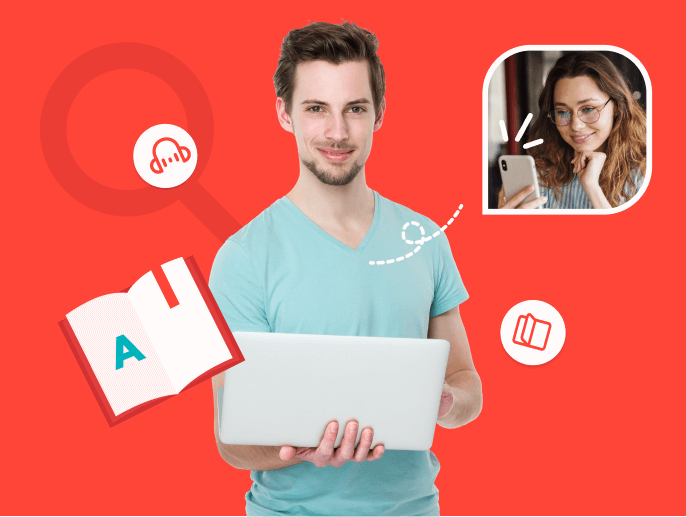 2. Chat with other students in French
The Internet and its endless possibilities will allow you to find a language exchange partner to talk to. You can find one on sites specialized in cultural and linguistic exchange, on forums, or on Facebook Groups about French studies.
If, for example, you practice French regularly on Skype, you will make great progress. Especially in the French language that we would call "every day" or colloquial. Colloquial French is the language that is used in everyday life, on the street, with the most commonly used expressions and vocabulary. That's why language exchange is not only useful but is also a very practical solution.
But how do I contact someone?
Well, by looking for a linguistic tandem on forums or websites specialized in cultural and linguistic exchanges. You can find people to chat with in the form of French teachers, who will help you practice and will correct any mistakes you might have.
3. Watch movies to become very good at French
Sometimes political, sometimes comic, poetic, or absurd, French cinema can help you improve your French. Watching French films in their original version is a fun, interactive, and progressive exercise. This is because, in the beginning, students watch films with English subtitles. This way, they begin to identify and memorize the words orally, while being able to associate them visually thanks to the subtitles. After a while, students may start using French subtitles and, eventually, not use subtitles at all!
4. Talk to your French teacher
Another way to converse regularly in French is to learn French online. You can find a multitude of French teachers willing to teach you the ins and outs of the language. Native or bilingual teachers, sometimes even specialized in oral expression. To improve your French quickly, just find a teacher and set up a regular study program. No matter if you want to work on your oral expression or grammar, French classes are the way to progress quickly. Moreover, they will make you work on all the skills: oral expression, oral comprehension, written expression, and written comprehension. All of them are necessary to progress in French.
Want to learn a language at italki?
Here are the best resources for you!
If you are looking for an online teacher to learn French, or you simply want to improve your skills, then italki is a great place to start. We have a long list of French teachers willing to help you. Our platform allows you to book 1-on-1 lessons at a time and place convenient for you.