Are you looking for the best and effective way to learn Portuguese online? Well, you must consider yourself lucky because you have just come to the right place. Here you will find some of the excellent tips to learn Portuguese with utmost ease and fluency.
Learning Portuguese is worth your time and effort as it is among the top ten widely spoken languages in the world. It is the official language of Brazil with around 200 million-plus speakers across the World. There are millions of speakers of Portuguese across Europe, Africa, Oceania, Asia, and South America.
Isn't it exciting enough to learn Portuguese? The Foreign Service Institute of the US Government has made a claim that a native speaker only needs to study 24 weeks to be fluent in Portuguese, then what you are waiting for? Book your lessons now to learn Portuguese or Spanish.
Is it hard to learn Portuguese?
If you are an English speaker then learning Portuguese is not at all hard for you. In fact, it is quite simple. Portuguese is also a part of the romance family in the area of languages along with English, Spanish, and French. So, if you know any of these languages then learning Portuguese is not difficult for you.
All these languages have a greater degree of similarity. If you know any of them it will be very easy for you to get their patterns within no time. But, one important thing to remember is that fluency in any language requires a lot of consistency and persistence.
Some of the best tips to learn Portuguese
So you have made the decision to learn Portuguese? Great! Here we are sharing with you some of the best ways to learn Portuguese as a beginner. These tips will help you to kick start your journey of learning Portuguese now.
Set specific goal
Know that planning is the most important part of studying. The end goal of learning Portuguese will only be attainable if you set specific goals to reach your destination. Make realistic goals with proper time distribution. In fact, your goals must originate from your reason as to why you want to learn the language in the very first place.
For instance, if you plan to travel to Brazil then learning Portuguese will be the biggest requirement.  If you know this language only then you will be able to have conversations regarding hotel check-ins/outs, ordering your food, getting in the city from one place to another, and even if you need any kind of help.
Begin your training with the best Portuguese learning platform
Online available language learning platforms are the best source to learn any language in the shortest possible time. Getting training with the best Portuguese learning platform will literally make the language stick to your head permanently.
Booking your lessons with an online Portuguese learning platform is the best way to start learning Portuguese. Stick to the daily lessons with consistency. Building your vocabulary with daily practice will help you gain fluency.
Refer children's Portuguese books for reading
Referring to children's Portuguese books online for reading is one of the best ways to learn Portuguese. Prefer reading on the kindle. Now you must be thinking why kindle? Kindle gives you the facility to just tap at the word to see the definition.
This feature of kindle is highly beneficial when the reason for reading is learning a new language. In this way, you will learn new words and their meanings in no time making you fluent and comfortable with the language.
Allocate around 30 minutes a day to indulge in the reading process. Since you are beginning your training to learn Portuguese, your self-effort with the reading will fasten your learning process. Reading children's books are essential in this regard because as you have started your journey children's books will help you to gain proficiency.
Stick to this learning strategy and let the proficiency comes to you naturally.
Use flashcards to write Portuguese words
Some words are difficult to memorize and they will not stick to your mind easily. Using flashcards to write those difficult words will help you to memorize them. Just write those words down using the sticky notes.
Place them in front of you so that you must see them on daily basis. This strategy will help you to memorize those stubborn words. It is beneficial to stick those flashcards along your bedside so that you get to see them every day.
Keep a dictionary with you
It is very important for you to keep a Portuguese dictionary with you whenever you are studying. It is essential to consult a dictionary whenever you come across a difficult word or phrase.
If you feel it is burdensome to have a hard copy of the dictionary, you can access the dictionary online to see the meaning of difficult words and phrases.
 Watch TV series, movies, music, or videos in Portuguese
Watching TV series, movies, music, or videos in Portuguese will boost your interest in the language. Train your ears to be comfortable listening to the language and that is how you will memorize it within no time.
Watch videos, movies and listen to music in Portuguese. Try to come up with their meanings. It will help you gain proficiency with the language. Remember, language and culture always go hand in hand.
When you decide to learn any language, you need to look at its culture as well. Its music, literature, cinema, and cuisine everything becomes relevant and significant. You can also find interesting Portuguese podcasts online that will give you the feel of the language.
Focus on speaking
The best way to learn Portuguese is to focus on speaking it practically. You can start by speaking to yourself in Portuguese. Unlike reading and writing, speaking is one of the major parts of the process of learning the language.
If you are shy speaking it publicly and fear that you will make a mistake, you can start speaking to yourself in Portuguese. Sounds crazy? But that is the best way to gain fluency with the language. There are several online language-speaking applications available that can also help in this regard.
To achieve a conversational level in the language do not hesitate to speak the language as much as possible. You can talk to your friends in Portuguese. Just keep your primary focus on speaking and that is how you will learn.
Be consistent
Learning any language other than your native language is a time taking process that requires a lot of consistency on your part. You cannot learn a language overnight. No matter how much you cram or study, you will not become fluent overnight.
To get new words and to make them a permanent part of your memory lane, you will need to memorize them daily. It is a process that requires practice. To learn Portuguese, you need to make consistent efforts every day.
You can take a 30 days Portuguese language learning challenge. Spend two hours a day learning the language on daily basis for the next thirty days. You can also make a public commitment regarding your challenge with your parents, friends, or social media networks. It will help you to stick to your goal.
This is one of the most effective ways to develop a language learning habit because after consistently working on a language for thirty days it will automatically become a part of your routine.
Find Your Perfect Teacher
At italki, you can find your Portuguese tutor from all qualified and experienced teachers. Now experience the excellent language learning journey!
Book a trial lesson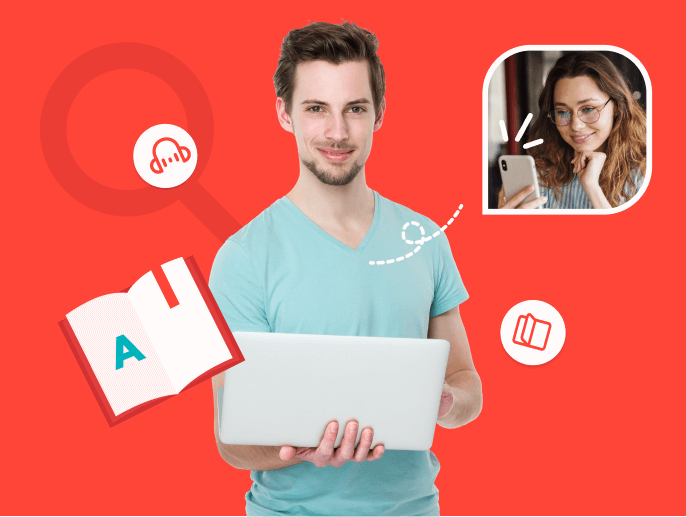 Conclusion
Learning Portuguese is not difficult. All it requires you to find a credible online learning platform to learn Portuguese or Spanish with consistency in your approach. Most people ask how fast they will be able to learn Portuguese. With the above-mentioned tips, you can learn the language with the most fun and ease.
In order to learn Portuguese, get in touch with our Portuguese Teachers to get the best guidance that you will require to be proficient with the Portuguese language. Our instructors will help you work on your listening skills making you start with short dialogues and giving you the confidence to speak in Portuguese without any fear of being judged. They will make you practice proper Portuguese pronunciations.
Book your lessons now to start your journey of learning with some of the best instructors available. Learn Portuguese now and it will open endless opportunities for you. From benefits in business to happier and fun-filled holidays, mastery of the Portuguese language will bring you never-ending opportunities to grow and prosper.
Want to learn a language at italki?
Here are the best resources for you!