Russia is the biggest country in the world, though somehow it is still unknown to most foreigners. You may wonder how you can enter this interesting and unknown world beyond these stereotypes… by learning the language, of course! Russian is not very difficult to learn if you have the right incentives to learn it.
One of the main reasons to learn Russian is that it is a language spoken by some 260 million people around the world. Not only is it the official language of Russia, but it is also spoken in Belarus, Kazakhstan, and Kyrgyzstan. It is also spoken in Israel, the Balkans, Ukraine, Armenia, and the United States.
According to The Ethnologue language catalog, Russian is the eighth most spoken language in the world and it has been considered, several times, as the most spoken language in Europe
Being a Slavic language, Russian shares similarities with languages such as Polish, Ukrainian, Bulgarian, and Czech.
In the bloc of countries that were part of the former Soviet Union, it has been found that people in their 20s and 30s after the dissolution of the USSR retained their knowledge of Russia. In the United States, it is estimated that about 850,000 people speak the language.
If you want to improve your Russian reading skills, here are some tips you should definitely consider.
Watching Russian TV
Television broadcast in Russian is an exceptional tool for practicing reading and listening.
RT Russia is one of the most-watched channels in Russia and is available around the world and through the Internet as well. In addition, depending on the age of the learner, whether they are children, teenagers, or adults, we can select what kind of program to watch to learn the Cyrillic alphabet. YouTube has made this easier because RT Russia's YouTube channel gives you access to all different kinds of content for all ages.
For a beginner learner, it is advisable to start by watching youth or music channels where songs with more accessible lyrics appear. On the other hand, at an advanced level, you can listen to news programs and watch Russian movies.
Television offers total immersion in Russian culture since the programs are only available in the Slavic language; it is essential to recognize Russian pronunciation to understand its vocabulary!
The most popular TV channels in Russia might not be available everywhere but can be viewed through Russian web portals and applications.
Find Your Perfect Teacher
At italki, you can find your Russian teacher from all qualified and experienced teachers. Now experience the excellent language learning journey!
Book a trial lesson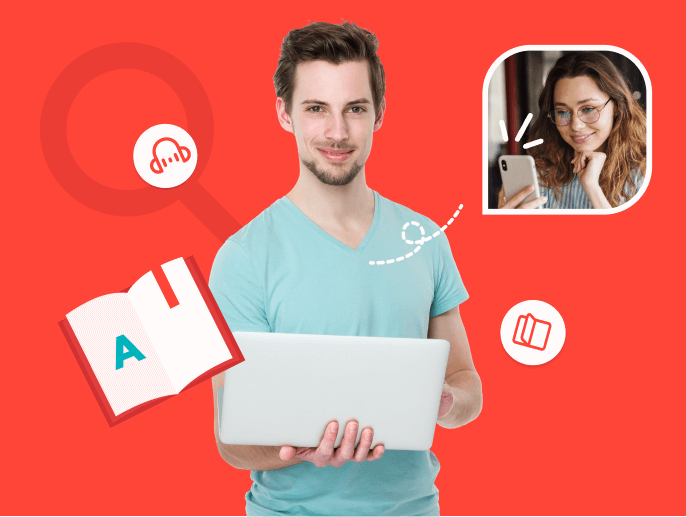 Improving Russian reading with films
Today, Russian and Soviet cinema continues to play a very active role in the European film industry. Russian cinema was especially widespread during the Soviet Union period, in particular thanks to silent films and adaptations of famous literary works. Enjoying a Russian film not only allows you to discover the practice of the seventh art but also to learn to read the Russian syllabic alphabet earlier than we can imagine.
There are also Russian movies available on the live-streaming platform, Netflix, like the famous Night Watch. Thus, we can select Russian subtitles and switch the audio to our native language to watch the Russian translation in detail.
Moreover, below is a list of Russian cinema classics that you can't miss:
Ivan's Childhood
Stalker
Russian Ark
Leviathan
The Mirror
Battleship Potemkin
Solaris
Urga, the Land of Love
Moscow doesn't believe in tears
Brat
Learning a foreign language through films is a didactic method commonly used by language teachers because it allows us to assimilate the linguistics of a country through its culture.
Watching TV Series to improve Russian reading comprehension
Any Russian learner, especially young learners, is much more motivated by reading Russian through TV Series. The length and periodicity of a series guarantee regularity in learning, as opposed to movies, which usually last 1h30. Thanks to the immersion in the setting and in the action, it is easier to memorize Russian words without going through Russian language classes with a teacher. Tip: start with an American or Spanish series that you know well or even by heart, so you can easily translate the Russian movie lines.
Ideally, though, you should also watch Russian series to immerse yourself in Russian culture! Here's a list of recommended series and TV movies to learn Russian:
The Kitchen
The Interns
A Moscow saga
Rasputin (starring Gérard Depardieu)
Ranetki
Galileo
Nacha Russia
Papiny Dochki
Now with all the streaming services available, it is possible to set it to display the Russian subtitled version and the original audio version for maximum immersion in the language.
At the beginning level, it is advisable to watch children's series such as Smechariki or Fixiki, in order to become familiar with basic Russian vocabulary.
Learn Russian songs
Studying song lyrics helps to learn Russian in an easy and didactic way, to better assimilate the alphabet, improve your speaking skills, and phonetics.
Below you will find a list of classical Russian songs to start with:
Katyusha
Kalinka
My Heart
Darling
Do you want?
Higher
Black Raven
Cheburashka…
Besides being known worldwide, Russian music often contains lyrics committed to the social context of a particular era. It is common for composers to include themes about Russian history or Russian politics, so in this way, students can learn more about Russian culture.
In addition to learning Russian lyrics, you can learn to recognize new and unfamiliar musical instruments, such as:
Guimbarda
Nabat
Dhol
Balalaika
Domra
Gusli, etc.
The goal is to listen to music every day and read the lyrics systematically. Soon, you will know the music and lyrics by heart and you will easily recognize Russian words in musical texts. Let yourself be carried away by the rhythm of the country of the Tsars!
Read Russian literature
What could be a better way to practice your Russian reading skills than actual reading? It would be impossible to speak about the Russian language and culture without talking about its famous literature!
Russia is the country of the most renowned writers in the world whose golden age was the 19th century. That was the time of the romantic current led by Leskov and Dostoyevsky. But still today there are writers like Mikhail Chichkine or Dmitry Gloukhovsky who keep Russia in a good international literary position.
Russian novels and poems are suitable for advanced-level students who wish to perfect their language. Tragic, romantic, or thriller novels – there is Russian literature to suit any reader's taste!
Here's a list of Russian literature classics to help you become bilingual:
Boris Godounov by Alexandre Pouchkine.
Ana Karenina by Léon Tolstoï
War and Peace by Léon Tolstoï
Crime and Punishment by Fyodor Dostoyevsky
The Brothers Karamazov by Fyodor Dostoyevsky
Fathers and Sons by Ivan Turgenev
Taras Bulba by Nicolas Gogol
Maxim Gorky's Mother, etc.
Russian literature is especially recommended for students in bilingual programs with Russia or those studying literature or linguistics, e.g., Slavic philology or research masters in Slavic literature. Russian literature has been a model for writers such as Ernest Hemingway who was inspired by Dostoyevsky to write The Old Man and the Sea.
Literature is ideal for learning Russian because it allows you to work on several aspects at the same time:
Russian alphabet.
Russian grammar.
Russian personal pronouns.
Russian prepositions.
Russian expressions.
Russian conjugation.
Russian spelling, etc.
Therefore, literature is the perfect tool to learn Russian in a comprehensive way and practice the formal style.
Learn Russian on your Own
If you have decided to learn Russian online, you can rely on the best Russian tutors to give you a hand and put you on the right path toward successful learning of the language. Book a free trial class and see how far you can go in your process.
Want to learn a language at italki?
Here are the best resources for you!