It is generally believed that the best and the most efficient way to reach proficiency in any language is to live in a country it is spoken in. This is kind of true, and there is one main reason for it: when you live in the country your language is spoken in, it is much easier to immerse yourself in the language than just learning it in a classroom environment. On the other hand, there are so many people who live abroad, and despite that, they can't speak any other language than their native one. So how does this work after all?
But how to learn Chinese at home? The key is to immerse yourself in the language consciously and deliberately. To do that, you do not need to live abroad! Obviously, a trip to China might help a lot in your Chinese language journey, so if you are able to go there at least for a week or two – then go! But if you don't have such an opportunity, don't be discouraged. We listed for you 5 suggestions – what you can do to immerse yourself in Mandarin Chinese.
Watch, read, and listen to Chinese
This is quite obvious advice if you think about it – everybody knows that to learn a language, you need to read a lot, watch a lot and listen a lot. Yet, for some reason, lots of students do these only in the classroom. Be better than them – try to expose yourself to Chinese movies, TV series, or podcasts after your main classes. You can find nice podcasts on Spotify, such as Coffee Break Chinese, and ChinesePod – Beginner, or if you are not a beginner anymore: Listen to stories and learn Chinese (听故事学中文) or Chinese with DaPeng (大鹏说中文).
The podcast world is so vast, you are bound to find something for yourself, whether you are a beginner or an intermediate student. If you are an advanced student and a books person, see if your favorite books have been translated into Chinese. If you like Chinese authors, check out their books in original versions! Maybe ask your Chinese teacher for recommendations? If this is too overwhelming, remember that you do not need to remember every new word you hear or read – just try to understand the general idea and only write down the words you think you might use in the future.
Use websites in Chinese
If you decide to watch a TV series or a movie in Chinese, try to use a Chinese website for that instead of your old friend's YouTube. For instance: Youku, iQiyi, or Sougou. First of all, there are many more Chinese videos on Chinese websites than on YouTube. Secondly, you will be able to familiarize yourself with Chinese in a real-life environment – even if it's just a website.
A bit safer way is to use the websites you are already using, just change their language settings to Chinese. It might be less "shocking" than using a brand-new website in Chinese, as you are most likely already familiar with YouTube or Facebook to the point of browsing them automatically and clicking without reading.
Therefore, there is a low possibility of getting lost – and if you do get lost, you can always quickly change the settings back to the English language. Try doing that with other websites too, even with your mobile phone settings.
Find Chinese friends
Speaking with a friend who is a Chinese native speaker will help you boost your speaking skills significantly. Most importantly, it will help you familiarize yourself with a real-life language, not just your Chinese handbook language. If you learn Chinese, finding a Chinese friend is something that will not only be beneficial language-wise.
You will be able to learn more about Chinese culture, mindset, and society. In addition, if you get to meet many Chinese friends, you will discover how different they can be, despite being of the same nation.
When learning the Chinese language, we tend to think in terms of "Chinese people are…", but actually meeting a Chinese person lets us see them as an individual and often helps us discover how brilliant people they are. And it applies to all languages and all nations!
Write a journal
Writing a journal is a simple, yet great way to sharpen your language skills. You can practice your language output and see which grammar patterns and vocabulary are most useful to you. Usually, those will be words used in daily life, which can also be used in a conversation – so, it's a fantastic way of reviewing.
At the same time, you will see what you struggle with – maybe forming long sentences, or lacking some particular words? Once you pinpoint that, you will be able to work on it and make your Chinese even better. Not to mention that getting things off your chest by writing a journal is a very healthy thing to do.
Find a Chinese teacher
Depending on your goal, you might not need a teacher – however, finding a good Chinese teacher will significantly improve your Chinese learning experience. A teacher will come up with a comprehensive study course, and because of that, you won't be learning "in the dark", with no idea what you're doing.
In addition, a teacher will point out and correct your mistakes – which you might not even realize you're doing. Last but not least, a smart teacher will know how to motivate you when you want to do anything but learn Chinese, by giving you suitable learning materials or saying the right things.
If you don't live in China but really want to improve your Chinese as fast and efficiently as possible, book a trial class with an italki's Chinese teacher! An experienced teacher will let you save time (you will learn things you actually need), money (you will invest only in materials you will actually use), and effort (you will focus only on those aspects that will help you improve).
Find Your Perfect Teacher
At italki, you can find your Chinese tutor from all qualified and experienced teachers. Now experience the excellent language learning journey!
Book a trial lesson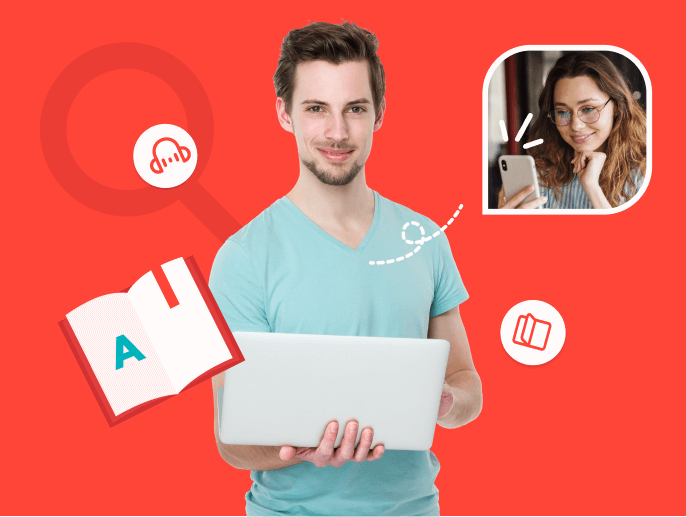 On top of that, if you learn Chinese online, you can study anywhere and anytime you want. Long story short, the more personalized your course gets, the more beneficial it is!
Want to learn a language at italki?
Here are the best resources for you!