French podcasts are an effective way to enhance your listening skills, but navigating the several ones on the internet can quickly become confusing. By making the right selection, you can learn French at home with podcasts and French media.
Podcasts are delivered in an easy-to-use portable format, allowing you to learn at the pace you want. You have complete control over the flow of information delivered to you. The best podcasts are produced professionally, are frequently free, and include transcripts.
13 great podcasts for French beginners
Coffee Break French
Coffee Break French puts the listener in the front row as French language teacher Mark coaches his student Ana through a series of highly practical lessons. Learning alongside another person is an excellent way to help words, grammar, and phrases stick in the mind. Furthermore, it is not as intense or as boring as being in the classroom. The lessons are simple to follow, last about 10-15 minutes, and are designed for beginners.
French Podcasts.com
The idea behind French Podcasts.com is to present the French language student with a variety of real-life topics. This includes audio recordings of actual events, such as a civil wedding ceremony. The audio of these events is generally of high quality.
The podcasts are in normal speed French and are appropriate for beginners and intermediates. However, if you have no prior knowledge of the language, you may find them difficult at first.
Above all, spending a few minutes each day listening to native speakers communicate is an excellent way to become familiar with the language's speed, sentence structure, and word intonation.
One Thing on a French Day
This is an excellent idea for a podcast series. One Thing in a French Day is a "slice of a Frenchwoman's day." Each brief podcast focuses on a different daily event, such as eating a croissant after visiting the hairdresser, going for a nighttime walk, or shopping at an organic store.
Laetitia, a native speaker, discusses the events of the day in normal speed French. Her word choice is crisp and clear, and the sentences are easily distinguishable. On Tuesdays, Wednesdays, and Thursdays, new podcasts are published.
Je French.com
Je French provides an excellent framework for beginners in basic vocabulary, common expressions, verbs, nouns, and the way the language sounds. All of the lessons are taught simply by native French speakers.
Each one begins with a brief dialogue consisting of a few sentences. These are repeated twice to help the listener become familiar with what is being said. The presenters were then actively involved in an English conversation. There is also a very valuable focus here on pronunciation. Each podcast's conversational format is an excellent learning tool.
One Minute French
It is, indeed, possible to learn a lot with a small amount of material. For the French language beginner, these short, sharp lessons supply a lot of useful information. Teacher Pierre-Benoit walks the listener through the basics of the French language, allowing them to converse during a vacation or business trip. Although they are titled "One Minute French," each French language podcast lasts between two and four minutes.
Animalia
Animalia is technically aimed at French children, but it can also be useful for English learners. Cyril Dion, the host, discusses a different endangered animal in each episode, combining fun facts with the realities of extinction. Despite tackling a serious subject, it's a silly show at heart, with the host literally "interviewing" the animals.
French En Route
French En Route, another podcast for French learners, features stories from native French speakers all over the world. Sam, a fellow English speaker, and French learner will accompany you on this global Francophone journey, pointing out important vocabulary, grammar, and pronunciation lessons along the way.
News in Slow French.com
News in Slow French is a fantastic podcast series that reads news stories in French at a much slower pace than you would hear on television or radio. The intonation is flawless, allowing the audience to hear each word clearly. Slow French will assist you in learning quickly.
Each podcast is divided into sections and includes various stories, conversations between the hosts, a few grammar points, and some common idiomatic expressions. News in Slow French is appropriate for beginners and intermediates, and a transcript of each lesson is available to help with learning. The absolute beginner may struggle at first, but speaking French is slow enough not to scare anyone away. And it doesn't take long for the listener to learn a lot of new words.
French Pod 101
French Pod 101 has a large collection of French language podcasts for people of all skill levels, from absolute beginners to advanced French speakers. Each lesson contains dialogues, cultural insights, and a wealth of information about traveling and living in the country. There are also many scenes from everyday life in France that are voiced by native French speakers.
Parlez Away
Parlez Away is ideal for those who are just getting started. You can follow Ted, a native of Wisconsin, as he learns French from Caroline, a native of northwestern France. The podcast focuses on conversational French, and the first episode is all about greetings.
Coffee Break French
Coffee Break is part of the Radio Lingua Network, which has introductory language podcasts for various languages. The point of the podcast is that you should be able to listen to one in about half an hour, which is the length of a coffee break. The podcast has several seasons and progresses from hello to the most difficult aspects of the French language.
Learn French by Podcast
Learn French by Podcast is an extensive series of audio lessons for beginners to advanced language educators. They include natural-sounding conversations about everyday topics like discussing a football game, introducing yourself, and purchasing plane tickets. It's almost as if you're in a Parisian café, listening in on the table next to you.
Each podcast is broken down into sections. The listener first hears the French conversation, which is then repeated once or twice. Following that is an examination of the grammar and some of the phrases. During this segment of the program, some sentences are repeated several times with long pauses in between to allow the listener to try their own. The analyses are comprehensive and in-depth.
One of the contributors is an Irish native, and his French pronunciation is excellent. Every lesson comes with supporting materials such as a full transcript and exercises.
Learn Out Loud: Survival Phrases
Survival Phrases is an excellent podcast series for beginners. The audio lessons are designed to get the listener to speak the fundamentals with proper pronunciation in no time. Each lesson focuses on a single phrase, such as how to say "You're welcome" and "Thank You" in French. Throughout the podcast, the teacher repeats the phrase several times before breaking it down into component syllables to help you pronounce it like a native French speaker.
If you find difficulties in learning French you can seek professional training with italki. Here, you can learn French online with the best online French tutors in the comfort of your home. These highly skilled tutors (mostly native speakers) will help you learn French grammar, vocabulary, pronunciation and sentence formation, etc. You can also book a trial lesson to experience the learning session with just a click.
Find Your Perfect Teacher
At italki, you can find your French tutor from all qualified and experienced teachers. Now experience the excellent language learning journey!
Book a trial lesson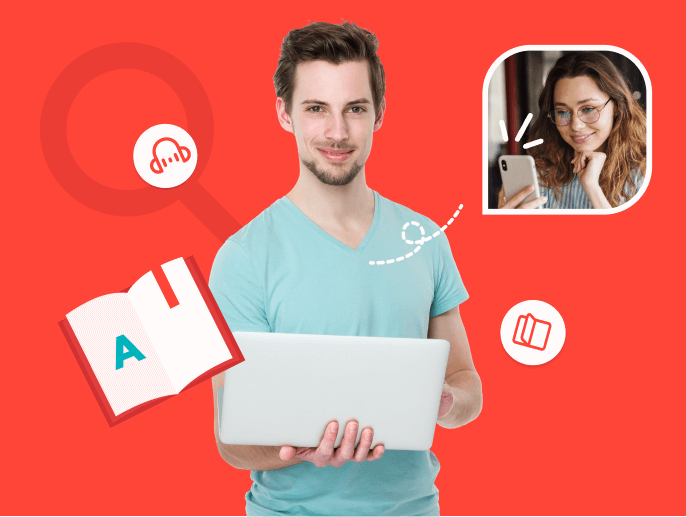 Podcasts have become an integral part of many people's daily lives. They provide an excellent opportunity for language learners to study even when their hands are occupied. Podcasts are an excellent way to improve your French listening comprehension, hear the natural flow of the language, and even practice reading with transcripts.
Conclusion
You can also seek guidance from different French videos by looking at their subtitles. These online mediums are super helpful to learn a new language at your own pace. You can watch movie trailers, music videos, interviews, vlogs, and other French-language media. These videos include interactive subtitles that provide definitions with a single click and allow you to save words to vocabulary lists directly from the video.
Want to learn a language at italki?
Here are the best resources for you!