Learning a new language can be difficult, and not everyone has the time or money to enroll in a class or hire a private tutor. We live in an exciting time when there are numerous great language-learning apps that can be easily integrated into our daily lives.
There are numerous language learning apps to choose from, so you can make a choice that fits your learning style and schedule. The best language learning apps are also cost-effective, especially when compared to traditional schooling or private tutoring from a language expert.
Many apps have speech recognition, which is essential for proper pronunciation. Others provide multiple language options, which is ideal if you want to learn multiple languages. Through engaging, easily digestible lessons, the best language-learning apps can help you build your vocabulary, develop proper grammar, and eventually become fluent – all from the comfort of your smartphone or laptop.
Here are the best language-learning apps to help you learn a language at your own pace. You will soon sound like a native speaker.
Duolingo
Learners enjoy the app's colorful interface and short, game-like exercises. The app does not limit the number of languages you can try to learn at the same time. To avoid becoming rusty on the fundamentals, even if you have "mastered" a skill by reaching a higher level, the skill can still "crack" if you don't review it on a regular basis. Practice the skill again and it will repair itself.
The user-friendly layout of Duolingo, as well as the "streak" feature, encourages you to keep going by tracking the number of days you have reached your point goal. You can access resources like Duolingo Stories in the app, which are short audio stories that allow you to check your comprehension as you go. Super Duolingo, the app's ad-free premium version, costs $7 per month and includes progress quizzes, monthly streak repairs, and other features.
Babbel
Babbel is the closest thing to a foreign language course you would find in an online school curriculum. The Babbel app's minimalist design keeps a new language from becoming overwhelming while also keeping it interesting.
Each lesson walks you through translations, including the word or phrase variations, pictures, and whether the translation is formal or informal. The letters are included if you are asked to spell a phrase.
You can also see the new words you are learning in context, listen to them, repeat the phrases, and learn more about verb groups. The 15-minute language lessons are simple to fit into your schedule, whether it's during your commute, before bed, or during your lunch break.
Signing up for Babbel is free, as is the first lesson in each course. A $14.95 monthly subscription is required. You can also renew every three months ($37.95), every six months ($66.90), annually ($89.40), or pay $249 once for lifetime access.
Memrise
Memrise is an app that uses short videos to demonstrate how real locals express various phrases in conversation. The app also assists you in identifying patterns in the language, making it easier to improve your skills. If you are brushing up on a language you already know, you can skip over phrases you already know.
A few lessons are available for free each day, but you can tap upgrade in the app to choose between an $8.49 monthly subscription, a $30 annual subscription, or a one-time payment of $120 for lifetime access.
Rosetta Stone
Rosetta Stone, the most well-known language learning service, has come a long way since its inception in the 1990s. Last year, the iOS app received an update that included augmented reality. This unlocks Seek and Speak, a scavenger hunt-style challenge. Point the camera of your phone at an object to get a translation of the language you are learning.
Rosetta Stone subscriptions cost $35.97 every three months, $143.88 annually, or $299 for a lifetime subscription that includes access to all 25 languages. You can go for English learning at Rosetta Stone to become a fluent English speaker.
Drops
The app's bright, colorful design makes learning seems less intimidating. The app displays each word in the Greek and English alphabets says the word, and displays an image of it. Drops is constantly adding new languages; most recently, the app added Ainu, a Japanese indigenous language.
Drops Premium costs $13 per month, $70 per year, or $160 for a one-time purchase. If you stick with the free version, you will have to wait 10 hours to access another lesson, but you can view your statistics (correct answers, wrong answers, and words learned) after completing the lesson and tap on the words you have learned to hear them pronounced again. This can give you an advantage in your next lesson.
Mondly
Mondly is a fun, colorful app with plenty of features to enjoy even if you don't have a premium subscription. The app includes images, translations, and auditory aids to support your preferred learning style. The instructor also speaks the words and phrases in a melodic manner, which can help you remember them.
Mondly is available for free, but you can upgrade to the Premium tier to access all content. You can get access to one language for $10 per month or $50 per year. You can also subscribe for $48 to get lifetime access to all 33 languages (this offer is only available for a limited time and normally costs $479.90).
Busuu
When you sign up for Busuu, you choose the language you want to learn, and the app guides you through the process of determining how advanced you are, why you want to learn it, and at what level. You then set a daily study goal, and if you subscribe to the premium plan, it generates a study plan to ensure you meet your goal by a certain date. For example, Busuu claims that if you study for 10 minutes a day three times a week, you will be fluent in your chosen language in about eight months.
Although Busuu's Basic plan is free, you can upgrade to Premium or Premium Plus. Premium costs $12.95 per month, $71.40 per year, or $130.80 every two years. Premium Plus, which unlocks everything, costs $13.95 per month, $83.40 per year, or $154.80 every two years. Every plan includes a 14-day money-back guarantee.
Pimsleur
Pimsleur is a language learning app that offers 51 languages to learn but does so in the form of a podcast. Essentially, you will select a language to learn and begin a 30-minute auditory lesson (which is downloadable and Alexa-compatible). The app also includes a driving mode, allowing you to practice your language skills while driving without looking at a screen.
You are entitled to a seven-day free trial. An All-Access subscription costs $21 per month, while a Premium subscription costs around $20 per month and only includes one of the 50 available languages. Reading lessons, roleplaying challenges, and digital flashcards are among the features.
Language learning with Netflix
While not technically an app, the free language learning with the Netflix chrome extension can help you on your multilingual journey. Install the extension and then click the icon to access the catalog of movies and TV shows. You will, however, require a Netflix subscription.
When you launch the catalog, you can choose from hundreds of titles that use Netflix movies to help teach different languages. For example, if you want to practice your Spanish, select the language from the dropdown menu, as well as the country where you're using Netflix. If you are watching in the United States, the extension returns 306 titles. Simply click the red "Watch on Netflix" button to watch one of the films. Depending on the language you want to learn, you may have fewer options.
Two sets of subtitles appear at the bottom of the screen as the series or movie plays. One set represents your native language, while the other represents the language you wish to learn. Like a karaoke sing-along, the words highlight as they are spoken. You can listen to the dialogue phrase by phrase, pause and replay as needed, use the built-in dictionary, and do other things.
These are some of the best language-learning apps in 2023. In fact, some of these apps are great tools to learn English. If you want to learn English online, you can enroll yourself in italki. The italki teachers are highly professional and experienced and will help you understand grammar, vocabulary, and sentence formation. You can also avail free trial before actual enrollment.
Find Your Perfect Teacher
At italki, you can find your private tutor from all qualified and experienced teachers. Now experience the excellent language learning journey!
Book a trial lesson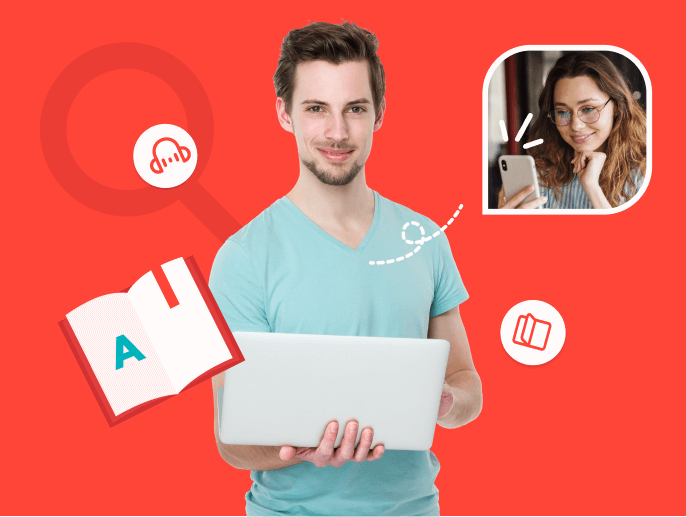 Frequently asked questions
Q. Why language learning is important?
A. Learning a new language pushes your brain to get familiar with new grammar and vocabulary rules. It allows you to train your memory to remember new words, make connections between them, and use them in contextual situations.
Q. What app helps you learn languages fast?
A. Duolingo is a fun, free app for learning 40+ languages through quick, bite-sized lessons.
Q. Which language learning app gives a school-type experience?
A. Babbel is a language learning app that gives a school-type experience.
Q. Which language learning app is best for visual learners?
A. Drops is a language learning app that is best for visual learners.
Conclusion
You can explore these best language learning apps to find the best fit for you. You can also explore different language exchange websites to meet your learning goals. Remember, learning a new language is a gradual process and you need to be consistent until you develop the required knowledge level.
If you are learning any language and want to assess your progress level, you can undertake italki language test. These tests are a great way to assess your strengths and weaknesses.
Want to learn a language at italki?
Here are the best resources for you!