italki is one of the most popular online language tutoring platforms. It matches you with language teachers from all over the world for one-on-one lessons. It is the best language tutor platform because it has teachers for every budget. Let's review italki to know more about its features and services!
The best way to learn a language is to practice with a native speaker, and italki is the best place to find them!
No matter where you are, online language tutoring is the best way to practice speaking another language. It is also an interesting way to meet people from all over the world. In this italki review, we will show you the app's structure, and various features and break down the pricing.
italki is a popular online language learning platform. There are teachers on italki for everyone, no matter if you are a beginner or an advanced student.
Find Your Perfect Teacher
At italki, you can find your English tutor from all qualified and experienced teachers. Now experience the excellent language learning journey!
Book a trial lesson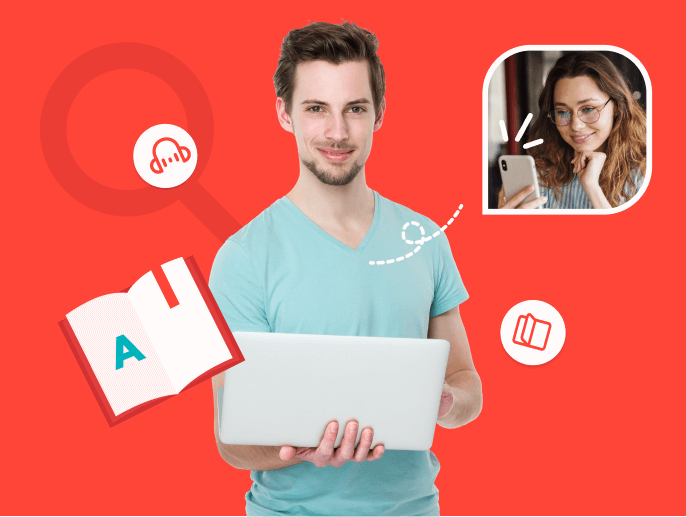 Pricing of lessons
italki tutors set their own lesson rates, and they may offer discounts if you book multiple lessons at once. Their lessons typically cost between $4.00 and $30.00 per hour, but you can find tutors at both ends of the spectrum. Remember that a higher price does not always imply higher quality lessons.
For example, if you want to learn English online, it is worthwhile to take a few low-cost trial lessons to see how different tutors teach. Each teacher has a distinct style, and the discounted trial lessons are ideal for determining which style is best for you.
Want to learn a language at italki?
Here are the best resources for you!
Key features
italki's core function is to connect language learners with language tutors all over the world. There are numerous places to find online language tutors, but they are not created equally. italki is one of the best tutoring websites when compared to others. Its main features are as follows:
The italki app
You can take lessons using italki's website or by downloading the italki app. They both provide the same experience, but we believe the app is more convenient. If you have the app on your phone, you can take lessons or complete practice activities anywhere you want. It is simple to use and extremely well-designed.
Finding a suitable language tutor
Some tutoring platforms have overcomplicated search features that make it difficult to find a suitable tutor. That is not the case with italki. You can easily search and filter tutors to find the best match for you. Tutors can be filtered using the following criteria: their background, languages they speak, availability, lesson price, whether they are native speakers or not, and professional teachers vs community tutors.
There are several competitors of italki but as far as applying filters is concerned, italki is surely ahead of them.
Professional teacher vs community tutor
On italki, there are two types of teachers: Professional teachers and Community tutors. Professional teachers are certified professionals who specialize in language teaching. They are ideal if you have specific questions or want to learn about advanced topics, such as test preparation. Community tutors are native or advanced speakers who can help with informal practice and conversation.
Feedback system
You can look at a tutor's profile after you have found a list of tutors. The majority of them create a brief introduction video and write a brief bio. One interesting feature of the tutor profiles is the ability to see feedback from other students.
The quality of tutors varies on italki, so reading reviews from previous students is critical. These can provide you with a better understanding of the tutor's teaching style, how they interact with their students during class, and even how good their internet connection is.
The facility for instant booking
You can always see a tutor's availability on their profile page. Tutors can manually approve each lesson request or enable the instant booking feature. This means that if you find a tutor you like and they are available when you want to take a lesson, you can book it right away. You don't have to wait for the tutor to confirm your class, which is extremely convenient.
The classrooms
When it comes time to take a class, you have the option of using one of the following communication tools: Skype, FaceTime, Google Hangout, Wechat, Zoom, QQ, or the italki Classroom.
You can access italki Classroom directly from the app, which includes interactive tools for you and your tutor to use. We believe it is safer to use because italki can easily see if you or your tutor are experiencing technical difficulties during the lesson.
Safety and Security
One of the best reasons to use italki to find a tutor is safety and security. There are numerous risks to meeting someone on social media or in other online forums. You may pay them and they fail to appear, or they may do or say something explicit to you.
With italki, this is not a risk. For example, if you are learning Japanese or Korean, this platform ensures that you receive the lessons you pay for and also assists you in resolving any issues you may have with a tutor. This increased security is a huge plus for all language learners.
Variety of languages
Italki allows you to learn over 150 languages. They range from more widely spoken languages like Spanish and French to less common ones like Basque and Tsonga. Chinese (Mandarin), French, Spanish, German, Portuguese, Korean, Arabic, Japanese, Hindi, Italian, and Russian are the most popular languages on italki.
Areas of improvement for italki
There are no bad things about italki but the most important point is to choose your tutor carefully. There are good tutors and bad tutors, and paying more does not always imply receiving better lessons. To avoid disappointment, watch the tutors' introduction videos and read other students' reviews.
This isn't really italki's fault because it has no control over how people teach, but it is something to be aware of before enrolling in classes.
Now that we have done a detailed italki review, you can explore it even more by visiting the website and hitting your target language. You can also incorporate language exchange websites in your learning tools as they give you the exposure to hold conversations with people residing in different parts of the world.  
Frequently asked questions
Q. Is italki secure?
A. It is completely safe and secure to use the italki platform. Your personal information is secure, and italki will assist you in resolving any payment or tutoring issues. It is far safer than finding and paying a tutor privately.
Q. Can italki help you become fluent?
A. Yes, using italki will help you become fluent. Practicing with native speakers is the best way to learn a language, and italki makes this really easy. Lesson prices are also reasonable, so you may be able to save money by learning with italki rather than enrolling in an expensive language course.
Q. How regularly should I use italki?
A. This is determined by your budget and the speed with which you want to learn. You should aim for two or three hours of lessons per week. This ensures that you are practicing consistently while not overloading yourself with new material. You can also request that your italki tutor send you practice activities to complete outside of class.
Q. When should I start italki classes?
A. As soon as you begin learning a language, you should begin italki lessons. The quickest way to improve your communication skills is to practice with native speakers. When you begin learning a language with italki lessons, you will also learn proper pronunciation and avoid the mistakes that people who only use language apps make.
Conclusion
In this guide, we have done a detailed italki review and discussed all its features along with lessons pricing. As this platform has a wide range of tutors, it has a high probability that you to find the most suitable one for you.You can also look at the alternatives, for example, you can look for English learning at Rosetta Stone and make comparisons. It will help you decide on a language-learning platform for yourself.
Want to learn a language at italki?
Here are the best resources for you!