Online language learning tool Rosetta stone never instructs you in your native language. Sounds strange, right? Let's review Rosetta stone English as it is significant for English learners to know about this online language learning tool and its applications.
A computer-assisted language-learning program called Rosetta stone currently offers 24 language programs, including less common languages like Turkish and Persian as well as more well-known ones like Spanish, Italian, and French. Each language is divided into a number of "levels" that you can move through as you advance.
The most well-known brand in language learning is Rosetta stone. So perhaps you are wondering if it would work for you and how well it has worked for others. There is an intriguing philosophy in Rosetta stone. Your native tongue is never used by Rosetta stone.
Rosetta stone stated that their company was founded by individuals who valued immersion-based learning. These founders had studied languages in immersion programs abroad. For those who are unable to travel, they tried to replicate this as closely as they could.
How to use the Rosetta stone
There are several methods for using the Rosetta stone. You have the option of choosing an online or app subscription, which grants you access to various program levels for a predetermined number of months. As an alternative, you can purchase the software on a CD-ROM or download it to your computer. With these latter choices, you pay a one-time flat fee for each program level and have unlimited access to it.
A detailed review of Rosetta stone
The program only uses English for the interface and menus, which is an intriguing aspect. Never do they give a translation of anything. All of it is depicted in images, along with untranslated audio and text. Although there are significant problems with this, it is an intriguing concept to avoid using your native language.
Although its teaching approach is best for total beginners, some people may find it unsettling because it completely immerses you in the language without any instruction or guidance.
Signing up for a free trial and using it yourself is the best way to determine if it's a good fit for you. It is a well-established fact that it is difficult to improve English writing and reading skills by relying solely on immersion programs.
Rosetta stone takes you step-by-step through a comprehensive language course to aid in your learning, much like many other language-learning apps. Rosetta stone's main offering is undoubtedly these courses, but the language app also has some additional features that enhance the value of its core offerings.
And a review of the Rosetta stone app wouldn't be complete without mentioning them! So, let's take a quick look at what the Rosetta stone app contains.
However, for language learners, the Rosetta stone courses' feature of total immersion can be intimidating (and even frustrating). While some people adore it, others abhor it completely. Rosetta stone is aware of this. The courses now include embedded translations to make the lessons more accessible to everyone.
Because Rosetta stone still wants you to attempt to learn the words and phrases on your own, they aren't easily accessible. However, if you are really stuck, you can press the image and hold it to reveal its translation. The most recent versions of the Rosetta stone include this, and in my opinion, it's definitely an improvement.
Find Your Perfect Teacher
At italki, you can find your English tutor from all qualified and experienced teachers. Now experience the excellent language learning journey!
Book a trial lesson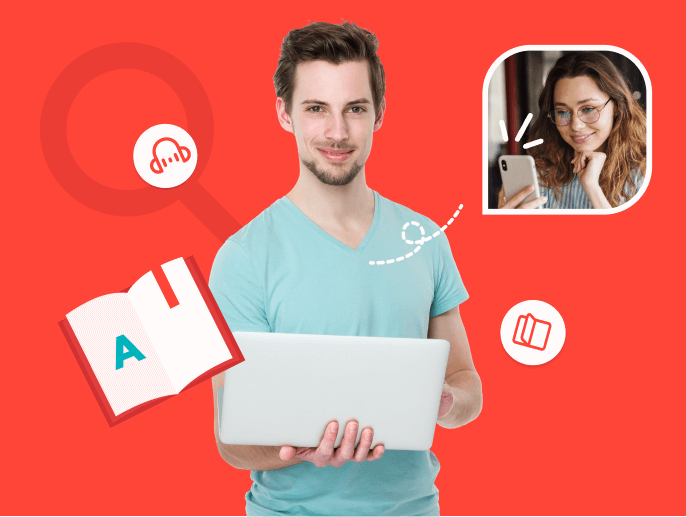 Seek & Speak
Exercises from the Seek & Speak program are another way to use your target language in between courses. Using Seek & Speak, you can select a subject like grocery shopping or packing a bag.
Then you take pictures of objects around your home with your phone's camera. Rosetta stone simulates a conversation using these images so that you can practice talking about the objects. This method of practice is more engaging and can improve your word retention.
Phrasebook
Another feature of the Rosetta stone is the Phrasebook, which is a simple tool. It displays typical words and expressions while allowing you to hear how a native speaker would say them.
Although it is fairly limited, it is useful for reviewing vocabulary and honing your pronunciation. We believe that the other features are significantly more beneficial for learning and using vocabulary.  Learning basic English grammar, vocabulary, and pronunciation as much as possible is necessary in order to be fluent in English.
Find Your Perfect Teacher
At italki, you can find your English tutor from all qualified and experienced teachers. Now experience the excellent language learning journey!
Book a trial lesson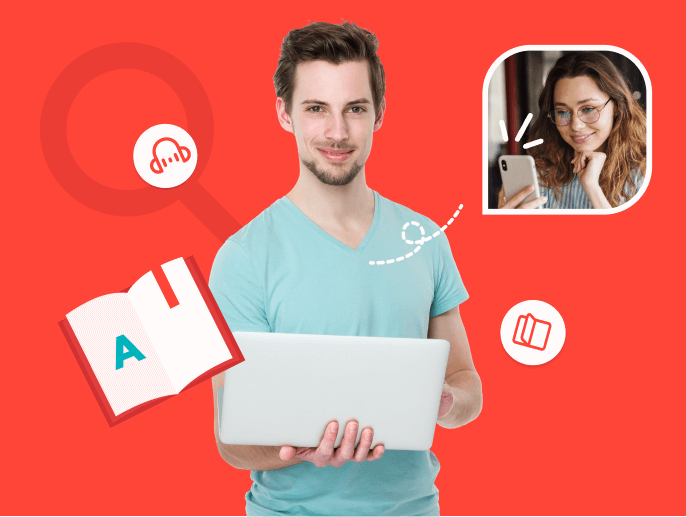 Rosetta stone Live
Live tutoring is a more recent feature that Rosetta stone now provides. You can practice with professional language coaches through Rosetta stone's live tutoring and group coaching sessions. Every week, there are free lessons on conversation, grammar, and pronunciation. A Rosetta stone online tutor also offers group and one-on-one lessons.
This is a pretty new feature and let's see how it goes. Learning a second language always requires direct interactive sessions with the tutors as learners have many queries and confusions that need to be addressed properly.
For example, italki has made it way easier to learn English online through one-on-one interactive sessions with the English teacher online. It is important for the learner to have the facility to interact with the teacher while learning any foreign language. Book your lesson plan with italki and learn at your own pace.
Find Your Perfect Teacher
At italki, you can find your English tutor from all qualified and experienced teachers. Now experience the excellent language learning journey!
Book a trial lesson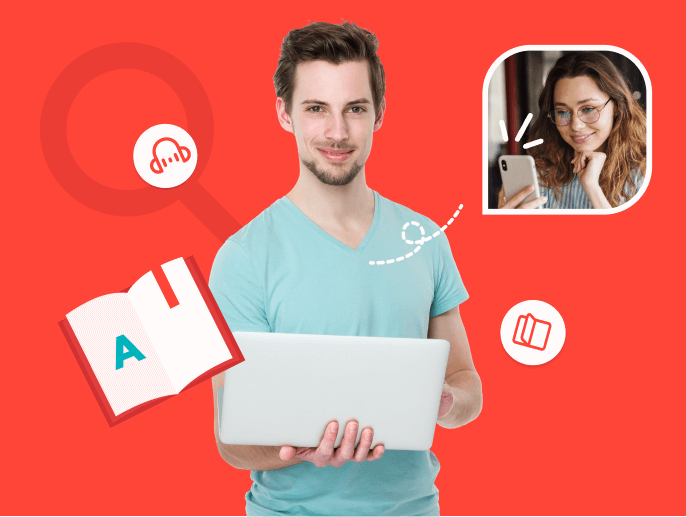 Areas of improvement for Rosetta stone
It is a good app in some respects, but it could use some work in others. And it only seems fair to mention them in my review of Rosetta stone's language-learning software.
The app excels at simulating situations where you must speak immediately. However, the conversations themselves could be improved. As opposed to teaching you how to speak like people in your daily life, Rosetta stone frequently uses more formal language. Some people may find value in this, but we believe a lot of learners would rather learn more informal speech patterns.
For example, English conversations for beginners need to be a mix of formal and informal patterns otherwise, the learners will panic and wouldn't learn the way they should.
The courses' pace could also be advanced. The fuller sentences and conversations don't seem to appear until later units and lessons. Those who wish to learn new things quickly might find this to be a little demotivating.
The last area we want to focus on is Rosetta stone's approach to teaching languages with various writing systems. You don't even learn how to read or write in languages like Japanese, Korean, Arabic, and Mandarin Chinese. The addition of some lessons that instruct this would be a significant upgrade.
Rosetta stone price
Rosetta stone offers a few different pricing options and picking the best one can be a little difficult. The price of Rosetta stone is typically a little higher than that of other popular language-learning apps like Babbel and Mondly. Even so, it's still less expensive than some alternatives like Pimsleur and FluentU.
The table below lists the various Rosetta stone pricing options available on the website or in the mobile app:
| | | |
| --- | --- | --- |
| Subscription Length | Web Price | App Price |
| 3 months | $35.97 (1 language) | $44.99 (1 language) |
| 12 months | $143.88 (1 language) | $109.99 (all languages) |
| Lifetime | $299.00 (all languages) | $199.99 (all languages) |
| Lifetime Plus* | N/A | $299.99 |
It's a good idea to break down the Rosetta stone cost per month to get a better idea of how much you actually pay for a subscription. You can see the monthly Rosetta stone cost for web and app subscriptions in the table below:
| | | |
| --- | --- | --- |
| Subscription Length | Cost Per Month (Web) | Cost Per Month (App) |
| 3 months | $11.99 ($35.97 total) | $15.00 ($44.99 total) |
| 12 months | $11.99 ($143.88 total) | $9.17 ($109.99 total) |
Frequently asked questions about Rosetta stone review
Q. Is Rosetta stone really worth it?
A. If you are a beginner and want to fully immerse yourself in a new language, Rosetta stone is worthwhile. With the aid of audio and visual cues, Rosetta stone teaches you vocabulary while also promoting active language use. However, it isn't really a good choice for more advanced or intermediate students.
Q. Can you become fluent with Rosetta stone?
A. Rosetta stone won't help you become fluent in a language. However, you can pick up the fundamentals of a language and begin having informal conversations.
Q. Is Duolingo as good as Rosetta stone?
A.  Rosetta stone is undoubtedly superior to Duolingo in terms of quality. The Duolingo app does not teach you any natural language, and it is also interrupted by advertisements. The lessons are very simple and more like games, and the sentences are randomly chosen. The method used by Rosetta stone is supported by academic research, and the courses assist you in gradually learning a new language.
Conclusion
This was all about our opinion of Rosetta stone English. Your opinion can totally be independent of ours. But, we would like you to be open in terms of learning and knowledge building. Search out the possible learning platform options for yourself so that you can come out with the best one.
Want to learn a language at italki?
Here are the best resources for you!