No one can replace the importance of books. Learning English literature through books will probably be one of the best strategies that you can use. But, it sometimes becomes difficult to know where to take start from. There are millions of books that you can use but you can start from best sellers.
There is a wide range of English literature books available around the world. If you are an English learner, you can take a start from best sellers or popular books. You may believe that best-sellers are too difficult to read for an English learner. Popular books are actually ideal for learning English because they are frequently written in simple English.
Books must appeal to a wide range of people in order to become truly popular. This means they must be both interesting and simple to understand.
The advantage of reading best sellers is that you are reading the same books that native English speakers do. They can teach you a lot of vocabulary, but more importantly, they can teach you about the culture of native speakers.
Because best sellers are widely read, you will be able to discuss current books and popular authors with other readers including native speakers. But before picking up the right book for English literature, you need to select your favorite genre.
A genre is a classification of books or a type of writing. There are numerous genres, and you are probably familiar with some of them. For example horror, mystery, science fiction, fantasy, etc.
You may enjoy historical fiction but dislike science fiction. You may despise romance but enjoy a good adventure story. Discover your favorite books, and you will get more enjoyment out of the books you study from!
In fact, finding out your favorite genre will give you the motivation to learn English. Learning through reading is a very interesting and fun-filled process free from any boredom and tiredness.
Books related to thriller or suspense
Among all the English learning books, thriller and suspense is a genre that has a high chance to grab your attention or even fascinate you.
A thriller is a book that will make your heart race. A lot of thrillers are "page-turners." They entice you to keep reading and turning the pages to see what happens next. Suspense novels are similar to thrillers but may be more exciting or frightening. They are the kinds of books you don't want to read late at night by yourself.
 "Leaving Time" by Jodi Picoult
The subject of the book: A 13-year-old girl searches for her mother, who has gone missing following a terrible accident. She seeks assistance from a psychic and a detective. They discover together that sometimes asking questions leads to answers they don't want to know.
The level of English in the book: Because it is not a typical thriller, the English in this book may be a little difficult. It focuses on how people think rather than their actions. This one will appeal to more advanced readers.
"Three" by Ted Dekker
The subject of the book: Assume you are driving your car when your phone rings. The person on the other end of the line tells you that you have three minutes to confess your sin to the world before your car explodes. What are you going to do? In this book, Kevin Parson is being pursued by a murderer for something he isn't sure he did.
The level of English in the book: The writing in this book is similar to Patterson's, but the story may be more difficult to follow.
"Mr. Mercedes" by Stephen King
The subject of the book: This is the first book in a trilogy or a set of three books. A retired cop tries to stop a man from killing thousands of people in the film. Will he be able to avert the disaster in time?
The level of English in the book: Stephen King is one of today's most well-known authors in the horror (scary story) genre. His language is more advanced, and his characters are very realistic, making this a good book for learning how people speak.
Books related to romance
Relationships, finding Mr. Right (the perfect boyfriend or husband for someone), or characters dealing with love or sex are all topics covered in romance novels. Some romance novels contain explicit sexual content and themes. Romance novels are typically written for women, but a well-written story about relationships can be enjoyed by anyone.
"Until the End of Time" by Danielle Steel
The subject of the book: Is love eternal? This is what the couples in this story believe. This is a story about love that can't be destroyed by death.
The level of English in the book: The writing in this book is a little verbose (it uses a lot of words), but the language is simple enough for an intermediate learner to understand.
"I've Got Your Number" by Sophie Kinsella
The subject of the book: A bride-to-be misplaces her cell phone while preparing for her wedding. Not a problem! She decides to use the cell phone she found in the hotel trash. So what if the man whose phone it is doesn't think it's a good idea?
The English in this book: Because it is written in the first person, this is another excellent book for learning how people speak. To put it another way, it's written as if the main character is talking or thinking. It's a lighthearted read that's not too difficult to follow.
Books related to fantasy
Fantasy books frequently have interesting descriptions and characters, making them excellent for learning synonyms and common words used to describe people. Because fantasy is not bound by the laws of reality, anything can happen in these books.
"Harry Potter and the Sorcerer's Stone" by J.K. Rowling
The subject of the book: This book is about a young Harry Potter who lives in a tiny closet beneath a staircase. One day, he receives an invitation to Hogwarts, a magical school for children. His life is forever altered.
The level of English in the book: "Harry Potter" is written for young adults, so the language is simple but lively. It's also a British book, so if you're learning British English, this is a good place to start.
If you are planning to learn English from the scratch, then you must enroll yourself with an authentic English learning platform. You can go explore italki, to get the best English tutor for yourself. In fact, italki has a wide range of English tutors (most of them are native English speakers) who can help you develop your command of English at a gradual pace.
Find Your Perfect Teacher
At italki, you can find your English tutor from all qualified and experienced teachers. Now experience the excellent language learning journey!
Book a trial lesson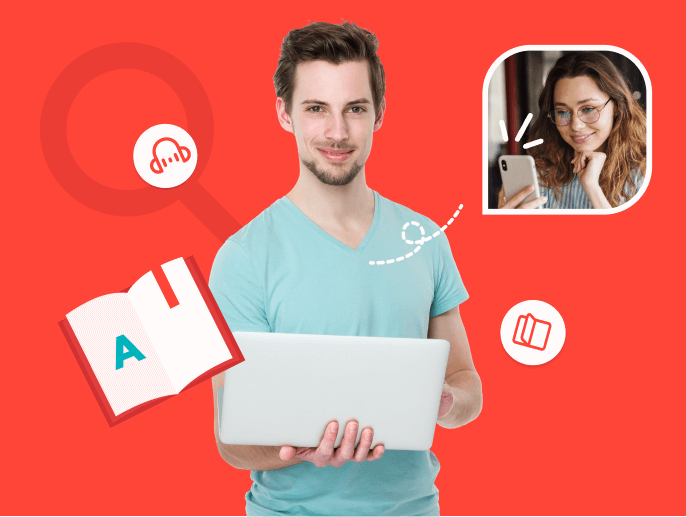 You can now learn English with italki by taking a free trial lesson leading to different one-on-one lessons organized from initial to advanced stages. Enroll yourself today!
"The Ocean at the End of the Lane" by Neil Gaiman
The subject of the book: One day, a boy discovers that the family who lives down the lane is a little…strange. This doesn't stop him from making friends with the family's young daughter and embarking on a strange and magical journey.
The level of English in the book: Gaiman is an exceptional storyteller. This book progresses from easy to difficult, making it more appropriate for an advanced reader.
Books related to science fiction
Science fiction, also known as "sci-fi," is a type of fantasy that deals with technology, science, or outer space. A lot of the time, the books are based on real science, but they aren't about real events. "Star Wars" is a well-known example of science fiction. If you like movies, you might enjoy these sci-fi books.
"The Martian" by Andy Weir
The subject of the book: This book is about an astronaut who becomes the first man to walk on Mars, but things go horribly wrong. The astronaut, presumed dead and cut off from the rest of the universe, must use his skills and intelligence to find a way back home.
The level of English in the book: This book is chock-full of space words and terms! Because the main character is alone on Mars, there is very little dialogue, but you can learn a lot about Mars, astronauts, and other space topics.
While reading, if you find any word difficult you can consult an English dictionary app to explore the meaning. These apps are highly beneficial to explore the meanings and contextual use of difficult English words.
Frequently asked questions about English literature books  
Conclusion
Reading English literature books is a great strategy to enhance vocabulary. In fact, books are the best friends one can ever have. Try engaging in books as much as you can, it will benefit your English learning journey more than you can ever imagine.
Want to learn a language at italki?
Here are the best resources for you!