English is a common language that is used in more contexts than you might even think. It is also the language of business. You can earn a lot more money at work if you learn how to speak it properly. Even though they have spent a lot of time studying the language, many people still have trouble understanding English accents.
There are many reasons why people learn English. For instance, to make new friends, fall in love, travel, get a new job, improve their financial situation, etc. to achieve their learning goals they need to find the right motivation to learn English.
Below are some of the major reasons to find the motivation to learn English. Look at all the reasons carefully to find the most relatable one for you.
Learning English helps you meet new people
Millions of people around the world conduct business using their English language skills. You can improve your career or job search by learning how to communicate verbally. You can also make lifelong friends by learning how to speak. So, it is surely a win-win situation to learn the English language.
Learning English lets you travel abroad
Many people desire to embark on an adventure abroad, but because they speak a different language, they lack knowledge of the best nations to visit. Learning some fundamental English grammar and conversation can help you travel more, which is why so many people desire it.
You can learn Basic English grammar and conversations through English literature books. Getting exposure to English literature books will broaden your horizon and you will find the motivation to learn English.
Learning English helps in job searching
If you search online, there are a huge amount of opportunities for English speakers. Many conferences, trade shows, and business meetings call for speakers or attendees who can speak "good" English but may not have had a job since graduating from college.
Learning English helps in obtaining financial stability
Speaking English fluently and quickly is essential if you want to launch your own business. Today, many small businesses demand that their staff members be able to communicate in the local tongue in exchange for their goods and services.
Before beginning any new job or business, learning some new words, grammar rules, and conversational skills will be an asset that others are eager to find when they search online. Because work cultures vary across nations, both legal and illegal activities take place. Learning English can make it easier for you to steer clear of sticky situations.
Learning English helps you find love
Your heart may race with anticipation when you see a native speaker of a different language from your own because you never know what opportunities may present themselves. However, this is typically true for foreigners looking for local partners or visa holders looking for partners. Learning English will be beneficial whether you decide to date local people or not.
Learning new languages makes situations easier
We all become one community once language barriers vanish. In this way, we are capable of comprehension, communication, and peace. Communication with businesspeople becomes simpler, learning abroad gets improved, and one develops greater respect for all cultures, not just one's own.
Learning English makes you think creatively
Learning English lets you think at multiple levels. Remember, learning a new language always seems harder at first. But once you develop an appropriate pace, you find it enjoyable to learn new words and phrases on daily basis.
As an English learner, going through some difficult life experiences makes you stronger mentally and your confidence is not diminished but rather increased. People will be interested in learning more about this intelligent mind that is multilingual. So, instead of focusing on why is English hard, you need to focus on the opportunities that it may bring to you.
Learning English improves understanding of science
Like every other aspect of the universe, our planet is governed and managed by science. We can make better decisions in our lives when we have a better understanding of the world around us and its nature.
Learning English increases the probability to understand the world. When people know how to communicate in difficult situations, they always come up with the required solutions.
These were all the major reasons to find the motivation to learn English. Now, you need to explore what is your motivation to learn the English language and what is your way forward.
What motivates you to learn English?
The answer to this question lies in the fact that what language learning means to you. Language is something that connects us in so many ways. For example, it helps us to understand each other in a better way.
Learning the English language also helps build confidence. A confident being attracts more chances and opportunities as compared to an unconfident one. Knowing English enables genuine online connections between people. What are we doing if we can understand each other even though we have different backgrounds? This relationship enables you to develop friendships that involve learning a few other languages as well as speaking English (fluently) from that point of view.
How to stay motivated while learning the English language?
Finding the right motivation is one aspect while staying motivated till you achieve your goal is another. There are different ways that can help you stay motivated while learning the English language.
Watch English content for pleasure
Don't think about learning something new every time you watch a movie, read a book, or listen to a song or podcast in English. Don't spell-check each new word. Simply enjoy it, turn on subtitles in your native tongue, or locate a translation, and take in the information.
It's not just about learning English; it's also about taking pleasure in it. Your desire to learn a language can be put to rest by constantly looking up words in dictionaries or becoming frustrated that you can't understand everything.
Find an English-speaking friend
Finding an English-speaking friend is probably the best motivation to learn the language. If you reside in an English-speaking nation, then this task is fairly simple; even a quick trip to the store might be beneficial.
Try looking for an English speaker online if you don't have this kind of opportunity; there are many apps and websites that offer this possibility. You could try going to websites or forums devoted to your hobby to look for English-speaking individuals with similar interests.
Find a good English teacher
If you want to learn English from the scratch, finding a good English tutor online is an essential task. By providing you with learning materials that reflect your interests, an effective English teacher can increase your motivation. Additionally, they can create a customized course based on your learning style and weaknesses.
They can better assist you by observing you and learning what inspires you. Additionally, you can think of your teacher as your English friend if you get along with them. All things considered, having a good teacher means getting constructive criticism that you can use to improve your English.
Find Your Perfect Teacher
At italki, you can find your English tutor from all qualified and experienced teachers. Now experience the excellent language learning journey!
Book a trial lesson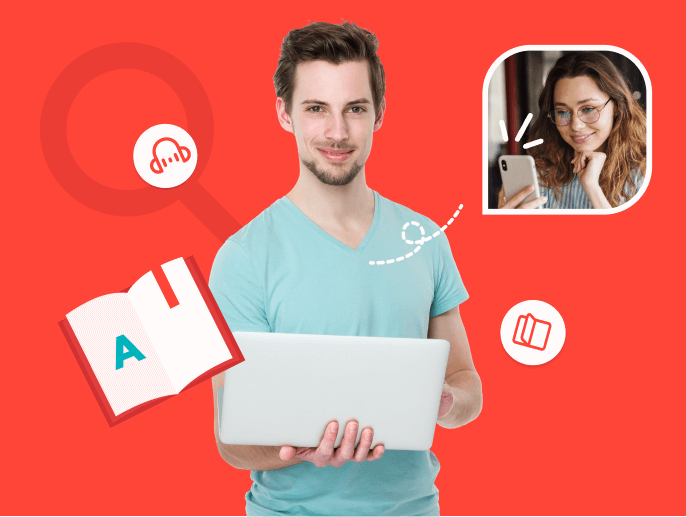 Frequently asked questions
Q. How motivation affects language learning?
A. Setting and meeting goals and expectations boost motivation, which elevates one's level of language proficiency. Teachers should encourage students to set concrete short-term objectives like speaking with English speakers or reading books in the language.
Q. How do you stay motivated to learn a language?
A. Setting up a stable learning schedule, meeting new people, and getting involved in English conversations are some of the ways to stay motivated while learning a language.
Q. How does lack of motivation affect learning?
A. If the learners are not motivated, they will find it difficult to understand new concepts. Lack of motivation impacts the success rate of a learner as he or she doesn't show the zeal required to learn a new language.
Conclusion
It's essential to have motivation when learning a language. Your drive is what propels you to success and great accomplishments. You might even want to stop studying if you don't have the motivation.
Don't be afraid to try a free, one-on-one lesson with an italki English teacher if you want to be motivated going forward. It's never been simpler to learn English online because our qualified teachers are just a few clicks away from providing you with top-notch English tutoring.
You can also consult several English learning apps to build your understanding of the language. There is plenty of English media content available online that can help you expand your knowledge base.
Want to learn a language at italki?
Here are the best resources for you!