No doubt, Christmas is the most entertaining time of the year. This eve has something very comforting and cozy about it. There are particular sayings associated with the eve of Christmas. In this guide, you will learn 15 German sayings for Christmas to make your eve unforgettable.
The cozy weather and Christmas songs playing in the background make Christmas Eve extremely special. Having warm blankets and hot drinks just refresh everyone.  There are certain German Christmas phrases that can make Eve even more special and full of fun. You can also take the help of songs to learn German if you are not familiar with these phrases and sayings.
Taking all things seriously is a part of German culture and Christmas is an event worth taking seriously. They arrange Christmas trees, markets are arranged especially for this Eve and countless other traditional activities are performed. Before getting into German Christmas phrases let us experience what Christmas in Germany looks like.
Christmas in Germany and the Christkindlesmarkt
One of the most important traditions of Christmas is the Christmas market. Due to this, Germany looks way more lively and sparkling. People around get more cheerful and energetic. At the supermarket, you will see a special dish with a bun and mustard. The smell of the sausages fills the air and is strong enough to make your mouth water.
Along with this tasty dish, drinks are also arranged. On every corner, you will find hot drinks named Christkindlesmarkt peddle. Such drinks are very beneficial for the cold weather in Germany. So it is feasible to grab a mug of Glühwein, Glögg (types of mulled wine), or Eierpunsch, or as we like to call it, eggnog, and embrace the true spirit of the holiday.
In addition to food and drinks, there are several stalls of jewelry and art and crafts. Artists from various parts of the world come here to display their artworks. To see their artwork live is a very special experience.
Christmas trees
Just like in the United States of America, Christmas trees are decorated well in Germany. Almost every house on Christmas Eve decorates a Christmas tree. In fact, some people say Germans decorate the Christmas trees in the 'American way'. But there is a difference between the two.
In America, people fully decorate the Christmas tree while Germans use a minimalistic approach. Germans mostly use real green trees to decorate for Christmas. They do not like to decorate fake trees. In America, Christmas trees are not the real ones. They are artificial trees decorated.
In Germany, the candles used on the Christmas trees are also real, most of the time. While Americans refrain from using real candles to avoid any accident related to fire.
15 German Christmas Phrases
Traditional season's Greetings
Let us start with some of the basic and traditional German Christmas phrases.
Frohe/Fröhliche Weihnachten — Merry Christmas
Ein Frohes Fest! /Schöne Feiertage! — Happy holidays!
Alles Gute zum Neuen Jahr — Best wishes for the New Year
These phrases are used in the same way they are used in the English language. These phrases are rapidly used when you greet someone on the streets or when you welcome someone at your home. You can also these phrases when you visit the markets on Christmas Eve.
Spread happiness to the world
Christmas is the right time to spread happiness and share your blessings with others. You can share moments of joy with your loved ones. To do this, you can use the following German Christmas phrases.
Frieden auf Erden — Peace on Earth
Weihnachtszeit ist Erinnerungszeit — Christmas is a time to remember
Mögen sich all deine Wünsche erfüllen — May all your wishes come true
Ich möchte dir einen lieben Nikolausgrüß überreichen — I wish to give you a loving Nicholas greeting.
Celebrating Saint Nicholas Day is much more common in Southern Germany as compared to Northern Germany. The major reason is Southern Germany is more inclined toward religion and religious traditions. During this tradition, people leave their shoes outside. They receive treats if they perform good deeds. This day holds great importance for Germans as this is also where the legend of the Krampus, a horned creature who kidnaps naughty children in his sack, comes from.
Make a list and be sure you do not miss out anything
Christmas is all about giving treats and sending gifts. It is very important to make a list of the gifts and be sure you do not miss out on anything important. The following phrases will help you if you are planning to give a gift to your German friend.
Was wünschst dir zu Weihnachten? Ich wünsche mir zu Weihnachten… — what do you want for Christmas? I want … for Christmas.
Ich habe ein Geschenk für dich/Danke für das Geschenk — I have a gift for you/Thank you for the gift.
The activity of giving and receiving gifts is prolonged, but on Christmas day, Germans arrange the Christmas dinner, decorate the Christmas tree, and arrange parties.
Give your heart to someone special and important
Friends and family are everything. Christmas is a special eve when you can express your love and appreciation to your loved ones. It is a great time to tell them what they mean to you and how much you care about them. To do so, you can learn German online to express your love and care to your special ones.
Want to learn a language at italki?
Here are the best resources for you!
Du machst Weihnachten festlicher — you make Christmas merrier.
Ich habe dich lieb/Ich liebe dich — I love you.
Although there is a difference between ich habe dich lieb and ich liebe dich, they both signify I love you. Ich habe dich lieb is more appropriate to show your love towards your family whereas, ich liebe dich is more romantic and is mostly used in romantic relationships.
Sending out Christmas cards
If you want to wish for someone that you have a personal relationship with, you will be requiring more words to express your feelings. Following are some of the detailed German Christmas phrases that you can use.
An Weihnachten werden Wünsche wahr! Darum wünsche ich dir Glück, Gesundheit, Zufriedenheit und ein erfolgreiches neues Jahr — On Christmas, wishes come true! I wish you happiness, health, satisfaction and a successful New Year!
Ich wünsche dir/euch frohe Festtage, Zeit zur Entspannung, und viele Lichtblicke im kommenden Jahr. — I wish you happy holidays, time to relax and many highlights in the coming year!
Das größte Geschenk zum Weihnachtsfest tragen wir bereits in unseren Herzen! Liebe und Mitgefühl sind unbezahlbar und unser größtes Gut. Wir wünschen dir und deiner Familie liebevolle und friedliche Weihnachten! — The greatest Christmas gift is already in our hearts! Love and compassion are priceless and our greatest good. We wish you and your family a lovely and happy Christmas!
You must be thinking wishing for someone in this way would be difficult for you but this is not true. You can now learn German in three months at your own pace and comfort level. Sending Christmas cards is a common practice on Christmas Eve. You can write all the above-mentioned wishes to your loved ones while sending Christmas cards.
Some additional Christmas vocabulary
das Christkindl — the Christ child (this is where Kris Kringle comes from)
der Christbaum/Tannenbaum/Weihnachtsbaum — Christmas tree
der Heiligabend — Christmas Eve
der Kranz — wreath
das Weihnachtslied — Christmas carol
der Weihnachtsmann — Santa
die Weisen — Three wise men
These are some of the additional phrases that you can use on Christmas Eve. In German-speaking countries, these phrases are widely used. Memorizing them will help you greet the natives as a part of their community.
Conclusion
Christmas is an Eve full of love and happiness. These phrases are powerful enough to bring your loved ones together and cherish the good times. If you want to learn German phrases used for different occasions, you can learn from a German teacher. These teachers help you learn German easily. They also provide you with relevant course plans and online sessions to be fluent in the language.
Find Your Perfect Teacher
At italki, you can find your German tutor from all qualified and experienced teachers. Now experience the excellent language learning journey!
Book a trial lesson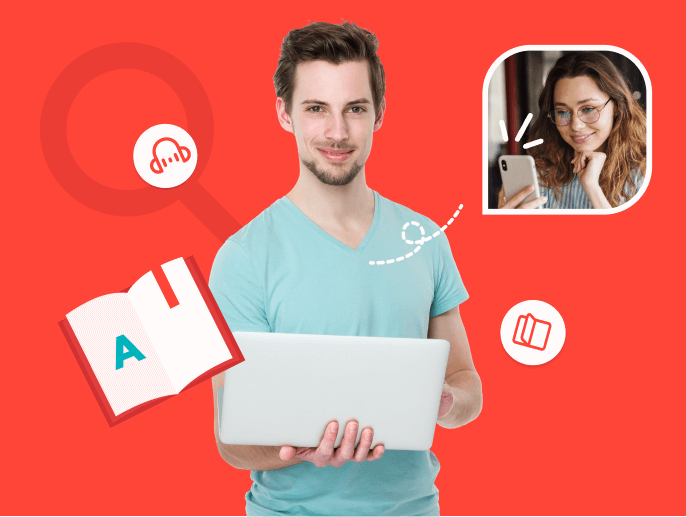 These online courses also provide you with the opportunity to have language-based exercises that can increase your grip and fluency with the language. By taking the right course, you can develop the grip within three to four months but it requires you to be consistent.