If you are looking for learning German online, have you ever thought of learning German through music? This blog post will give you the best songs that can help in learning German faster.
German is a widely spoken language. Many people consider it hard to learn. But what if we tell you that it is possible to learn German through German songs? Sounds interesting right?
It is possible to learn German through music and it has proven to be a great German learning strategy. Music is a great learning tool. With music, you can learn jargon, phrases, contractions, and modern word.
It takes time to be fluent in any language other than your native one. But, efforts to learn it gradually will surely enhance your grammar and make you fluent.
Why study German with songs
Music is great therapy and if you use it for the learning purpose that is simply great. Everyone loves music and learning through music just makes the whole process very light and meaningful.
Learning German through music is quite fun. Reading books, sometimes, becomes very dull and energy consuming so why not use music as a learning tool? This will save you from getting tired or bored.
Learning German through German songs will improve your accent gradually. You will never learn to speak German like a native speaker by reading books only. It is either possible by having live conversations with native speakers or by listening to German music and German movies.
Listening to German music will give you deep insight into German culture. Music is the east gateway to entering any foreign culture. Through music, you learn a lot about foreign culture and their people. Deeply observe the patterns of the songs so that you can learn about the culture, music, people, and preferences.
Studying German with songs will also enhance your memory. Music occupies certain parts of your brain that spoken language doesn't. And that is why it is easier to memorize song lyrics. You are more likely to remember songs than real conversations. Repetitive listening to songs will strengthen your memory skills and enhance your vocabulary.
Below are some of the greatest songs ever made in the history of the German language. Every song in this list can be a good starting point to learn German through music.
Want to learn a language at italki?
Here are the best resources for you!
Rammstein – Ich Will
Rammstein are entertaining listeners since the mid-nineties. The majority of their songs are in the German language. But the best factor is the majority of the lyrics of their songs integrate other languages as well such as English, Spanish, and French.
Ich will is considered to be the perfect start for people who aspire to learn German from the beginning level. The main reason to consider this song as the starting point is its short and simple lyrics. The song is purely in German and is straight to the point. The tune is quite amazing and pleasant to hear. Due to its short lyrics, it is considered a great song to learn German in a musical way.
Helene Fischer – Atemlos durch die Nacht
Helene Fischer's songs are very fun-filled, catchy, and light. Her songs literally stuck in one's mind because of their tremendous lyrics and tunes. Atemlos Durch die Nacht is considered to be one of the most successful hit songs in the history of Germany.
Nearly every German speaker knows its lyrics. If you ever get a chance to visit any party or club in Germany you will most probably hear this song getting played there. It is a great German song to learn German with ease.
O Tannenbaum
O Tannenbaum is a song usually associated with the festive season. But it is a good choice to start learning German through music. Almost everyone knows its lyrics by heart in English.
The video of this song is very eye-catching and interesting. It will surely spark your childhood memories. The video also carries subtitles making it super easy for you to sing along.
David Hasselhoff – Du
David Hasselhoff's music business was a massive hit in Europe, especially in the countries that have German as their native language. He performed his ever-green and iconic song "Looking for Freedom" at the Berlin Wall on New Year's Eve 1989.
Hoff himself is not a native German speaker and that is why this song is most unique among this list. Although he is not a native German speaker still his words are very clear and easy to understand. This quality makes this song a very good start to learning German through music.
Marlene Dietrich – Lili Marleen
During World War II, this song got extremely popular. It is considered to be one of the most successful love songs ever made. Initially, a poem was written in 1915 during the First World War but the cover by Marlene Dietrich enhanced its beauty in the cover song.
This song was equally popular on both sides during the war which made this one of the best songs ever made in history. Everyone used to sing this song because of its tremendous and interesting lyrics.
Nena – 99 Luftballons
This song became extremely hit after its English version release. It is an anti-war song that became a huge hit. The original German song tells the story of Army troops. It is about an Army general sending pilots to fire what turns out to be harmless kids' balloons floating on a country boundary.
This initiated a 99-year-long war, in which there was no end. As there was no winner at all.
Stereo Total – Wir Tanzen Im Viereck
Wir Tanzen Im Viereck is an amazing dance song. This song is great to dance to and sing along to. The beat is very catchy. It is considered a good German learning song as the lyrics are quite simple and repetitive. It's undoubtedly the most entertaining song on this list.
The best part is that Stereo Total is a multilingual band. This band gracefully mixes up various languages. They have produced plenty of songs in English and French as well.
Disco Pogo – Die Atzen
Disco Pogo is another extremely catchy party song that can lift your mood in seconds. It is impossible to keep a straight face during the chorus lines.
Deichkind – So'ne Musik
So'ne Musik is the best source to take yourself on the road of learning German. This hip-hop song may not be entertaining for everyone but we recommend you listen to it at least once.
Its lyrics can surely help you to enhance your German vocabulary. Their humorous lyrics make it super easy for you to memorize German words. Being a hip-hop rap song, it is a great strategy for you to polish your rap skills.
Klee – 2 Fragen
Klee is a German pop group. This band is highly influenced by several English bands such as Cold Play. 2 Fragen, basically, shed the light on the end of the relationship. A point where you just look at your ex-partner and just fail to recognize them. It's a cute little melody that is fairly calm to sing along to.
Caterina Valente – Ganz Paris träumt von der Liebe
Ganz Paris träumt von der Liebe is a fairly old song released back in 1953. It is considered to be one of the most popular German songs. It is among those three songs that took the most weeks at number one in Germany, with a total of 21 weeks in 1955.
Conclusion
We hope that you will enjoy the list of songs mentioned above. These songs will make your journey of learning German more fun. There are several other tricks and tips to learn German fast. These tips make your learning process easier and more significant.
You can also get along with German teachers to learn the language faster. These teachers will help you to enhance your German vocabulary and to be fluent while speaking German.
Find Your Perfect Teacher
At italki, you can find your German tutor from all qualified and experienced teachers. Now experience the excellent language learning journey!
Book a trial lesson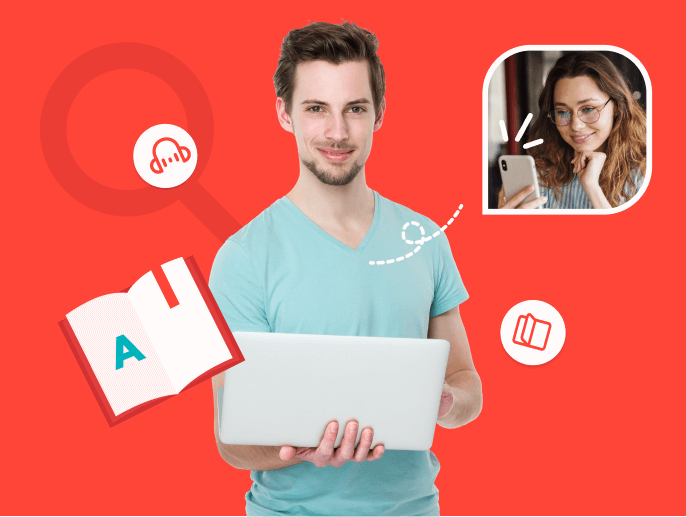 One of the best ways is to write down the lyrics you like and keep on repeating them until you memorize them. Just do not be afraid to make mistakes. It is normal to make mistakes while learning any foreign language. Make a list of the words you are not familiar with. This exercise will enhance your vocabulary.
Lastly, enjoy the process. Do not take it as a burden. Learning any foreign language is not supposed to be considered a task rather it should be taken as a fun activity. Take it as your passion and you will go a long way.