Letting others know how we feel and talking about our feelings can be difficult. It is difficult in our own language, never mind when having to think about how to express these feelings in a language that you are still learning.
If you are trying to learn English as an additional language, there are many idioms and phrases that are used commonly, but you may not find them in traditional English lessons. Luckily, at italki.com, our English tutors make sure that we cover the phrases and details that other English lessons do not.
Take a look at some examples below of the happy expressions and phrases to help you get started that will help you show your joy and delight to others.
Examples of Ways To Show Happy Expression in English
Below are some of the main examples of commonly used idioms that show happiness. As well as including the happy phrases, we have also added some examples of how they can be used in a sentence to help you use these in your own conversations when speaking English.
On cloud nine
This idiom is commonly used when someone is very happy with a situation that they are in. Similar phrases from the English language that can be used with the same meaning include "on top of the world" and "over the moon".
How can this be used in a conversation?
"I just found out the good news – I am on cloud nine."
"When she finally passed her driving test, she was on cloud nine." – past tense example
"I am on cloud nine after starting my new job."
Having a whale of a time
If a person is enjoying themselves thoroughly, then they may use this idiom. This may be because a whale is one of the largest animals in the world, so it conveys the size of their enjoyment. It is often used when talking about fun scenarios.
How can this be used in a conversation?
"When he went on his first rollercoaster, he had a whale of a time" – past tense example
"I had a whale of a time when I tried skydiving for the first time."
"You should join my exercise class; I'm having a whale of a time and losing weight at the same time."
Like a dog with two tails
If we think about how other animals show happiness, dogs are one of the first animals that come into our minds. When they are happy, they wag their tails from side to side with excitement, and this is where this phrase came from. This idiom is often used when someone receives some good news that they are very happy about.
How can this be used in a conversation?
"I bought my first car, and I feel like a dog with two tails."
"When he passed his exams, he was as happy as a dog with two tails." – past tense example
"I just heard the good news – I bet you are like a dog with two tails."
Happy bunny
If someone is described as a happy bunny, then they are happy and content with the situation that they are in. When someone uses this phrase themselves, they are likely to be pleased with their life. Often, the word 'not' is added to this phrase to show a persons' discontent on a topic.
How can this be used in a conversation?
"He got ten Easter eggs in total – he was a very happy bunny." – past tense example
"My heating has not been working for almost a week now. I am not a happy bunny!"
"I am a happy bunny that all my exams are over."
Full of the joys of spring
If someone is excited and full of joy, with an enthusiastic approach to life, then they may be described as this, or in fact, describe themselves like this. Spring is the season when things come alive again, so it is clear to see why it would be used to show such happiness and excitement.
How can this be used in a conversation?
"I passed the test with an A grade, so I am full of the joys of spring."
"I was full of the joys of spring when I found out I was going to be an uncle." – past tense example
"I just found out that my son passed his driving test – he is full of the joys of spring."
Smiling from ear to ear
If someone is so happy that they have a huge smile on their face, then this can be used to describe them. When someone has a big smile, it stretches from one side of their face to the other, which is where this phrase comes from.
How can this be used in a conversation?
"After he tried ice cream for the first time, he was smiling from ear to ear." – past tense example
"I've just heard the news. I am so happy for you. If you could see me right now, you would see I'm smiling from ear to ear."
Happy camper
Another happy expression that you can add to your English repertoire is the phrase 'happy camper'. This phrase is normally said by someone who is content and satisfied with the situation they are in and do not want to change it. It can also be used to describe someone else. This phrase can be used when talking about personal life, or someone's work life. Listen carefully when someone is using this phrase, however, if the word 'not' is added to the sentence, it has a different meaning. This would mean a person is extremely unhappy with their scenario.
How can this be used in a conversation?
"I just passed my driving test and got into university – I am a happy camper right now."
"They are such a happy camper in their new job."
"I was a happy camper until our boss changed at work – now I hate it." – past tense example.
Over the moon
This has a similar meaning to the first expression on our list, "on cloud nine," and it is often used to show extreme happiness. If a person uses this phrase, then their happiness levels are significantly higher than usual. Often, they are excited about new information or news that they have just received or about an experience that has just happened.
How can this be used in a conversation?
"Their daughter just graduated, so they are over the moon."
"When he won the football match, he was over the moon." – past tense example
"They just moved it to their new house and are over the moon!"
Paint the town red
And finally, the last on our list that can be used to describe excitement and happiness about an upcoming event or occasion is the phrase "paint the town red".
Red, in this case, is a bright, stimulating, and exciting color that is linked with happiness. When a person is looking forward to something such as going to a party or visiting a new club with their friends, they may often use this phrase. Generally, it is often linked to the idea of a celebration or party.
How can this be used in a conversation?
"I'm heading out to paint the town red tonight."
"We painted the town red last night at John's birthday party." – past tense example
"Enjoy yourself – go and paint the town red!"
How Can italki Help You
If you are looking to learn more about the English language and learn English online, then look no further than italki.com. Our expert staff can help you out with a number of different phrases in English, such as popular English idioms, and how to show your emotions with happy phrases you can add to everyday conversation.
Want to learn a language at italki?
Here are the best resources for you!
Why choose italki?
Choosing italki as your language learning platform comes with several advantages that make it a popular choice among learners worldwide. Here are some compelling reasons to choose italki:
Variety of Teachers: italki offers a wide selection of qualified language teachers, allowing you to choose instructors based on their teaching style, experience, and background. This ensures you find a teacher who aligns with your learning preferences.
Flexible Schedule: You can schedule lessons at times that are convenient for you. This flexibility is especially beneficial for learners with busy schedules or those in different time zones.
Personalized Learning: Teachers on italki tailor lessons to your specific needs, whether you're a beginner, intermediate, or advanced learner. Lessons can focus on grammar, conversation, vocabulary, or any aspect you want to improve.
One-on-One Interaction: One-on-one lessons offer focused attention from the teacher, giving you ample opportunity to practice speaking, receive feedback, and ask questions.
Affordable Options: italki offers various pricing options, allowing you to choose teachers within your budget. You can opt for trial lessons, regular lessons, or lesson packages based on your preferences.
Convenient Virtual Classroom: italki provides a virtual classroom equipped with tools for video calls, text chat, document sharing, and a whiteboard. This platform ensures a seamless and interactive learning experience.
Global Community: Interacting with teachers from different parts of the world exposes you to various accents, dialects, and cultural insights. It's an enriching way to experience language and culture.
Real-Life Practice: Teachers often incorporate real-life scenarios and cultural insights into lessons, enabling you to apply language skills to practical situations.
Feedback and Progress Tracking: Regular feedback from your teacher helps you identify areas for improvement and track your progress over time.
Language Exchange: Apart from booking lessons, italki offers a language exchange community where you can connect with native speakers of the language you're learning. This exchange can provide additional practice and insights.
Quality Assurance: italki reviews and verifies teachers' credentials and qualifications, ensuring you learn from experienced professionals.
Accessible Learning: You can access italki from your computer, tablet, or smartphone, making it convenient to learn from anywhere.
Satisfaction Guarantee: If you're not satisfied with your first lesson, italki offers a refund of the lesson credits you used.
Ultimately, italki empowers you to take charge of your language-learning journey by offering personalized instruction, cultural immersion, and the flexibility to learn at your own pace. It's an engaging and effective way to develop your language skills, connect with people from around the world, and embrace the beauty of language and culture.
How to book English lessons on italki?
Booking English lessons on italki is a straightforward process that allows you to connect with experienced language teachers. Here's a step-by-step guide:
Create an Account: If you don't have an italki account, start by creating one. You can sign up using your email address or log in through your social media accounts.
Learn English on italki
Join the global community of language learners today! Sign up for italki and start improving your language skillswith native-speaking teachers from around the world.
Create an italki account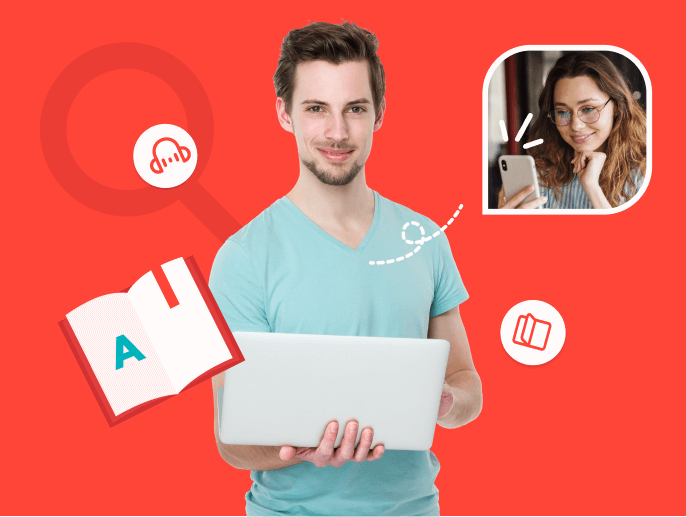 Search for English Teachers: Once logged in, navigate to the "Find a teacher" section or use the search bar to find English language teachers. You can filter results based on your preferences, such as location, price, availability, and teaching style.
Explore Teacher Profiles: Click on a teacher's profile to learn more about their background, teaching experience, teaching style, and student reviews. This will help you find a teacher who suits your learning needs.
Check Availability: On the teacher's profile, you'll find their availability for lessons. Choose a time that works for you and matches the teacher's schedule.
Select Lesson Type: Teachers typically offer different types of lessons, such as trial lessons, regular lessons, and packages. Choose the type that fits your preferences.
Book a Lesson: Click on the desired lesson type (e.g., trial lesson) and choose the duration of the lesson. You'll be prompted to confirm the booking and proceed to payment.
Make Payment: Enter your payment details and confirm the booking. italki supports various payment methods, including credit/debit cards and PayPal.
Join the Lesson: Before the lesson's scheduled time, ensure you have the necessary tools (webcam, microphone) and a stable internet connection. At the appointed time, access your italki account and go to the "My Lessons" section. There, you'll find a link to start the lesson using the virtual classroom provided by italki.
Enjoy the Lesson: During the lesson, engage with your teacher, ask questions, practice speaking, and learn! Teachers often customize lessons to your level and goals.
Feedback and Next Steps: After the lesson, you can leave feedback for the teacher. If you enjoyed the lesson, you can continue booking additional lessons with the same teacher.
Becoming familiar with happy expressions and the idioms that those who speak English use can take some time, but italki is here to help with different English classes online that you can select to learn more about the language.
Conclusion
The idioms that we have discussed above often come up in everyday English conversation, so it is important that you are able to understand them and use them to show a happy expression. There are other phrases used within the English language to show different emotions, and it can take some time to understand these. To help you understand these, consider booking a class with italki.com, where our English tutors can teach you everything you need to know about the English language. Book a class today to increase your confidence in English, and see your ability improve.
Find Your Perfect Teacher
At italki, you can find your English tutor from all qualified and experienced teachers. Now experience the excellent language learning journey!
Book a trial lesson