Speaking well is every Italian student's ultimate goal. We hope we can express ourselves without difficulty and be as comfortable speaking Italian as native speakers, but learning to speak is difficult. It can be especially intimidating for beginner Italian students who are just starting with the language.
In this article, we share five tips to learn to speak Italian for beginners. We hope these tricks will help you speak faster and with more confidence.
1. Learn adjectives and speak LOUDLY!
Once you've learned the basic Italian grammar rules, and you've started writing sentences yourself, keep learning at least one new adjective a day. Italian language is rich in adjectives, and they are often overlooked, which makes speech scarce. Instead of the usual bello, you can say stupendo, magnifico, piacevole, gradevole, avvenente, incantevole, affascinante, vistoso, attraente, delizioso. Try to learn and use less commonly used adjectives – and you will notice genuine admiration in the eyes of the Italians!
The word "quiet Italian" is an oxymoron, such as "hot ice". Italians speak loudly, colorfully and confidently. And if you want to be heard, you must do the same. If you want to learn to speak Italian, you have to overcome your natural modesty and learn to attract attention to yourself! At the same time, you should speak with self-esteem.
You will easily learn to speak Italian on italki. On our website, you can find useful articles and qualified teachers to help you learn Italian online. Whether you are a beginner student or not, you can continue improving your skills in Italian and even try to study other languages such as Spanish, French, Japanese, Chinese and German.
2. Make your studying interesting
Learning a foreign language doesn't have to be boring. For example, have you tried listening to music, or doing something else you like, in Italian? You can find the lyrics of famous Italian songs online and sing along with the original performer. It is both enjoyable and educational. Singing by yourself, by the way, is also great to improve your mood and lift your spirits!
Another great way to learn to speak Italian for beginners is by reading out loud in Italian. But, of course, try to find texts that match your level of language proficiency. At first, you will need a dictionary, but you will see that over time, there will be less and less unfamiliar words.
Also, you can watch films in Italian with subtitles. Using movies as a learning method is not easy for beginners, but who doesn't like a challenge. Start by watching the movie in English, and then switch to the Italian version (most DVDs have multiple language options). It is of course advised to watch movies with subtitles, because in this way you see both the Italian phrase and its English translation at the same time. But be careful to choose a movie in classic Italian, and not in a dialect. There are about 20 dialects in Italy and some of them are almost incomprehensible for Italian students! B, if you are no longer a beginner, then listening to dialects will be even more interesting for you.
Find Your Perfect Teacher
At italki, you can find your Italian tutor from all qualified and experienced teachers. Now experience the excellent language learning journey!
Book a trial lesson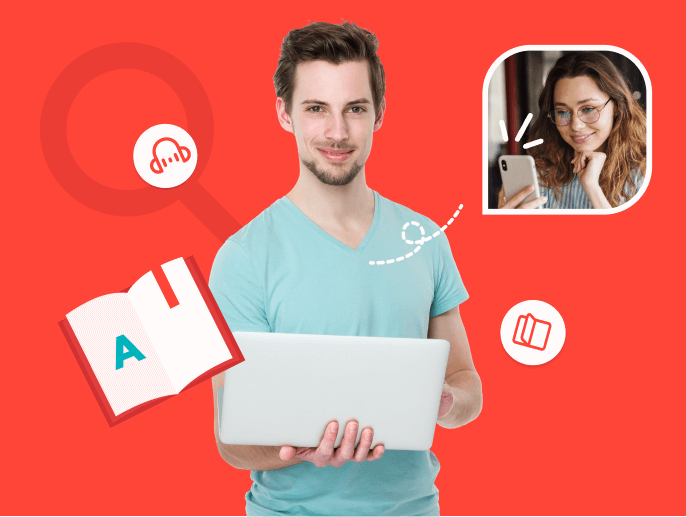 3. Use audio recordings
There are tons of audio courses or audio lessons on the Internet. They usually contain both rules and exercises to consolidate your knowledge. A big advantage is that typically, audio lessons are recorded in the voice of a native speaker. This is very important, because in this way you will hear the real Italian speech and by repeating after the recording you'll improve your own pronunciation. You can download audio lessons and tutorials and transfer them to your smartphone. They are very convenient to use if you are traveling in a car or in public transport, when you exercise in the fitness club or even when you go for a walk. You can combine working with pleasure. Gradually, you will get used to the Italian language and begin to understand it better. Our advice is to use audio courses and recordings that have pauses for repetition, so you can hone your pronunciation. It is important to learn to speak Italian correctly from the very beginning.
4. Learn Italian online and find new friends
Be sure to find someone who will speak Italian with you – a friend or a mentor. This will help you overcome your fear and start putting your knowledge into practice. Also, it is always better to have live communication than to repeat after a recording. However, for some people, it is not possible to learn to speak Italian with a mentor. In that case, using Skype, Google Meet and similar programs that allow you to speak via video or voice chat will help you greatly.
Of course, it is better to chat and speak with an Italian teacher. In this case, they will be able to guide you in the right direction, correct mistakes and draw your attention to the most important points in grammar or vocabulary. You can find Italian teachers and language tutors on our website italki, on some specialized language forums, and even on dating websites. While speaking Italian with a friend may not be as effective as learning with an Italian teacher, it will be useful to all beginner students. The advantage is that you can make friends too. In general, you should use every opportunity to learn to speak Italian, but the main thing is not to be shy and to practice your speaking skills with confidence.
Moreover, it will not be difficult to make Italian-speaking friends (pen pals) online: Italians are very sociable people and there are hundreds of websites and Facebook groups for language exchange. Write emails, exchange short messages or call on Skype – everyday communication on any topic is the right step towards achieving your goal!
5. Travel to Italy
Try to visit Italy! There are many reasons to do so, the first one being, and the beauty of this European country! While visiting, you'll immerse yourself into the language environment, you will be able to put your knowledge into practice, and you will certainly learn something new. Of course, a trip to Italy is not cheap, nor is it easy to organize. However, in our opinion, this is one of the most productive and motivational steps a language student can take to improve his or her speaking skills. In Italy, you will not only speak Italian, but you can choose the language practice according to your interests. For example, if you like art, you can go to the museums and hire an Italian guide. If you love to cook, you can attend cooking classes and speak to the real Italian chefs. And if you like parties, you can easily go out and socialize in clubs and bars. Naturally, you won't learn to speak Italian during only one trip in the county, but you'll gain a lot of confidence and the motivation to study Italian even more diligently. You'll have a chance to overcome your fears and language barriers.
Have a look at this list of free resources for learning Italian which can be useful for your first steps in learning Italian language.
If you still need help, have a look at our website. Italki is an online platform for finding language teachers and tutors. You can book general one-on-one Italian lessons, business Italian classes or even casual conversation practice lessons with professional teachers and native speakers. Our experienced Italian teachers and community tutors will help you to learn to speak Italian in no time!
We wish you the best in learning Italian!
Want to learn a language at italki?
Here are the best resources for you!