Do you want to learn Japanese and wondering where to learn it from? We have compiled a list of online Japanese learning resources for you. In this guide, you will find helpful hints on how to improve your learning as well. Go through all these options and opt for the most suitable one for you.
Learning a new language is now easier than ever! You no longer need to travel to Japan, attend a language school, or even attend an expensive college to learn Japanese. With all of the resources available – most of which are free – you can quickly learn and master the language.
We have compiled a list of the best websites and apps for learning Japanese. Each learning tool offers a unique experience; all you have to do is find the ones that best suit your needs and goals.
Where to learn Japanese
italki
This is one of the best language websites for anyone who is serious about learning the language. italki connects students with native teachers for online lessons and conversations. You will have the opportunity to practice speaking Japanese with a Japanese tutor! There are numerous options available depending on your needs and goals.
Find Your Perfect Teacher
At italki, you can find your Japanese tutor from all qualified and experienced teachers. Now experience the excellent language learning journey!
Book a trial lesson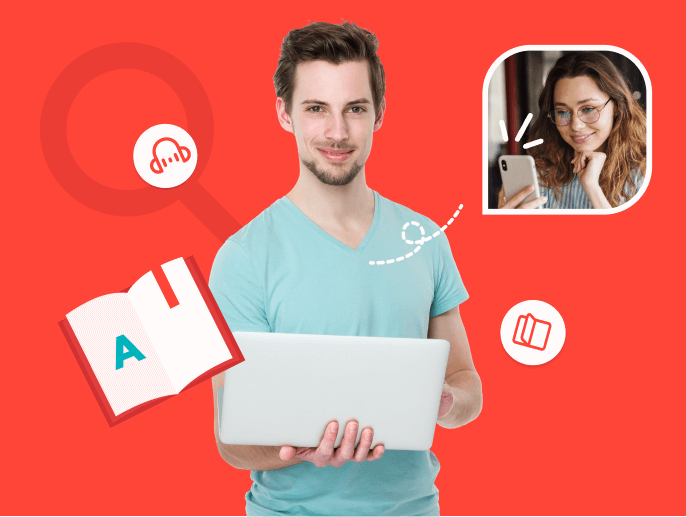 The learning experience is completely immersive, making it an efficient way to learn Japanese in a short period of time. All fees are per hour and vary according to the instructor, but they are very reasonable.
JapanesePod101
Because it primarily teaches with videos and audio clips, JapanesePod101 is simple to use and ideal for visual or auditory learners. JapanesePod101 also includes vocabulary flashcards and a word bank to help you personalize your learning experience and focus on words that are difficult for you.
Although you can use your "free trial" for as long as you want, you will need to subscribe to one of their paid plans to unlock the program's full potential and all of its features.
Duolingo
This is a popular free language app for your phone that you can download. The 5-minute per day game-like lesson allows everyone to learn Japanese at their own pace. It gives you a great head start on vocabulary development, and you can quickly customize your learning as you go. You simply need to customize your learning time whenever you are ready to commit more time. The app is also suitable for children.
FluentU
FluentU is a video-based learning program that bases its learning system on authentic Japanese videos. The clips are from Japanese dramas, sports programs, news reports, movie scenes, and other sources.
Each video has interactive subtitles, which allow you to click on any unfamiliar words to see the English definition, example sentences, and other videos where the word appears. In addition to multimedia flashcards and personalized quizzes, the platform provides a comprehensive Japanese language learning system.
Rosetta Stone
Rosetta Stone is one of the most well-known and oldest digital language learning programs. The program's philosophy is to teach new languages in the same way you learned your first, by associating pictures with words and gradually introducing grammar.
Rosetta Stone is one of the few online courses for independent study that monitors and helps you improve your accent and intonation, which is often overlooked when studying without a teacher.
CosCom Japanese
CosCom Japanese provides concise lessons that cover all of the fundamentals of Japanese. These fundamentals cover vocabulary and grammar as well as the Japanese writing systems.
All of the words and phrases in the online lessons have authentic Japanese audio recordings and English translations. CosCom's lessons also include valuable extras such as short world news updates in simple Japanese, the most common 200 Japanese verbs, and instructions on how to type hiragana, katakana, and kanji on computers.
Japanese from Zero!
Japanese from Zero was created by George Trombley, a Japanese learner who achieved fluency in Japanese and went on to work as an interpreter for companies such as Microsoft and IBM.
The first course, which consists of 13 full lessons, is completely free if you sign up on the website. The remaining four courses must be purchased either online or as a textbook.
If you want something completely free, the Japanese from Zero! YouTube channel supports online and textbook courses.
Rocket Japanese
Any Japanese learner should take advantage of online and app-based language courses. The content is extensive, covering all skills such as audio lessons, vocabulary, writing, grammar, and so on. This is a versatile platform. You can learn about its full functionality on a computer or on the go using its free app tool.
Memrise
Memrise teaches language with flashcard decks by combining spaced repetition technology with a flashy and fun interface. From katakana and Japanese counters to JLPT N1 vocabulary, the flashcards cover a wide range of levels and subjects.
Memrise's interactive, game-like approach may better serve the needs of beginners and casual learners. Some decks and features are free to use. It is subscription-based, with an annual discount. A lifetime subscription is also available for a higher one-time fee.
Tofugu
Tofugu's structure for learning Japanese is simple and effective. The best feature is that the site lays out the language concept before you jump in, which helps to build a solid foundation in the learning process. It provides podcasts, Japanese grammar guides, detailed examinations of Japanese vocabulary, and writing, Japanese resources, and textbook reviews.
Japanese-Lesson.com
Japanese-Lesson.com provides ten completely free lessons covering essential Japanese words and phrases for absolute beginners. Each lesson focuses on phrases and words related to a specific topic and includes audio files for key terms.
Lessons also include grammatical and cultural explanations in the "Tips" section, and each lesson includes three different drill exercises to help you solidify your knowledge.
edX
Founded by Harvard and MIT, edX provides high-quality courses in a wide range of subjects, including Japanese, from universities around the world. Waseda University in Japan provides Japanese courses on edX. There are two levels of in-depth beginner courses taught by enthusiastic professors in English.
Students can sign up for individual classes or purchase the entire three-part program course. Every course is free to audit, but a paid certification course includes more materials and quizzes.
Courses on proper Japanese pronunciation, as well as how to use techniques like shadowing to improve pronunciation, are among their offerings.
Linguti
Linguti is a website that provides free gamified language learning in Japanese and Polish. If you are just starting out, start with Unit 1 and work your way through quizzes on vocabulary, grammar, reading, writing, and listening to unlock subsequent content.
Keywords can be displayed in romaji, kana, or kanji, which is useful for those who are familiar with Japanese characters. The best part is that you can redo lessons as many times as you want. The fact that you never have to worry about failing is what ultimately makes this website both entertaining and inspiring.
All these language learning mediums are authentic and provide some of the best tips to learn Japanese for beginners, intermediate, and advanced-level learners. Getting in touch with them will help you learn Basic Japanese greetings such as how to say hi, how to order food in Japanese, and how to have Japanese conversations in formal and informal settings.
Frequently asked questions
Q. What is the most effective method to learn Japanese?
A. Immerse yourself in Japanese cultural output such as Japanese dramas, films, J-pop, anime, or whatever entertainment channels interest you. They are by far the most convenient way to immerse yourself in the language. You'll be surprised at how quickly you can learn Japanese.
Q. What is the importance of finding a support system while learning Japanese?
A. Reach out to your social circles to see if a friend is interested in learning as well. One of the most effective ways to learn is to actively listen and speak, putting your new vocabulary words to use. Set aside times when no English is allowed and exercise speaking together.
Q. Do you require a lot of practice while learning Japanese?
A. It goes without saying that practice makes perfect. If you decide to pursue the challenging and rewarding goal of learning Japanese, plan ahead of time and set aside time each day to study and practice.
Conclusion
With the help of these websites, you will be speaking fluently in no time. And all without leaving the house. Learning independently allows you to work at your own pace and concentrate on any aspect you want.
If you follow the guide to learn Japanese you need to check out other methods of self-study, such as Japanese books, how to learn Japanese in your car, and learning by watching TV. Having fun while learning will keep you motivated to keep going no matter how much time you spend studying online.
Want to learn a language at italki?
Here are the best resources for you!