Listening to the language is undoubted, the best way to learn it. What better way to learn a language than through podcasts? You will learn vocabulary, grammar, and the rhythm and music of the Japanese language by listening to these amazing podcasts.
Once you explore different Japanese learning websites, you will get to know the importance of listening to a language. Listening is one of the most effective ways to learn a language. Exploring these amazing Japanese podcasts will help you with vocabulary building and pronunciation of words.
So, let's explore some of the best podcasts to learn Japanese:
JapanesePod101
One of the best podcasts for learning Japanese from native speakers is JapanesePod101. There are audio and video lessons covering a wide range of topics for beginner, intermediate, and advanced language learners.
One of the many great features of JapanesePod101 is the clear and distinct pronunciation, which allows each syllable to be heard. The host covers language and conversation basics, as well as occasional tidbits of Japanese culture, to keep the lessons interesting.
News in Slow Japanese
Every week, a different news topic is read out loud in clear Japanese on this website. This is an excellent way to improve your listening and comprehension abilities. If you want a more difficult challenge, listen to a faster version of each slow news story.
Movies, manga, good news, culture, humor, the internet, and sports are among the site's eclectic mix of categories. The audio is accompanied by popup translations and kanji readings. So, if you are wondering how to learn Japanese kanji, this podcast can help you a lot.
Learn Japanese Pod
This is a good option for beginners who need to learn useful Japanese phrases and vocabulary. The podcast consists of a few short conversations between the two friends who created it.
They are intended to demonstrate how specific words and phrases are used. Each conversation is then dissected in English and supported by supporting materials such as transcripts of the Japanese and English conversations.
LingQ
LingQ offers a wide range of formats and topics of everyday interest. LingQ's podcasts include interviews, features, and audiobook excerpts, but the majority of the lessons are actual Japanese conversations.
Current events, education, food and drink, and other topics are covered. There are also free transcripts, but you must pay for additional features such as flashcards, vocabulary lists, progress trackers, and useful web browser extensions.
The Japanese Page
The Japanese Page's goal is to get you away from textbook Japanese and into real-life conversations. The mini podcast lessons consist of short Japanese conversations that are then explained in English.
Each lesson concludes with a quick recap, and episodes are accompanied by key phrases and information in both English and Japanese. Although each podcast episode can be listened to independently, they all build on one another. Each one begins with a quick review of the previous lesson's material.
NHK World
These ten-minute lessons combine English with Japanese words and phrases to demonstrate how they are used in various situations. The moderate pace of the Japanese makes it fairly easy to understand, and the hosts repeat conversations, exploring them in greater depth.
There is a strong emphasis on pronunciation and grammar, as well as interactive elements to test your understanding of Japanese. There are 50 lessons in total, with topics such as how to ask for things, ordering in a restaurant, and words associated with disaster situations featured.
Japanese Listening Advanced
This podcast features Japanese natives speaking at their natural speed, using colloquialisms and street language. If you are at an advanced level but don't live in a Japanese-speaking country, this podcast will help you maintain your language skills.
If you find any of the conversations difficult to follow, you can download transcripts in Japanese with English translations.
JLPT Stories
These episodes contain carefully formatted Japanese that is appropriate for a specific JLPT level. The JLPT Stories podcast will help you study and perform well on the exam. The material isn't always dry and academic, and many episodes cover realistic and relatable scenarios.
Unfortunately, the original uploader of the series and its helpful transcripts is no longer active. However, a kind uploader has gathered some of the episodes.
Tofugu
Tofugu is a well-known Japanese culture and language blog that can help you improve your study habits. Whether you are struggling with proper translation or want to know how to speed up your progress, the Tofugu podcast can help.
The podcast also discusses issues concerning the Japanese way of life. These are excellent to listen to if you are simply curious about Japanese customs or if you are planning a trip to Japan.
Along with these Japanese podcasts, if you are looking for a medium to learn Japanese, check out italki. All your concerns related to Japanese learning can easily be addressed by italki Japanese teachers as this medium has successfully gathered the best instructors who are budget friendly as well. Get yourself enrolled online!
Find Your Perfect Teacher
At italki, you can find your Japanese tutor from all qualified and experienced teachers. Now experience the excellent language learning journey!
Book a trial lesson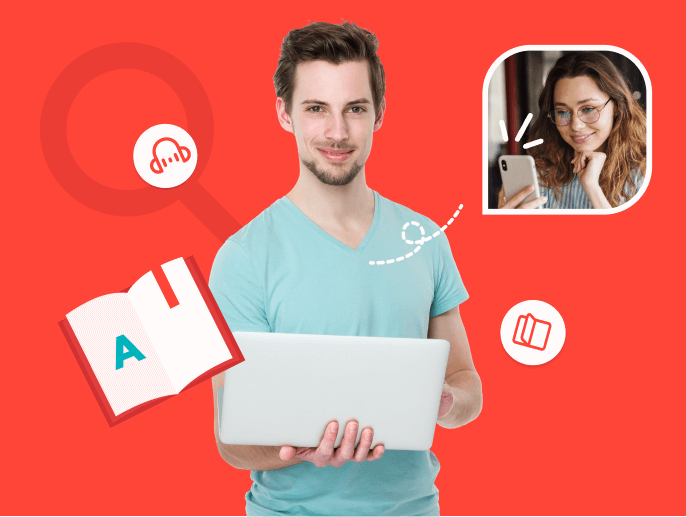 Japanese Conversations
Japanese Conversations, designed for intermediate learners, provides audio of Japanese conversations. You will hear realistic, narrative-based dialogue from a variety of situations, and you'll be able to follow along with the provided transcripts.
The intermediate level is always a difficult stepping stone for students, and Japanese Conversations is well aware of this. It uses regular-paced Japanese speech, accents, and common slang. However, in addition to the transcripts, English translations are provided. Keep in mind that the series is not free; it costs $197 to access.
Let's Talk in Japanese
This podcast is about "a Japanese teacher talking in Japanese." You will be listening to friendly Tomo ramble on about a variety of topics. Because Tomo is a teacher, he understands what students require to practice and challenge their Japanese skills.
By including the corresponding JPLT level, he makes it clear which episodes are for which level learner. His lower-level content employs slow, steady voiceover with limited vocabulary, whereas his higher-level content employs a native-level cadence and lexicon.
Because of its clear difficulty distinction, the podcast has become a popular choice for learners, so we recommend you watch videos at different levels to see what suits you best.
Bilingual News
Bilingual News allows you to keep up with current events while also practicing your language skills. Every episode includes a discussion of current news topics by your hosts Michael and Mami.
Michael speaks primarily in English, whereas Mami primarily speaks in Japanese (but also provides commentary in English). With this unique format, you can get a serious listening workout as you process the Japanese intently, then fall into a lull with the English, then focus intently again when the Japanese is spoken.
The podcast is likely best suited for advanced learners because the Japanese used is quick and natural, and the ping-ponging between Japanese and English provides an interesting challenge.
Japanese Swotter
Japanese Swotter allows you to listen carefully to specific Japanese phrases and expressions, which you can then repeat aloud. The episode format is straightforward, and the content, which includes Japanese of various formality levels, is appropriate for beginner to mid-level learners.
The podcast may also cover important grammatical concepts (with example sentences) that you will want to go over again and again. The guided nature of Japanese Swotter may be especially beneficial to those who prefer a more interactive study session or who are prone to zoning out when listening to audio.
If you join the content creator's Patreon, you will also get access to Hiragana episode transcripts.
Frequently asked questions
Q. Can you learn Japanese by listening to podcasts?
A. Podcasts are an excellent way to supplement your daily listening practice and learn Japanese on the go. Podcasts can be an effective way to practice reading if they include transcripts for each episode.
Q. Does listening to Japanese help you learn the language?
A. Learning Japanese by listening can be a very effective way to immerse yourself in a new language. Another advantage is that audiobooks are extremely convenient. No matter how busy you are on any given day, it is simple to find the time to listen to a Japanese audiobook and immerse yourself in the language.
Q. What is the significance of learning podcasts?
Reading aloud to a podcast increases confidence and literacy. Podcasts allow students to practice their listening comprehension of complex texts that are both conversational and formal, and the accompanying transcripts confirm their success.
Conclusion
Learning through Japanese podcasts is one of the most effective methods to observe Japanese vocabulary and accents. In fact, these podcasts can also assist in teaching different Japanese greetings used on different occasions and situations.
You can listen to Japanese podcasts whenever and wherever you want i.e. on your way back home while jogging around the park, or while soaping up in the shower. They could even be playing in your ears as you sleep. Remember, the sooner you start listening to these podcasts, the sooner you will be on your way to Japanese fluency.
Want to learn a language at italki?
Here are the best resources for you!