Looking for the best way to learn Japanese online? You will achieve Japanese fluency if you follow the instructions in this detailed, step-by-step guide. Anyone who claims that learning a language will be simple is either mistaken or trying to sell you something. It is a gradual process that requires consistency and determination.
First of all, you need to start at the very beginning. We are assuming that you know nothing about Japanese and walk you through each step. Reading, writing, speaking, and listening will be covered in this guide.
Our goal is to achieve Japanese fluency as soon as possible. Just keep in mind that some steps may appear counterintuitive. They may appear to be slow in comparison to other methods, but everything has been carefully chosen to get you to the finish line faster and more efficiently.
Learn the Japanese alphabet
The best way to learn Japanese is, to begin with, the fundamentals: the alphabet. To read Japanese, you must first learn three basic writing systems: Hiragana, Katakana, and Kanji.
Want to learn a language at italki?
Here are the best resources for you!
Hiragana
Hiragana is the alphabet used in Japan. It is one of three Japanese writing systems that must be learned in order to read. Katakana and kanji are the other two, but hiragana is where it all begins.
Reading Hiragana is essential for all beginners. Hiragana, which consists of 46 characters or 51 phonetic characters, is primarily used for native Japanese words. It's essential for comprehending how and why Japanese words sound the way they do.
Hiragana is simple to learn because most characters have only one pronunciation. Without a doubt, learning Hiragana will provide you with the solid foundation required for a native-sounding accent.
If you want to seek out professional guidance, you can hire Japanese teachers to make you read Hiragana. You can explore italki to find the best Japanese tutors for yourself and your friends. It gives you the facility to book your desired tutor and start learning right away!
Find Your Perfect Teacher
At italki, you can find your Japanese tutor from all qualified and experienced teachers. Now experience the excellent language learning journey!
Book a trial lesson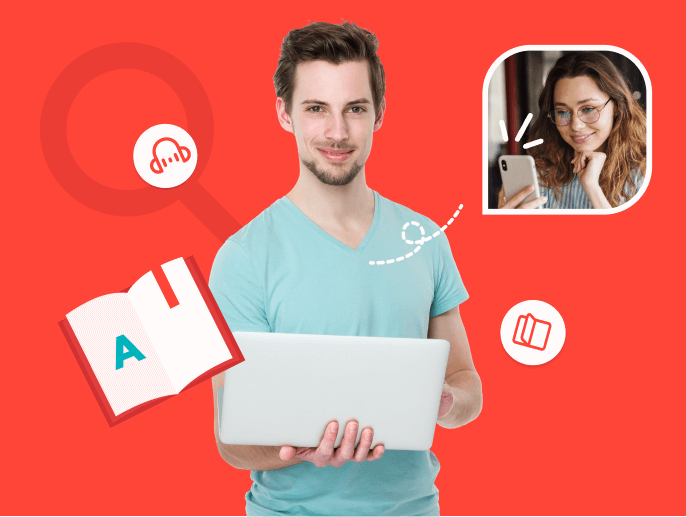 Katakana
Unlike Hiragana, Katakana is used for non-Japanese or loanwords: a word borrowed from another language. These include technical and scientific terms, as well as plant and animal names.
Katakana can be more difficult to learn than Hiragana because it is less commonly used, especially at the start of your language-learning journey. Katakana will appear more frequently as your level rises. However, being able to read Katakana is sufficient for a beginner.
Kanji
Many students believe that learning Kanji is the most difficult part of the process and keep on thinking about how to learn kanji. However, it is one of the most important aspects of learning Japanese. Understanding, speaking, and writing simple Japanese will be easier if you know some basic Kanji. Kanji is made up of thousands of Chinese symbols that each represent an entire word, idea, or phrase.
Because English meanings cannot always be directly translated from Japanese words, kanji has many complexities. That is why a single Kanji word can have multiple correct English translations. We never said learning Japanese would be easy, but learning Kanji will provide you with a plethora of opportunities to express yourself.
Practice Japanese grammar
If you want to master Japanese grammar completely, you must forget everything you know about English grammar because they differ significantly. Japanese, unlike many romance languages, has only two tenses: past and non-past (present and future). There are, however, two types: polite and plain. The last one is used for casual conversation.
In order to learn grammar, you can read different Japanese textbooks such as "A Guide to Japanese Grammar by Tae Kim". It is also worth noting that the Japanese have a completely different writing system: from right to left, top to bottom. There are many practical lessons in these textbooks that will help you get a feel for Japanese writing.
Learn key Japanese phrases
Begin with a list of the most commonly used words and expressions. Knowing basic phrases like "Hello," "How are you?" and "Nice to meet you" allows you to start speaking Japanese and join conversations with native speakers quickly.
You need to learn common Japanese words and phrases as they will come in handy if you ever decide to visit Japan or if you need a starting point if you decide to relocate there.
Set a learning schedule
How long does it take to learn Japanese? It is probably one of the most frequently asked questions about this language. The truth is that it all depends on how hard you work to improve your Japanese.
To make rapid progress, you must begin practicing every day. There are hundreds of useful apps and learning strategies available to help you plan daily lessons and find a learning pace that works for you.
Are you ready to begin a learning process with hourly lessons? Take the plunge! Can you learn Japanese in only 15 minutes per day? Not a problem! Just make the most of this opportunity.
Use flashcards
Language learners will benefit greatly from the use of flashcards. It is a card with important information written on it. You can use a flashcard with this word on it to memorize it in Japanese. You will see a translation into your native language when you flip the card over.
If you have never used flashcards before, you should incorporate them into your learning process. You can use flashcards to repeat new words frequently and quiz yourself or have a friend quiz you to see if you remember the words correctly.
The best thing about flashcards is that you can buy them online or even make your own. Whether you are learning Hiragana, Katakana, or Kanji, flashcards can help you improve your vocabulary in all three systems.
Chat with native speakers
The best way to learn Japanese and strengthen what you already know is to practice with others on a regular basis. Even if you don't have a native Japanese friend, there are many ways to put your knowledge to use these days.
You can, for example, choose 1-on-1 video chats to find a language partner who speaks Japanese. You will be able to talk or write online to native speakers or learners from all over the world using your smartphone or computer. There are several tools to find a native Japanese speaker for chatting such as Hello talk etc.
Read manga
It's time to start learning about Japanese culture! Manga can help you learn to read Japanese in addition to books and newspapers. Manga is an important part of Japanese culture that has a long history. It is now at the heart of Japanese pop culture and is well-known outside of Japan.
Manga is a type of art that takes the form of comic books or graphic novels and can be especially beneficial to language learners. These comics are packed with contextual cues that help you understand the meaning of the written words.
Watch anime
If you want to be entertained while you study, try to learn Japanese with anime. Anime is a distinct style of Japanese animation that was produced exclusively in Japan for decades. It has since grown into an international phenomenon, attracting millions of followers.
Spending your free time watching anime will help you learn a slew of new words and improve your listening abilities.
Don't fear mistakes
When you first start learning Japanese, you will undoubtedly make mistakes. But if you don't make a mistake, you won't grow! The most effective way to learn a language is to make mistakes and receive feedback from others. For example, if you are learning Japanese adjective conjugation, reach out the native speakers for feedback on your learning performance. It will help you grow.
Frequently asked questions
Q. What is the most crucial aspect of learning Japanese?
A. Kanji is the most difficult aspect of learning Japanese. Putting it off or ignoring it will not help you learn Japanese. Kanji is used in almost everything, making it one of the most important aspects of learning this language.
Q. Is there any advantage to learning Japanese?
A. Because it improves your communication and cognitive skills, learning Japanese will help you appreciate your own culture as well as your own language. Accessing a culture that is very different from yours will make you more aware of how cultures and languages differ.
Q. Is learning Japanese beneficial to the brain?
A. Excellent for memory and health. This means that learning Japanese can help people become more competent and analytical. Japanese is a difficult language to learn. As a result, many studies indicate that learning Japanese uses more brain parts than learning other languages. This improves your cognitive abilities and memory.
Conclusion
Stop wondering if Japanese is easy to learn. It will all depend on your efforts and hard work to master Japanese. We have highlighted a few steps that you can follow to learn Japanese. Take advantage of all the learning tools and learning resources.
Make flashcards containing Japanese writing systems and new words. Watch anime, read manga, and do not forget to engage in Japanese conversations with native speakers!
Want to learn a language at italki?
Here are the best resources for you!