Websites for learning Japanese are so beneficial in present times. You can now learn Japanese online at your own comfort and pace. Most of the websites are cost-effective and user-friendly. If you are looking for the best way to learn to speak Japanese, this post is definitely for you. Stick to the end to know about the best Japanese learning websites for 2022.
Learning any foreign language may seem an alien task at first. But, in this era of massive technological development, this task is no more alien. If you are required to focus on your speaking or writing skills in Japanese, you can seek help from online websites in this regard.
The Internet has countless sources and Japanese learning websites to make you understand, speak and write Japanese smoothly and effortlessly. In this guide, we are going to discuss 12 such online websites that can make your learning easier and faster.
Japanese learning websites with their relevant details
This website is considered to be the best one for audiovisual learners. It has an availability of around 2,000 and above Japanese podcasts. This platform just asks you about your learning level i.e. if you are a beginner or an intermediate level and then, you are all set to learn the language according to your requirements.
The biggest benefit of this website is that the material is frequently updated to meet the demands of the learners. Most of the learning material is designed for beginners so if you are looking to start learning Japanese, this website can be a good start for you. Material available on this website gradually moves from beginner's level to more advanced levels making the learning journey progressive and structured.
Their audio and video lessons are interesting. These lessons also come in the form of PDF format (downloadable). The best part is, that their package is affordable and pocket friendly. For the trial period, you just need to pay $4 a month (the price may vary but still the trial period is quite cheap).
2. italki
This website will be your best choice ever if you are looking for speech practice. You can just sign up on this website to have lessons from the best and most experienced online Japanese tutors. To improve their speaking skills, italki provides learners with the opportunity to have one-on-one video chat lessons with the instructors. These instructors can be residing around different regions of the world (but in this case primarily from Japan).
Find Your Perfect Teacher
At italki, you can find your Japanese tutor from all qualified and experienced teachers. Now experience the excellent language learning journey!
Book a trial lesson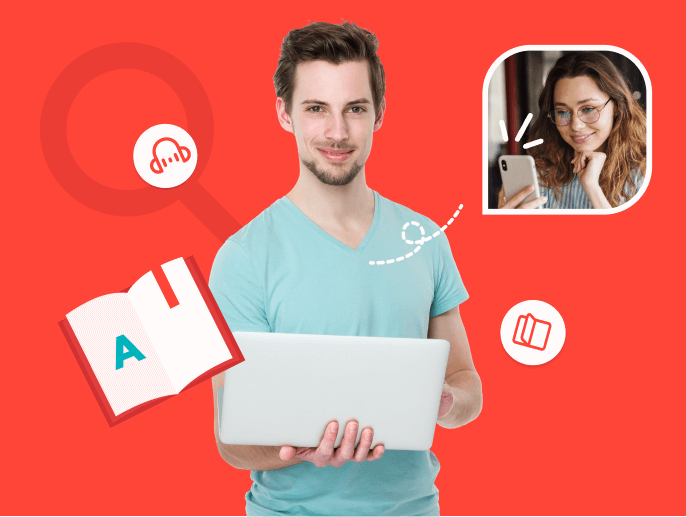 The biggest benefit of this website is that it provides you with practical exposure to speaking the language like natives. Presently, italki has around 1,200 instructors and tutors available to teach Japanese online.
Their fee structure depends upon the instructor you opt and they charge on an hourly basis. You also have the facility to go through the reviews provided by the previous students for the instructors. Before officially joining the lesson plans, you can have a half-hour session as a demo at a very reasonable price.
3. Linguti
You cannot succeed in learning any foreign language if you do not go for its tests and quizzes. This website is the best stop to undertake Japanese quizzes to polish and review your learning rate.
It is a free gamified language learning website promoting Japanese, Chinese, Korean, and many other languages spoken around the world. They have various units and if you are a beginner, we recommend you start with unit number one. It will include quizzes regarding vocabulary, grammar, listening and writing skills, etc.
4. Imabi
Imabi is best known for its massive content material. The best part is that the content material is relevant and updated. It has free Japanese learning content with around 300 plus lessons designed for beginners and gradually moving towards the advanced levels.
This website has around 100 plus lessons for advanced learners helping them to polish their Japanese writing and speaking skills so that they can match the fluency of native speakers.
The backdrop of this website is similar to video games. On this website, the lessons are divided into 'worlds' and each world provides the learner with different tasks to accomplish and goals to achieve.
This website, basically, serves as an important outline for Japanese students guiding them in the direction and required strategies to make their learning path smoother. Their lesson plans are also available but they come at a very heavy price.
Their learning style is based on gamification. Know that gamification in education is proven to be a very effective teaching and learning method in different areas of education.
The best feature of this website is the translation of real stories into simple Japanese making them understandable to easy to learn for non-native speakers. This website is available for all learning levels. If you are a beginner you can find content related to your level.
All the Japanese vocabulary words appear on the website. When you place the cursor on a particular vocabulary word, its meaning pops in.
7. Lang-8
This website is considered to be the most effective one for foreign language composition. You can write anything you want in Japanese using this website. The posts available on this website include short stories, questions, and homework tasks to polish your knowledge base.
They give you the opportunity to publish your post. After seeing your post, the native speakers will offer you the correction in the post (where required). They can also make comments on your writing piece. This feature is very effective as it gives you practical exposure to the language.
Any learner can join this website but it is best suited for learners at intermediate and advanced levels, especially those who are looking to refine their writing skills.
8. Matcha
This website is more like a magazine with content related to language learning. This Japanese learning website can be a good start if you are practicing reading about different aspects of Japanese people's lives.
The posts available on this website can help you learn Japanese punctuations and vocabulary words with direct translation into the English language. The website is very user-friendly and is best suited for upper beginner to intermediate Japanese learners.
9. Anki
The best feature of this website is that it allows you to generate your customized virtual flashcards and download the already designed or premade decks from its companion website. It helps you to memorize the vocabulary words easily.
It has an SSR software, formally known as, Anki's spaced-repetition software. This software allows the difficult cards to reappear at the highest rate until you successfully retain the content.
It allows you to review the cards again, especially the ones that appear most difficult and you can skim the ones that you already know. It is an innovative feature not readily available on other websites.
10. WaniKani
This website has around 2,000 kanji and 6,000 vocabulary words making it easier for the learners to learn at one stop. This website has a tightly structured learning schedule for beginners that are in the initial phases of learning kanji and vocabulary words.
This website is considered to be the best one for mnemonics. It has entertaining mnemonic devices that can help to recall the meanings and various readings of kanji.
11. Jisho
Jisho is the best online Japanese dictionary. It makes the whole learning process very easy and convenient. You can make the search for vocabulary words or short phrases in English and the results will appear in the form of Japanese texts.
For every word, you will get its related kanji, its definition, and alternate words. This website has the facility to provide audio pronunciations with exemplary sentences. It will give the learners comprehensive knowledge about each word.
12. Wasabi
This is a Japanese tutor platform with highly useful learning resources. They provide the learners with a Japanese learning reference guide. This guide is super helpful for beginners as it contains grammar concepts, parts of speech and sentence patterns, etc.
The best feature of this website is that it provides proper example phrases for the learners to understand in a proper manner. The website content is structured and organized and you can easily swipe through the lessons.
These were 12 different Japanese learning websites that cover all the Japanese learning areas. You can access these websites with very reasonable and cost-friendly packages. These websites will help you develop the required knowledge.
Conclusion
Remember, learning a foreign language is not an overnight task. You will have to work hard on Japanese vocabulary, punctuation, pronunciation, Japanese adjective conjugation, and sentence formation. Ensuring all these aspects will make you able to speak and write just like natives do!
Want to learn a language at italki?
Here are the best resources for you!