Finding a suitable English teacher is a difficult task. The success of a student greatly depends on the authenticity of the teacher. No matter what your location is, your skill level, or your schedule, you can now find the best English teachers online through different online learning platforms. Well! Thanks to the internet.
Need an English teacher? Well! You are at the right spot. The Internet has now made it quite easy to find a good teacher online. There are several language learning platforms serving around the world. All you are required to do is to explore them and find the tutor according to your demands and preferences.
Numerous websites offer you access to thousands of highly qualified tutors. Let's go and find them!
Find Your Perfect Teacher
At italki, you can find your German tutor from all qualified and experienced teachers. Now experience the excellent language learning journey!
Book a trial lesson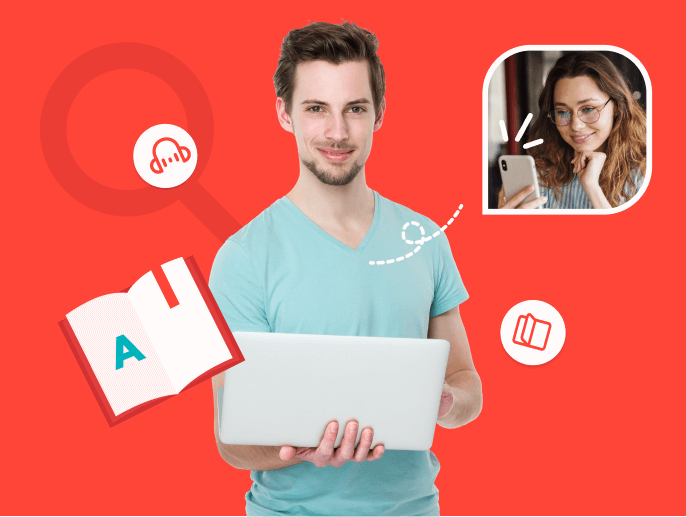 Websites to find the best English teachers online
italki
Known for: Finding diverse tutors with flexible scheduling
Through this website, language students can communicate with locals everywhere. Professional English teachers or enthusiastic tutors who can assist with conversation practice are available for lessons.
Additionally, there is a community section with daily questions, language exercises, and discussion boards where you can ask questions and meet other language learners. With the availability of these diverse activities, italki has made it way easier to learn English than ever before. All you are required to book flexible lesson plans and you are good to go!
You can also avail free trial before enrolling with italki.
Preply
Known for: Personalized lesson plans
You can get the assistance you need from more than 2,000 tutors. Classes can be taken wherever you would like—over Skype, Preply Space, or another platform. Additionally, it is simple to see what people liked and didn't like about any tutor thanks to a clear rating system with reviews.
Students can also submit a request, and you will be contacted by the tutors in its place.
Verbling
Known for: Finding professionals experienced in the classroom and private teaching
All types of language learners can find tutors through Verbling. All of the tutors in this place are native speakers, and a good number of them have years of experience tutoring both in public and private settings.
You can find an English tutor who also speaks your native tongue and search for teachers based on their availability.
Cambly
Known for: Specific learning goals
One of the best resources for finding an online English tutor is Cambly. The tutors are friendly and extremely professional. They are experienced and catch the learning requirements of a student in a very short span.
You can search for a tutor with a particular skill, like business English or IELTS exam expertise, because there are so many tutors available.
EnglishTutorOnline
Known for: Practicing real-life, conversational English
The "ETO Method" is the technique employed by this service. Speaking, listening, writing, reading, boosting one's self-confidence, and practical exercises are all covered in the lessons. Complex skills like problem-solving, debating, or negotiating can be developed with their assistance.
All of the tutors are native English or American speakers. The program offers fun, interactive Skype lessons.
Live Lingua
Known for: Long-term lessons
All of the tutors at the tutoring service Live Lingua have advanced college degrees and years of classroom experience. Before paying for the service, all students are eligible for a free trial.
Online video lessons are delivered by Live Lingua tutors via services like Zoom and Skype. Many of their English tutors are also bilingual in another language, such as Spanish, Russian, Mandarin, Japanese, or Turkish. Each class lasts an hour, and you can arrange the class schedule to suit your needs.
LearnEnglish
Known for: Practicing British English
This online English learning program was created by the British Council and combines the advantages of tutoring and self-learning. Employers from all over the world accept certificates earned through British Council courses.
Every week, tutors are available to provide one-on-one lessons that last 30 minutes. The modules in one level can be studied in any order to fit your schedule. Several other students attend live group classes as well. During class, students can refine their communication skills through role-playing authentic situations and group discussions.
Englishunt
Suitable for: Learners in South Korea, especially business professionals
A Korean company called Englishunt offers phone and live video classes. Schools and younger students are the main target audience for the video lessons. Professionals and adult learners may participate in the phone sessions. They frequently collaborate with business professionals to assist students in advancing their careers through English proficiency.
You will be paired with an English tutor for the phone sessions; the tutors at Englishunt are typically native speakers of American English.
Eigox
Suitable for: Learners in Japan
A company called Eigox is based in Japan and offers affordable private tutoring. Both native English speakers from the U.S., the U.K., and New Zealand as well as non-native teachers are employed there. Generally speaking, native tutors charge more than non-native ones.
The type of lesson structure that students would like to use is their choice. Lessons are delivered via Skype. Each lesson takes around 25 minutes to complete. A comprehensive list of learning resources is also available on the website. This includes books you can buy and topic-specific online resources.
Tutor
Known for: Improving your English writing
The tutor is a helpful website to use when you simply have a question about a writing assignment or need assistance editing your writing. Tutors are available every day of the week to provide direction, advice, and criticism on any written work.
You can get assistance with essays, homework, and even books here.
University Tutor
Known for: Finding tutors near you
University Tutor can be useful if you prefer to find tutors in your neighborhood. Their tutors can meet with you online, in person, in a coffee shop if you prefer, or wherever is most convenient for you because they are spread out across more than 8,400 cities worldwide.
TakeLessons
Known for: Mixed online and in-person classes
Since 2006, the TakeLessons community has matched students with qualified instructors. They provide a wide range of services, including live music, language instruction, sports coaching, and academic tutoring in a range of subjects.
You can find both local and online English tutors on this website, and they are all of the highest competence and experience.
Classgap
Known for: Easy rescheduling
A tutoring website called Classgap has over 3,000 English-speaking tutors on it. You can take a free 20-minute trial lesson with a tutor on this website to see if you want to work with them going forward. You can look for teachers who are only native speakers.
It is a great choice for students with busy schedules because the platform is very flexible and makes switching between classes simple.
Justlearn
Known for: Lesson bundles and access to exclusive tutoring materials
All of the teachers on Justlearn are verified, which means that they have to pass a test on their abilities and knowledge before being hired. This implies that you will be able to locate the ideal professional tutor for you.
If you are planning on taking a few lessons, you can purchase a package of courses from the website and gain access to resources like videos and books.
Upwork
Known for: Working with freelance English tutors
Upwork is a website for freelancers or people who work on a project-by-project basis rather than for one specific employer. Given that each freelancer has reviews and ratings, it is simpler to find a reliable tutor here, though costs might also be higher.
It is easy to find a tutor on Upwork: Register and post a description of your search. Even invite candidates to apply for your position. Simply type "English tutor" into the search bar to find a list of rated independent contractors.
Frequently asked questions
Q. Why is it essential to find an English teacher online?
A. The English tutor will make personal classes for you, he or she will motivate you and will make you comfortable to move forward.
Q. What is the first thing you should ask from an English tutor?
A. Educational and teaching background, teaching styles, and the kind of results he or she will bring.
Conclusion
Finding a good English teacher online has become quite easier with the advancements of the internet. A good tutor plays a major role in your learning process especially in enabling you to overcome the fear of speaking English in front of people.
Along with the tutor, you can also look for self-help resources to learn English. For instance, you can use different English learning apps, flashcards, English media, books, podcasts, etc. All these resources are useful to expand vocabulary and English pronunciation. Take advantage of these resources as much as you can and become a fluent English speaker.
Want to learn a language at italki?
Here are the best resources for you!