In this era of technological advancement, learning a new language has become quite easy. If you are an English learner, there are several English learning apps that you can use to build up your vocabulary, pronunciation, and speaking skills.
This post is for all the language enthusiasts who want to learn English and maintain their ease and pace at the same time. These7 amazing English learning apps will help you learn English in many interesting ways.
These apps are helpful in developing pronunciation, basic learning, and casual learning. Some apps are also based on practical topics enabling you to relate your knowledge to the real world. The estimated price package for each app is also mentioned along with the description so you can compare them and come up with your best choice.
For Pronunciation: ELSA Speak
Website / iOS / Android
Summary: ELSA Speak improves your English pronunciation with an AI (artificial intelligence) trainer.
Price: Free, with extra features at $11.99/month
ELSA Speak is probably the best mobile app for improving your English pronunciation. The app's most powerful feature is its intensive AI feedback, but ELSA also offers mini-training sessions to help you perfect your pronunciation.
The AI analyses your recordings for pronunciation, intonation, and fluency, then pinpoints which parts sound incorrect. The app will even provide you with a percentage that shows how close you sound to a native speaker.
For Basic English: Mondly
Website / iOS / Android
Summary: Mondly focuses on everyday conversational phrases and includes many innovative features.
Price: $9.99 / month
Each section contains conversational phrases that you can use in everyday situations, such as shopping or going on a date. The app has an innovative design, complete with a world map that you can scroll through to find lessons.
Lessons are divided into categories such as travel, public transportation, grammar, and pets. Lessons mostly consist of interactive quizzes, where you will have to fill in the blanks, rearrange words to form a sentence, and do other activities that target all of the main language skills.
Because visuals are constantly used to reinforce words and exercises involve a lot of repetition, new words will naturally stick if you use the app frequently. The app also includes an AR (augmented reality) function, which allows you to turn on your phone camera and see a 3D teacher appear as if they were right there with you. In collaboration with Oxford University Press, Mondly also offers extensive English practice tests.
For Casual Learning: Duolingo
Website / iOS / Android
Summary: Duolingo fits learning English into a game with quick lessons, streaks, scoreboards, and skill trees.
Price: Free, premium features available for $6.99/month
Duolingo is designed to help you learn English quickly, so even if you are just starting out, you can use it. You will be able to read, write, and speak Basic English in no time if you use Duolingo for about twenty minutes per day.
Duolingo teaches you new words based on a topic, such as education, school, science, or adjectives, and then has you complete exercises to help you retain the new vocabulary. For instance, you may be required to match new words with pictures, translate an English phrase back into your native language, or repeat an English phrase.
If you use Duolingo consistently, you can easily finish all of the lessons in about three months. Overall, this is one of the best apps for beginning English learners.
You can also use an English dictionary app along with these English learning apps. It will help you analyze the word, it's meaning and it can also help you design handy notes for yourself.
For Beginner Lessons: Lingodeer
Website / iOS / Android
Summary: Lingodeer will take you from beginner to intermediate level with fun, structured lessons that include games and short exercises.
Price: $14.99 / month
This English learning app teaches beginner and intermediate English learners through games and short exercises. Lingodeer employs a gamified approach to language learning, with a goal-oriented curriculum that includes structured lessons and regular reviews.
Lingodeer's lessons are organized around themes like sports, weather, body parts, and shopping, with more lessons on grammar topics like passive verbs, conditionals, and gerunds as you progress.
This app is super helpful for you to learn English sentence structure dealing with various themes ranging from general topics to English language topics such as verbs and gerunds etc.
Lingodeer offers English lessons in a variety of languages, including Spanish, French, German, Japanese, Chinese, and Vietnamese. Each lesson's exercises are comprehensive enough that you can practice your listening, reading, and vocabulary skills in a single five-minute lesson.
The app keeps track of your vocabulary and grammar knowledge, and you can use it to create personalized practice sessions. Overall, Lingodeer is a fantastic option for having fun while still maintaining some structure.
For Practical Topics: Babbel
Website / iOS / Android
Summary: Babbel teaches English in 15-minute lessons with realistic conversations and optional live classes.
Price: Various plans starting at $7.45/month
Babbel helps you learn and practice English through realistic conversations about topics that interest you. Lessons are brief and include written and audio versions of the vocabulary covered. Then you can do practice exercises to strengthen your understanding.
Babbel is helpful in allowing you to learn about topics that interest you, so the app will try to personalize lessons based on what you enjoy learning about. You can practice your English skills on any topic that is important to you, from business to travel. This makes English learning much more enjoyable and motivating.
Because the program is so conversational, Babbel also includes a speech recognition feature that listens to your pronunciation and corrects it. Babbel also provides reviews of previously learned topics to ensure that you do not forget anything.
For Authentic English: Memrise
Website / iOS /Android
Summary: Memrise uses games, flashcards, and video examples to teach you English words.
Price: Free
This app focuses on teaching you English words through flashcards. It employs some inventive and amusing methods to assist you in remembering what words mean. Memrise courses are created by users, so you can see how other English learners learned the same words you are.
A large portion of Memrise's learning is based on the association of words or words and objects. Learning new words is one of the most difficult aspects of the English language for many students, but Memrise makes it fun and simple.
The app also keeps track of what words you have already learned so you can go back and review them later. In fact, using flashcards to learn English is one of the most authentic strategies as it helps you retain information for a long time.
For Vocabulary: Mosalingua
Website / iOS / Android
Summary: Mosalingua expands your vocabulary by using techniques such as spaced repetition and a focus on the 1,500 most important words.
Price: $4.99/month
Mosalingua focuses on two things: teaching you the most important words and phrases to have in your English word bank and preventing you from forgetting what you have learned over time.
Mosalingua will not only teach you the most important words through flashcards and native speaker audio, but it will also use SRS to ensure you review the material you have learned on a regular basis. SRS stands for Spaced Repetition Software, and it's designed to help you review words just before you forget them.
Mosalingua, with its emphasis on the most important words and phrases in English, can get you to speak English quickly because it efficiently builds your core vocabulary.
Most of people find it difficult to learn English by solely relying on apps. Many learners require an authentic language learning platform to master the English language. If you are looking out for any such platform, check out italki. With italki, it is super easy to learn English as it has a wide range of English teachers online (mostly native speakers) who can help you develop expertise in English at a gradual pace. You can avail the opportunity of a free trial before formal enrollment.
Find Your Perfect Teacher
At italki, you can find your English tutor from all qualified and experienced teachers. Now experience the excellent language learning journey!
Book a trial lesson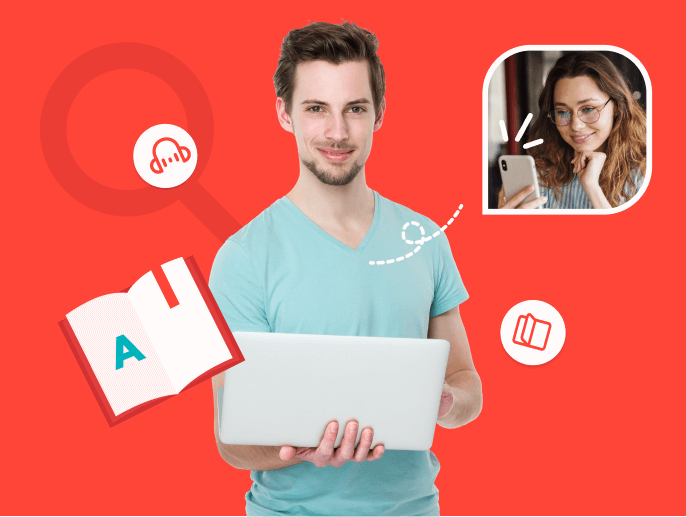 Frequently asked questions about English learning apps
Q. Do language learning apps work?
A. Loewen's survey found that almost everyone improved their grammar and vocabulary whereas almost 60 percent of participants improved their oral proficiency using Babbel (an English learning app).
Q. What are the 4 important skills to learn English?
A. When we say that someone 'speaks' a language fluently, we usually mean that they have a high level in all four skills – listening, speaking, reading, and writing.
Q. What are the advantages of using a language learning app?
A. Learn anytime and save time, learn at your comfort, you can choose any Language and Course and most importantly these language learning apps are affordable.
Conclusion
This was our list of English learning apps that you can use to be an expert in the English language. There are several other apps as well that you can explore and consult. Learning a new language is a slow process and you need to be motivated enough to consult as many learning resources as you can to improve your knowledge base.
Want to learn a language at italki?
Here are the best resources for you!