Watching English-language news can help you learn new vocabulary, develop your speaking and listening skills, stay up to date on current events, and learn about the culture of English-speaking nations.
Take into account the following advice to make the most of watching English news videos before diving into the list of awesome English news resources.
Keep a vocabulary journal. One of the best ways to retain new information and increase your vocabulary is by doing this. Keep an English notebook and jot down any new words you pick up while watching news videos. You can record words you don't understand in your vocabulary journal. After the news clip is over, look them up.
Watch the same news clip multiple times. Each time we watch a video in a different language, we pick up on something new. To begin, watch a video to grasp the main idea or the overall news story. Then, replay it to see if you can make out specific details, like the time or location of a story. To concentrate on vocabulary, pronunciation, or grammar, watch it a third time. You can align different English learning apps with this strategy to expand your vocabulary.
Watch news presenters (anchors) with various accents. Use this chance to familiarize yourself with different English accents. Whether you are traveling, trying to find a new job, or simply trying to improve your English skills, being able to communicate in English wherever you go will be a huge help.
Below is a list of English news sources from around the English-speaking world. But before that, if you are looking for a platform to learn English online, check out italki. Under the training of highly experienced English teachers online you can become a fluent English speaker within months. Book your lessons and let's get started!
Find Your Perfect Teacher
At italki, you can find your English tutor from all qualified and experienced teachers. Now experience the excellent language learning journey!
Book a trial lesson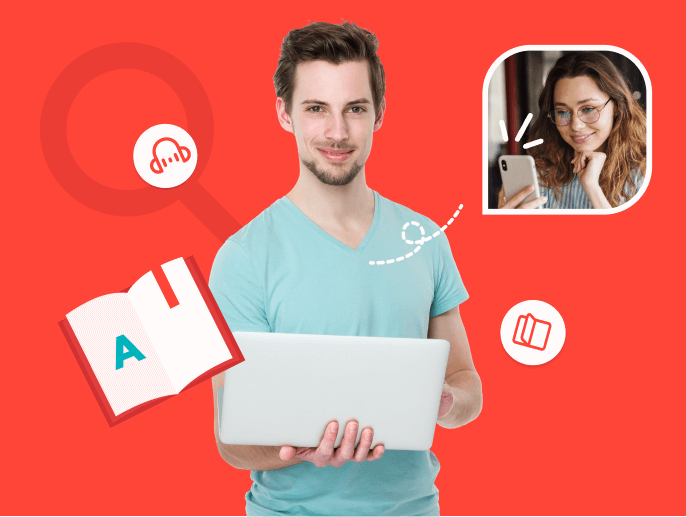 The best news video sites for English learners
Steven French's "News in Simple English" YouTube Series
This playlist includes 60-second news stories in English. For your convenience, the transcript for these quick lessons is also shown on the screen.
The major international news stories are briefly covered in each news video. They contain language that is geared toward English learners and are narrated slowly and clearly. This indicates that it is simpler to understand than language from reliable news sources.
The fact that new videos aren't posted as frequently as they are on the other resources is the only drawback to this YouTube series. New videos do, however, occasionally surface.
MSN News
Looking for a comprehensive list of the most recent English news? MSN News is a great alternative. Top American news sources like CNN, CBS, the Associated Press (AP), USA Today, The Washington Post, and NBC are where they get their news videos from.
There are a ton of videos on politics, technology, and the news in the United States and around the world. Since their videos are produced by top news organizations, they are frequently of a high caliber.
FluentU
FluentU transforms real videos such as music videos, movie trailers, news clips, and motivational speeches into tailored language learning lessons. Learners of English can access real-world English videos on FluentU, including a large number of news videos.
The news videos can be sorted by language proficiency, making it simple to find one that meets your requirements. There are six levels available (Beginner 1, Beginner 2, Intermediate 1, Intermediate 2, Advanced 1, and Advanced 2).
But FluentU does more than just play videos. Every video on FluentU has built-in learning tools that turn them into individualized language lessons. To practice or test your understanding of the words you learned from the news videos, there are also amusing quizzes and flashcards.
BBC News YouTube Channel
The British Broadcasting Corporation's BBC News division is another fantastic free resource. In particular, their YouTube channel is a fantastic resource for finding helpful content. Every few hours, new videos are added, giving students a ton of engaging new material.
They have playlists of related news stories, which makes them excellent for English language learners. Additionally, English news videos in a range of formats are available on the BBC News YouTube channel.
For those of you who are pressed for time or simply want to squeeze in a quick English lesson, they have short videos that last between one and three minutes. They also have longer documentaries—roughly 25 minutes—to give you a more thorough, comprehensive lesson in English.
Global News
The most recent English news items are offered by Global News, which is broken down into categories like entertainment, health, politics, world news, and more. Both English news articles and videos are available. Simply look for the "Play video" button on the right-hand images of the video news stories as you browse. Canadian media outlet Global News offers language learners the chance to practice an English accent that differs slightly from British or American accents.
They do offer a lot of local and national news, but they also have a ton of videos on current events around the world. Their trending news page is one of the best parts of their website. It covers both serious and adorable stories and has a large number of well-liked videos on breaking news.
Another resource to use is Global News' live broadcast, which allows you to see the news as it is being reported in real-time. As you watch the news as it develops, this might be one of the best ways to test your English listening abilities.
These news resources can also serve as a great tool to prepare for ACT English practice. They enable you to learn new English concepts, vocabulary words, and sentence formation.
ESL Video
Another website created especially for English language learners is ESL Video. They offer a variety of English videos, such as news clips, along with teacher-created content. Quizzes to gauge your understanding of the videos are part of the extra content on the site, which is free to access.
Transcripts of the news videos are occasionally also made available so you can follow along while watching. ESL Video's content is diverse and does not exclusively consist of news videos. If you want to practice a particular vocabulary, the ones that can be divided into categories like "science and technology."
Good News Network
You can take a break from all of the depressing and dire news in the world thanks to The Good News Network. This website is devoted to disseminating upbeat, inspiring news stories from all over the world. They have categories for their news that are more upbeat, like "inspiring" and "laughs."
The Good News Network typically offers slightly more in-depth written summaries to go along with their news videos, so you can learn a little English while watching happy news.
The Irish Times
English language learners can practice listening with yet another English accent thanks to The Irish Times. The Irish Times offers a large number of videos covering international news despite being based in Ireland and concentrating on local and national news.
There is something to enjoy in their news, which covers everything from sports to politics to culture. The fact that each news segment is fairly brief makes these videos great for English language learners. Videos can be as brief as 30 seconds and rarely go longer than two minutes.
They are the ideal, bite-sized English lesson for students with hectic schedules because of this.
CTV News
The news website CTV News is based in Canada and has a ton of videos. Both domestic and foreign news stories are covered in their news videos. Since there is also in-depth coverage of lifestyle news, including pop culture, health, and entertainment, you will have access to just about any vocabulary you can imagine.
The majority of the videos on this news site have English captions, which is its best feature. In other words, you can use the subtitles to help you know which words to look up in a dictionary, check your understanding of pronunciation, or learn how to spell a word.
Frequently asked questions
Q. Is news good for learning English?
A. All English language learning experts agree reading the news is a fantastic way to learn and comprehend actual, real-world words and phrases.
Q. How can I learn English by reading the news?
A. Take a look at the headlines, pay attention to passive tenses, choose news stories that interest you, and write down new vocabulary.
Q. What are the benefits of good news?
A. Good news makes us happy, and when we are happy, our perspective on life as a whole vastly improves. This enhances our sense of well-being and has significant positive effects on our health.
Conclusion
You are now prepared to begin watching because you know where to look for the best English news videos. You can also look for alternate learning resources such as Rosetta stone learning English medium. Try to explore the best learning opportunity for yourself.
Avail the perks of developing exceptional English writing and speaking skills by watching English news resources. Keep a journal. Write down new words and use them in your conversations.
Want to learn a language at italki?
Here are the best resources for you!