We do not recommend giving yourself a month to learn the English language fluently. Learning a second language requires time and you need to be patient enough to let yourself new language's vocabulary, pronunciation, tenses, sentence formation, etc.
We do not recommend devoting only one month to improving your English. You should give yourself more time. A much better method is to practice all English skills on a daily basis. You will learn more, remember more, and notice a significant improvement over the coming weeks, months, and years.
Many students have the time and the energy to devote an entire month to studying English in order to gain an advantage on the big test. If this is something you want to do, we have a plan for you. You will see results if you follow each step. However, it takes a great deal of determination and grit. Don't let anyone or anything influence you, and keep your focus intact.
Believe in your capabilities
If you want to take on the One Month Challenge, you must believe in yourself. There can be no room for doubt or negativity. The only thing on your mind should be an unwavering belief that you can improve your English skills in four weeks.
Begin with this mindset. Many learners are troubled by questions and doubts about their English abilities. Begin with the conviction that you will study diligently and for extended periods of time every day. And you will notice a significant improvement.
Avoid everything else
It is pretty obvious that you take an active part in social media websites. You also have an offline life with friends you see on a daily basis. Other things can consume a significant amount of our time and divert our attention away from the task at hand.
Can you please remove these distractions for one month? Can you go four weeks without using any of your favorite social media platforms? We know it is tough but it will benefit you drastically!
If you can maintain this level of self-discipline, you will see fantastic results. For one month, eliminate the following distractions from your life: social media, smartphone, friends and TV, etc.
This may appear harsh, but if you ignore all distractions for four weeks, you will have an enormous amount of free time. You can then use your free time to study and practice English. In fact, try using the internet in your favor. You can play different English learning games to broaden your English vocabulary and pronunciation. Try using these tools in your favor and get a step closer to your end goal i.e. to become a fluent English speaker.
Give time and energy
You need to give time and energy to learning English. We understand that you have limited supplies of energy and time. So we recommend you use them wisely. If you can eliminate all of your distractions, you will undoubtedly have a lot more time for yourself. Time is a valuable asset, so treat it as you would money i.e. with extreme caution.
Energy is also a valuable resource. Make sure you are eating right and getting enough rest. This will give you enough energy throughout the day. This month, you should try to get up early every day. The earlier you get up, the more you can get done with your studies.
The hours between 5:00 am and 9:00 am are priceless. If you can get up this early and there is no reason why you shouldn't, you can accomplish amazing things.
Avoid staying up late. After six o'clock in the evening, people almost always do very little work or study. Do not mindlessly surf the internet or watch endless episodes of a show on Netflix. Even if you are currently watching any series on Netflix or YouTube, use that to learn English sentence structure. Notice how the actors structure their sentences and how they pronounce certain words. It will help you a lot.
We recommend that you go to bed and wake up early. Use those early hours to study for a long session. This is the time when you will achieve gold. Eat well and get eight hours of sleep per night.
Be obsessed with your learning goal
You need to be committed and completely obsessed with your learning goal. You must live, breathe, eat, and sleep in English for one month. Keep a goal that every day for 30 days, only English will be spoken.
If you want to learn English through a professional language learning platform, then italki is surely a perfect option for you. With the help of online English tutors, you can learn English fluently even if you are a beginner. All you are required to do is to book your lessons online by visiting the website.
Find Your Perfect Teacher
At italki, you can find your English tutor from all qualified and experienced teachers. Now experience the excellent language learning journey!
Book a trial lesson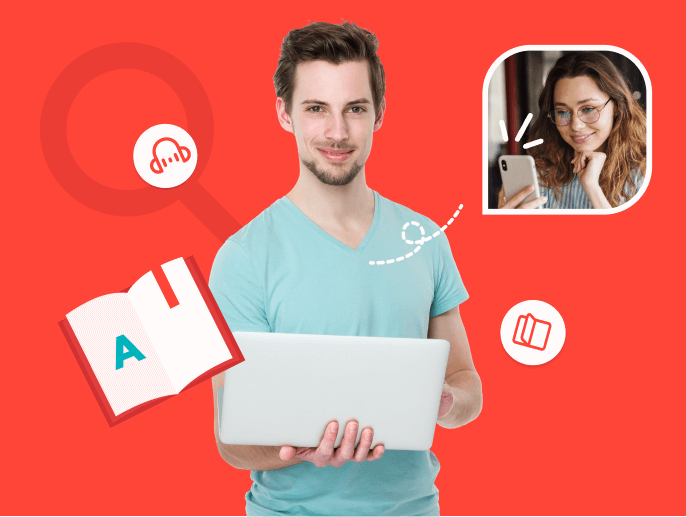 Listen, speak, read, and write English
To see progress in your English, you must practice all four main skills. Listening practice is essential if you want to improve your speaking skills. Improve your listening skills, and your speaking abilities will follow.
The same is true for writing. All great writers read for several hours a day. Everything they read influences what they write. The same goes for you. You read something every day, and it shows in your writing.
Practice all of your skills. Make time to practice each one. You will see how each skill affects the others, and your English skills will improve overall.
Consult English media
There are books everywhere to read, free magazines, English-language TV (only for studying!), English podcasts, an English corner, and libraries stuffed with English books, websites, magazines, and newspapers. You can't just tell yourself that you don't have time to practice your English — you do. You just need to open your eyes and ears and you will find it.
You can look for learning English through VOA as watching media can help you broaden your English knowledge.
Practice at home
Every day, you should practice English at home. Aside from completing all of your revisions, there are numerous other tasks that must be completed. All of the articles must be read and reread, and the mp3s must listen to sixteen times. You can also practice any other English skill.
Great public speakers and politicians all over the world have used the mirror technique. It's as simple as facing the mirror, opening your mouth, and speaking English. You can practice English at home alone with a mirror on whatever you want.
Rehearse all of the reading passages, go over all of the listening exercises, and practice all of your speaking skills in front of a mirror.
Speak in full sentences
Make it a habit to speak in full sentences from today. This will allow you to use longer sentences and better grammar in everything you say. People frequently give one-word answers. If you want to improve your English fluency, this is useless. So, to begin, gather some standard responses to common questions that people may ask you.
Read English newspaper
Your town must have an English newspaper. You might not have read it in a long time, or ever! However, it is frequently available and reasonably priced. Some are even completely free.
The English in these local newspapers is frequently simple. It is relatively simple to grasp. Because you will become accustomed to certain words and phrases. You won't have to wonder what the meaning is for a second. The majority of the articles you read will be understandable to you. It's good for your confidence and practice.
Frequently asked questions
Q. Is one month enough time to learn English?
A. Even if you learn 6 hours per day, it will still take you 80 days to reach the basic fluency level. It may take a little more practice to achieve the bare minimum of professional English fluency, but it is well worth it.
Q. What is the most effective way to study English?
A. Take notes, use a good dictionary, set goals, read books and watch videos.
Q. Why should we learn English?
A. Science, aviation, computers, diplomacy, and tourism all use English as their primary language. Knowing English improves your chances of landing a good job in a multinational corporation in your home country or finding work abroad.
Conclusion
The One Month Challenge is not the most effective way to learn English. While we would not recommend such a short-term English study strategy, we understand why some students may need to use it.
One month can make a big difference in your life, so studying English should be no problem. Just make sure you are ready and have all of the necessary books and information. It will be difficult to study in this manner for thirty days. However, if you devote the time and energy each day, you will see significant progress.
Want to learn a language at italki?
Here are the best resources for you!