Self-learning German can be difficult, but it is possible with the proper guidance. The key is to avoid common mistakes and use effective learning techniques.
This blog post will cover some of the most common mistakes people make when self-learning German, and we will give you some tips to help you to learn German by yourself. Let's get started!
1. Why learn German in the first place
Well, there are countless reasons to learn German. Picture yourself staying in Germany or Austria and not being able to speak the language- that would be pretty difficult!
Whether you're planning a trip abroad or you want to learn German for your personal development or studies, learning this beautiful language can open up great opportunities for you.
2. What are the benefits of learning a second language
The benefits of knowing a second language are numerous. Not only does it make travel more convenient, but you also improve your memory and cognitive function.
You also have the added bonus of communicating with more people in their native language, which is always positive.
Not only that, but knowing a second language allows you to connect with others and learn more about the world we live in.
3. Different language learning methods
Now that you know all the benefits of learning German, it's time to discuss some methods to learn German by yourself.
Luckily, various self-learning methods are available – even online courses can be highly beneficial in your journey towards fluency!
There is no one correct way to learn a new language, and everyone learns differently. If you are a visual learner, an online course might be best for you.
If you prefer to learn by practicing the language, then instructor-led courses may suit your needs better.
You can also look into hiring a German tutor to help with pronunciation or learning German grammar rules!
Experience is, of course, the ultimate teacher, so immerse yourself in German culture and find ways to practice!
Find Your Perfect Teacher
At italki, you can find your German tutor from all qualified and experienced teachers. Now experience the excellent language learning journey!
Book a trial lesson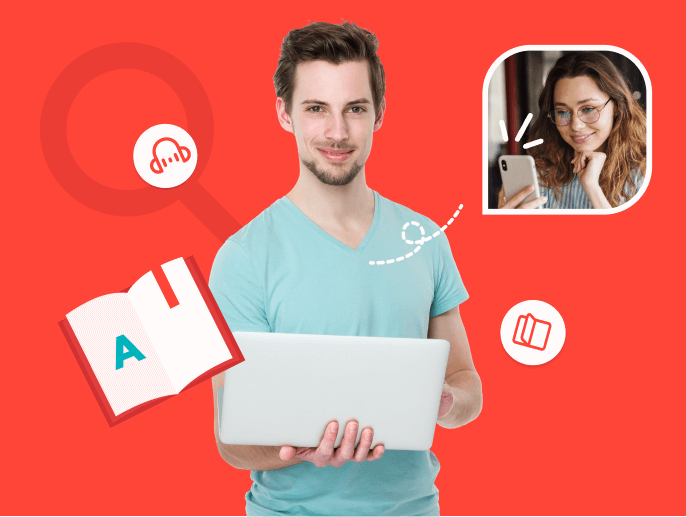 4. Common mistakes when self-learning German
So now that you know the best practices for learning German, let's discuss some common mistakes people make when learning German.
Improper guidance
One of the most common mistakes we see is people trying to learn German online without any guidance. This will be much more difficult than a proper course or tutor – so make sure you have all your bases covered!
Speaking English while practicing German
Another mistake that many beginner learners tend to make is speaking in English (or in their mother tongue) even when they are practicing German. While this can seem easy to avoid errors, it makes you less likely to improve your German.
Not enough practice
One of the most significant things when learning a new language is surrounding yourself with speakers and practicing often! This will help a lot as you learn German – just remember that practice does not make perfect; only perfect practice makes perfect!
5. Tips for effective language self-learning
So now that you know about some of the different language learning methods, let's discuss some tips for effective German language learning.
Set goals
First and foremost – make sure to set achievable goals! If your goal is too lofty or unreasonable, then it will be much more difficult to achieve. You should also find a way for German language practice into your daily routine and time explicitly dedicated to the study.
Practice regularly
Another tip we recommend is setting aside thirty minutes every day to talk to yourself in German; this can help tremendously with pronunciation and speaking fluency. You can even try recording yourself, so you can listen back later on.
Find a study partner
Another helpful tip to effective language learning is finding a study partner. Find someone with similar goals who are also learning German and set up regular times to chat in German – it's a helpful way to keep each other accountable as well!
You can find this study partners online on sites like italki. This is a great way to meet people worldwide; don't be discouraged if it takes some time- everyone's schedule is different!
6. The best way to learn German
The resources are endless for learning German, whether you choose to learn online or through in-person lessons.
If you are more of a visual learner, an online course can be perfect for learning German. These courses give you the flexibility to learn at your own pace; many even offer different levels based on personal skill or experience!
However, learning from a German teacher may be better if you want to learn German grammar or are more of a hands-on learner. Tutors can help with pronunciation, teach phrases and words through conversation practice, and even explain the intricacies of German grammar!
7. Time required to learn German
A general rule of thumb is that the more you practice, the better your German will be! It's also important to remember that there are no shortcuts when it comes to language learning.
There are so many factors that can affect how long it takes to learn German. For example, suppose you already know a language in the same family. In that case, learning German will be much faster for you than for someone who knows nothing about languages at all.
Also, it depends on the effort you put in! Learning German is not an easy task, but it can be easier with the proper guidance. So if you are willing to work hard and often practice, there is no reason you cannot learn German within a few weeks!
The fastest and easiest way of learning German is to learn online! You can learn German online at your own pace, whenever you have time. You can even set daily goals that are easy to achieve – this will help keep you motivated and on track!
Want to learn a language at italki?
Here are the best resources for you!
Conclusion
If you still feel unsure about independent language learning, this is the perfect time to book a free trial class. At italki, we help you connect with native German teachers online for a personalized one-on-one language lesson. Whether you are learning German for school, work, or personal reasons, we can help. Our experienced native German tutors will offer classes that match your learning pace, level, and interest.