Looking for easy ways to learn German online? Learning a second language seems a tough task, but if you have proper guidance and an authentic learning resource, this task not only gets easy but also gives you the right motivation to move forward. Let us explore how to learn German free and how to master this language.
It is a famous mindset that German is hard to learn. There are certain words in the language that are pretty long and seem very difficult to memorize. Whenever you see a native German speaking, you get this feeling that speaking such a language fluently is quite difficult.
But is German easy to learn? Let's explore this. Remember, learning any language other than your native language requires time and commitment. The same is the case with the German language.
Having enough motivation to reach your goal can surely help you to learn the language in the best way. If you feel confused about where to start and what the right strategy is to learn German, this guide is especially for you. Stick to it till the end and you will learn some of the best tips to learn German for free.
Learning German is easy for English-speaking people as compared to Chinese-speaking people, this is due to the fact that the German language is part of Germanic languages (a group of Indo-European languages) that shares plenty of similarities with English. Indeed, a moment of relief for English-speaking people!
Before getting into the details of the German language, it is important for you to understand why is it important to learn German.
Why is it important to learn German
There are a large number of reasons that are strong enough to motivate you to learn German. Some of the major ones are as follows:
1. Germany is the world's second-largest exporter. So, if you are looking for business opportunities, knowing this language can be a plus factor for you.
2. Germany is the base of a large number of international corporations.
3. Germany has a direct investment in the United States of about 10 billion dollars.
4. Germany has the largest number of native speakers in the European Union.
5. German is among the ten most commonly spoken languages in the world.
6. German is the second most frequently used scientific language in the world.
7. Germany is the best place to get world-class higher education. If you are planning to go abroad to get a degree, Germany can surely prove to be the best choice for you.
How long does it take to learn German
Learning German can be challenging, especially if you are a native speaker of a language other than the Indo-European family. But, regardless of your native language, and even if German appears difficult at first, don't give up. Discouragement has no place while learning a new language.
If you are wondering if there are any shortcuts or specific ways to learn German, we have included a few in this guide that will help you make faster progress. There is no set period of time that guarantees success in learning German, but consistency is the most important factor. You will not wake up one day and find yourself speaking fluent German.
If you take one step at a time, you'll see results quickly. Learning a new language can take a long time depending on a variety of factors such as prior experience and exposure to the language, resilience, how much effort you put into the learning process, motivation, and so on.
If you practice on a daily basis for at least three to six months, you should be able to handle a daily conversation with a friend as well as things like entering a cafe and placing an order in German.
How to learn the German language
Find a strong reason that keeps you motivated and start by learning the fundamentals of the German language. Practice daily until you get the word and its pronunciation right.
It's said that mastering the fundamentals is everything. So, if you're wondering how to learn German as a complete beginner, we recommend starting with the alphabet. The German language, like English, has 26 letters. There are a few letters with pronunciations that do not exist in English: ä,ö,ü, and, but these letters do not appear in the Alphabet. Practice their correct pronunciation as it will help you significantly adjust your accent.
| | | | |
| --- | --- | --- | --- |
| Alphabet | Pronunciation | Alphabet | Pronunciation |
| A | Ah | N | Enn |
| B | Beh | O | Oh |
| C | Tseh | P | Peh |
| D | Deh | Q | Kuh |
| E | Eh | R | Err |
| F | Eff | S | Ess |
| G | Geh | T | Teh |
| H | Hah | U | Uh |
| I | Ih | V | Fau |
| J | Yott | W | Veh |
| K | Kah | X | Iks |
| L | Ell | Y | Ypsilon |
| M | Emm | Z | Tzett |
German Alphabet
German language grammar
What causes a language to appear difficult to you? Isn't that grammar? Grammar is usually a nightmare for anyone learning a new language, and this is not limited to the German language. However, master this section and you'll be speaking German fluently in no time. Prasens, Präteritum, Perfekt, Plusquamperfekt, Futur I, and Futur II are the six tenses in German.
1. Präsens refers to the Present tense.
2. Präteritum refers to Perfect tense.
3. Plusquamperfekt refers to Past Perfect.
4. Futur I refers to the Future tense.
5. Futur II refers to the Future perfect plus "will" and "have."
If you want to improve German grammar, you can seek guidance from italki. italki has a group of native German-speaking online German teachers who will help you improve grammar, pronunciation, and vocabulary. The biggest benefit of booking your lessons with italki is that their one-on-one lessons will give you the opportunity to clear all your misunderstanding regarding the language. You can have a direct conversation with the German teachers that will boost your confidence to speak German publicly.
Find Your Perfect Teacher
At italki, you can find your German tutor from all qualified and experienced teachers. Now experience the excellent language learning journey!
Book a trial lesson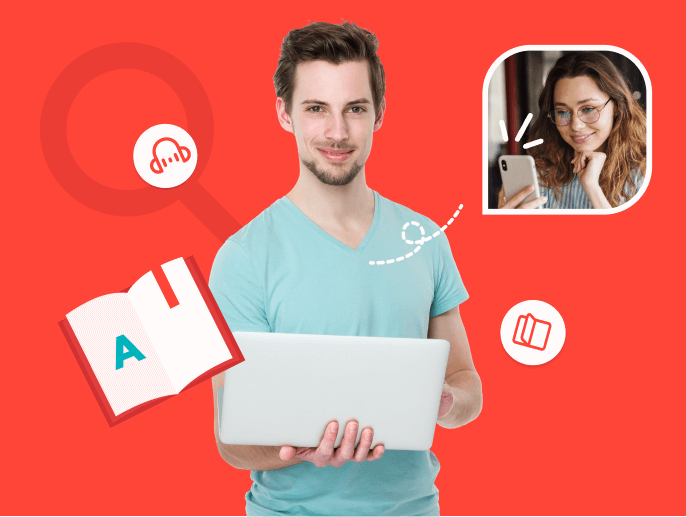 Some common German phrases
| | |
| --- | --- |
| Hallo! – Hello! | Wie geht's? – How are you? |
| Danke! – Thank you! | Mir geht's gut. – I'm doing well |
| Vielen Dank! – Thank you very much! | Mir geht's nicht gut. – I'm not doing well |
| Willkommen! – Welcome! | Ich komme aus… – I'm from |
| Alles Gute zum Geburtstag – Happy Birthday | Ich bin hier wegen + Genitiv… – I'm here for… |
| Fröhliche Weihnachten – Merry Christmas | Bis später! – See you later |
| Guten Morgen! – Good Morning! | Tschüß! – Bye! |
| Guten Abend! – Good evening! | |
| Ich heiβe… – My name is… | |
| Wie heißen Sie? – What's your name? | |
Common German phrases
Famous German idioms
Himmel und Hölle in Bewegung setzen – to move heaven and earth.
Eine Extrawurst verlangen – ask for special treatment.
Da kannst du Gift drauf nehmen – you can bet on it.
Den Nagel auf den Kopf treffen – you hit it right.
Seinen Senf dazugeben – to put two cents in.
Klar wie Kloßbrühe – clear as crystal.
Schwein haben – to be lucky.
Common German slang
Auf dicke Hose machen
This is used when someone acts stronger or wealthier than others. Literally, "act as if you have huge pants."
Gebongt sein
It means that a deal has been reached. A "bon" is the receipt you receive when you purchase something. Something "gebongt" means agreed upon or reserved.
Was geht ab?
In English, it is equivalent to "What's up?" Teenagers use an even shorter version, "Was geht."
Is a greeting that means both "hello" and "what are you doing?" It's also used in conjunction with "gehts" and some greeting words, such as "Na, alles gut?" to ask the other person, "How are you?"
Nicht alle Tassen im Schrank haben
It means you are crazy. You do not need to have everything available to you.
Aus der Reihe tanzen
Refers to those who prefer to stay off the line and behave differently than the rest. It could also have a positive connotation for someone who is simply going about his business.
Conclusion
Learning German is not tough. All it requires you to be consistent in your learning approach. You can learn German slang, idioms, grammar, famous phrases, and sayings such as famous German sayings for Christmas. It will give you cultural insight and improve your knowledge base.
Learning a foreign language is not an overnight process. You will need to allocate time on a daily basis for around six months. Make notes and practice them daily. Hold your conversations in German with your friends and family. It will improve your confidence.
Want to learn a language at italki?
Here are the best resources for you!