You may ask, "Is German an easy language to learn"? While we attempt a response to that question in the link above, the answer will primarily be based on your perspective and attitude toward learning the language. For self-taught people, there is always the problem of determining your German language levels and acquiring certifications to prove proficiency. There are several recognized German language certifications to show your level of ability, as well as there are ways to determine your German language level.  Language levels range from A1 (lower beginner) to C2 (upper advance). Keep reading to learn more about German language levels and certifications.
German language proficiency levels
Because there are so many different ways people learn German these days, it is essential to have a system that determines their proficiency levels. Whether you study in language learning centers or learn German online with italki, you should be able to determine your language levels. italki is an online language learning platform where students can have one on one lessons with professional teachers online.
Want to learn a language at italki?
Here are the best resources for you!
The Common European Framework of Reference for Language does just that. Proficiency is classified in six tiers from "basic" to "proficient." These proficiency levels have been explained below:
At this level, learners should understand simple German sentences and identify essential words that describe you and the circumstances surrounding your existence. You should also be able to introduce yourself and master salutations. At this level, you should also write simple sentences and sustain basic conversations slowly.
Upper beginners can understand subject-specific information pertaining to their study area or work. They can also understand practical information such as schedules and process short written information. At this level, you should be able to understand full sentences and engage in some form of conversation.
At the lower intermediate level, you are expected to understand German media. It would help if you understood the general idea behind movies, radio, or TV programs with slow narration. Lower intermediate speakers should be able to construct full sentences and comprehend written text.
At this level, you are expected to have a firmer grasp of German media. You may have difficulties understanding faster communication or idiomatic expressions, but you should be able to communicate to some extent in fluent German. You may also attempt more complex conversations and manipulate written content.
C1 German speakers should have a more intuitive technique to the language. You should write and understand complex text, engage in deeper conversations and enjoy native media content. You are more equipped to work and study in German universities with this language level.
C2 – upper advanced/fluent
This is the highest German language level. If your mastery of the German language is at the c2 level, then you should not only be able to understand but produce complex content in the language. Your language knowledge should be close to that of a native speaker. It would be best if you also mastered different accents from other countries.
German language certifications
Identifying your German language levels doesn't equal a certification. Certifications require that you take a recognized proficiency test. This means you have to acquaint yourself with the different German exam levels. In the post section, we will examine German language certifications that the CEFR approves.
The Goethe-test pro is for German language learners who want to use the certification professionally. You can present this certification to potential employers as proof of competence. The exam is divided into two parts that test your reading and listening competencies. The test is adapted to your CEFR proficiency level and takes about 90 minutes to complete. You will get the exam result as soon as you finish taking the test.
The Goethe-Zertifikat is a globally recognized language proficiency certification administered by the Goethe Institute. There is a certificate for every language level by the CEFR classification. All tests but the C-level exams are open to younger students and adults. This certification will be helpful for students who want to study or work in Germany or other German-speaking countries.
The TestDaf was designed to test the language proficiency of students in the upper intermediate to the lower advanced levels, i.e., B2 to C1. TestDaf stands for the Test Deutsch als Fremdsprache which can be translated to Test of German as a Foreign Language. People who stand to benefit from this test are those who want to study in Germany at the university level. A significant advantage of TestDaf is that the results are valid indefinitely.
If you are an international student studying at a German university, this certification is for you. The DSD, which stands for Deutsches Sprachdiplom der Kultusministerkonferenz – when translated means the German Language Certificate of the Education Ministers Conference – enables international students to attend a preparatory institution for German universities. To be eligible to take the exam, you have to be a level B2 or C1 German language speaker.
Make sure to learn more about either of these German exam levels and find the certification that best fits your needs and German language levels.
German exam levels: preparing for the exam
To get a German language proficiency certification, you need to take the exam (whichever one you choose), and to pass the exam, you need to prepare. To make sure that the outcome of your exams is positive, consider enrolling for German lessons at italki and following these tips:
Familiarize yourself with the exam content and format
Getting to know what the exam is like and how it is structured can save you from the stress of preparing for such an exam. There are several questions you should ask. Questions like what do you need to know about German grammar? How many sections will the exam have? How many questions are you required to answer from each section? Learn how the exam will be graded. Will you have points deducted for questions that are wrongly answered? Once you have all these questions answered, you can be more acquainted with the test.
Design a study schedule and routine
Learning with a schedule and building a routine around it can make the process more enjoyable. A schedule also helps you manage your time better, and that way, you can ensure that all your bases are covered. Find resources that can help you study, such as videos, blogs, and podcasts if the exam you are taking has a listening component. You can also break down topics into smaller segments to ease your study.
Practice makes perfect! Well, that may not be true all the time but what is definite is that practice makes progress. By taking practice tests, you are sure that you will progress as you prepare for the exams. It helps take the stress out of the exam, and you can learn in a low-pressure environment. Consider exploring your practice test options online from the institution or other test aid services such as italki where you can get a German teacher online to help you prepare.
Find Your Perfect Teacher
At italki, you can find your German tutor from all qualified and experienced teachers. Now experience the excellent language learning journey!
Book a trial lesson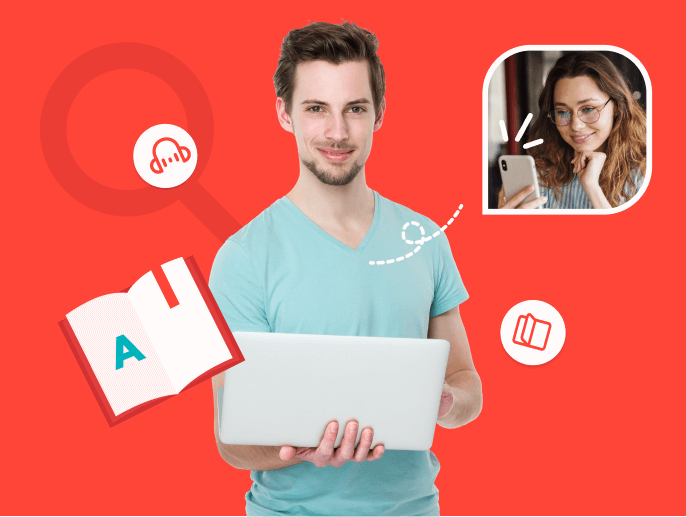 Conclusion
We have covered many topics in this post, from understanding German language levels to proficiency certifications and how to prepare for the certification exams. German language levels range from lower beginner to upper advanced/fluent. Identifying your language levels enables you to get the proper certification. Certifications differ based on your language level and what you need to use the certificate for.
Make sure that you are enrolled for the certification that you need. Credentials will not be handed over to you without an exam or test. That means you could fail if you do not prepare properly. The tips explained in this article should help you get that. Book German lessons with us to get started. Thank you for reading.