When it comes to finding the best way to learn German, it's hard to give a universal answer that fits all students. Why? Because everybody will have their own preferred methods to learn the language. While some students prefer to learn German online, others prefer to sign up for classes or enroll in a language school, and some even prefer to self-study and read books. Everybody has their own choice… and that is something good. 
Whatever method you choose to learn German the language, what's more, important is your motivation. The bigger the motivation, the greater the learning. If you are learning German almost by obligation, you may easily give up at the slightest difficulty you encounter. But if you are very motivated, even when you are blocked or when giving up crosses your mind, you will not do it, because your desire to learn and practice German will be stronger.
Want to learn a language at italki?
Here are the best resources for you!
The best way to learn German is to study with a private German teacher that can lead you in the right direction. But, before you mention it, we understand well that people can be too busy to attend German classes. Fortunately, nowadays, we can use the Internet to learn German online. Online learning and mobile language apps are great ways to learn German on your own. 
So, if you are really serious about learning the language, getting a German tutor is a perfect option. But always remember: you are the one in charge of the legwork and all the heavy lifting. 
Is learning German worth it?
German is a language that seems hard to learn, so often, an important question is whether German is worth learning? The answer is a sounding yes!
Seat, Lidl, Volkswagen, Adidas, Siemens… all of them are German multinationals. Moreover, numerous international organizations have their headquarters in Germany. Speaking and understanding their language will help you get to know their culture better, and will improve your chances of being hired by thousands of German companies or by companies dealing with German clients and suppliers. Not to mention that knowing a foreign language will add extra points to any job application.
And let's not forget that Germany, Switzerland, and Austria (where German is an official language) are leaders in many important sectors. Those who want to develop their careers in the automotive industry, pharmaceuticals, aeronautics, research, chemistry, and many other sectors, should seriously consider learning the German language.
Is learning German hard?
Also, it is time to debunk a myth: learning German is not that hard. At least no more than other foreign languages. While grammatical genders (German has three genders: masculine, feminine, and neuter), plurals, or technical vocabulary may cause you some headaches, other language aspects such as word pronunciation or verbs will be very easy to learn.
Moreover, if you are already fluent in English, learning German will be much easier, as many German words and grammatical aspects are similar to English.
So, what can you do to make the learning more effective?
The best way to learn German on your own: 3 easy solutions
As we previously said, the most effective way to learn German is definitely by going to classes with a German teacher. And learning German online is a valid option because on italki.com you can find excellent German teachers online.
Find Your Perfect Teacher
At italki, you can find your German tutor from all qualified and experienced teachers. Now experience the excellent language learning journey!
Book a trial lesson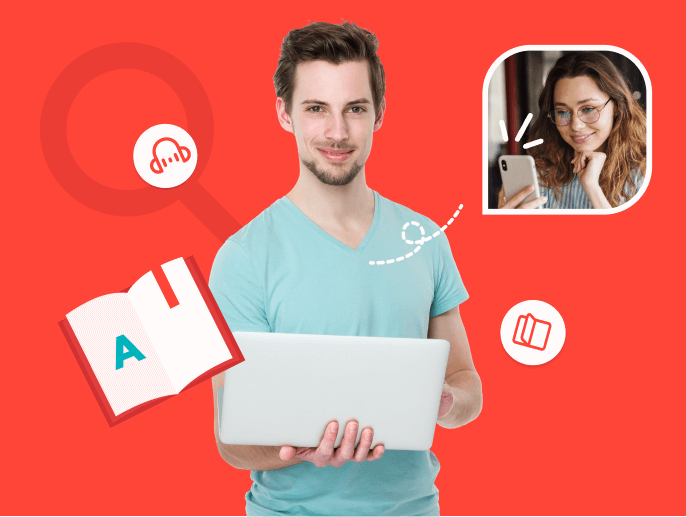 But remember we told you that you are responsible for doing all the heavy lifting? Beyond classes, you need to fully immerse yourself in the language and learn and improve at a proper pace. Nobody that only invests time once a week will make significant improvements. So how do you do that? Follow these tips below!
a) Movies and series
Watching movies and series to learn German is an enjoyable way to expose yourself to the language and learn new vocabulary. You could first watch the movie or series with subtitles, write down the vocabulary you don't understand, and then watch it a second time for a better understanding.
Below are some movies, we could recommend:
Good Bye, Lenin! (comedy, 2003)
Isi and Ossi (romantic comedy, 2020)
As for the series, you can explore:
Lindenstrasse (drama/comedy).
Deutsch lernen Extra (cultural comedy, created for students of German).
b) Books
This is one of the most traditional learning resources, but one that never goes out of fashion. It is recommended that you write down the new vocabulary you learn while reading and observe at the end how many words you have learned. Whether in print or electronic version, you can read the following books to learn German:
Der Verzicht. Drei Erzählungen (Joseph Roth): Beginners
Die Leiden des jungen Werthers (Johann Wolfgang von Goethe): Intermediate
c) Radio, podcasts and songs
Listening to audio to learn German, such as podcasts and songs, allows you to get used to the sounds of the language and learn in a fun way. Below are our recommendations:
German Podcasts:
Warum Nicht: free podcasts, ideal for beginners as the pace is slow and the story is fun. Addresses grammar topics.
Radio D: 52 podcasts about the story of two young people who work in a radio station.
Next, discover songs to learn German.
Songs:
Du hast – Rammstein (industrial metal).
Auf uns – Andreas Bourani (pop)
And if you are looking for a website that allows you to learn German on your own, italki is a great option. Italki.com is an online platform and a mobile app with a vast number of German teachers that are willing to help you learn the language. If you want to learn or improve your German level, this is an excellent choice. Book a trial class today and be prepared to kick-start your learning.