Do you wonder how long does it take to learn the German language? Some people claim that they've mastered the language in six months, three months, or even in a month. The thought itself is astonishing, but it's very much possible to learn German fast or in less than a year. This is especially true if a private German teacher helps you, or you follow an intensive German course.
In this article, we give you some tips and ideas on how to learn the German language fast and efficiently.
Want to learn a language at italki?
Here are the best resources for you!
Travel to Germany
Traveling and visiting new places is a great experience, but it can also help you to learn a new language in a short time. The best part when traveling and living abroad is that you meet people from different cultures, and you learn the language while having fun. If traveling is doable, try to visit Germany and spend a week or two there. While visiting, you should communicate only in German. Use the basic phrases from German A1 or the ones you've learned from German movies and songs. It won't be hard to start a conversation when you are a foreign tourist who wants to know more about the country and its people.
Communicate with German speakers as much as you can
If you are lucky enough to have German native colleagues or friends, you should take advantage and interact with them as much as you can. Consider each conversation a free German lesson and listen keenly to their articulation (especially those notorious silent letters) and the German words they use the most. Ask questions when you don't understand, and try always to stay involved in the conversation. If you regularly speak the language, you will learn German and build up your vocabulary very fast.
Do Grammar Exercises
For many language students, learning grammar is difficult and sometimes the most discouraging part of studying a new language. But if you want to learn a language fast, you must ensure that you understand the main grammar rules. Make German grammar practice part of your lesson routine and practice the different verb tenses, pronouns, and prepositions as much as you can. Fortunately, there are many grammar books, online courses, and even mobile apps specialized in German grammar. If you feel uneasy about specific grammar rules, you can research online, and you'll discover many free resources for German learners.
Watch German movies
If you're a movie lover, you could turn your hobby into a language experience. Try to watch German-speaking movies with subtitles in both English and German. Read both subtitles and pause to take notes of the words you don't know and that you want to add to your vocabulary.
Study German Online
You can efficiently learn German online by enrolling in an online language course or by joining online language exchange groups. If you choose to join language learning groups and communities, you will easily connect with other language learners, and you could even interact with native German speakers. This way, you can learn faster because you're encouraged and supported by a group of fellow students with a common goal. The disadvantage of these language communities is that people rarely have the same study schedules and routines.
Find a Private Teacher
And last but not least: another (if not the best) way to learn German fast and efficiently is with the help of a private German teacher. This is probably the most efficient way since your teacher is only focused on improving your level and correcting your mistakes. To make things even easier, you and your private teacher can have classes online (via Zoom or Skype ). This way, you save time commuting, and you can easily find a native German speaker to be your teacher (after all, you don't need to be in the same city when you "meet" online.
Find Your Perfect Teacher
At italki, you can find your German tutor from all qualified and experienced teachers. Now experience the excellent language learning journey!
Book a trial lesson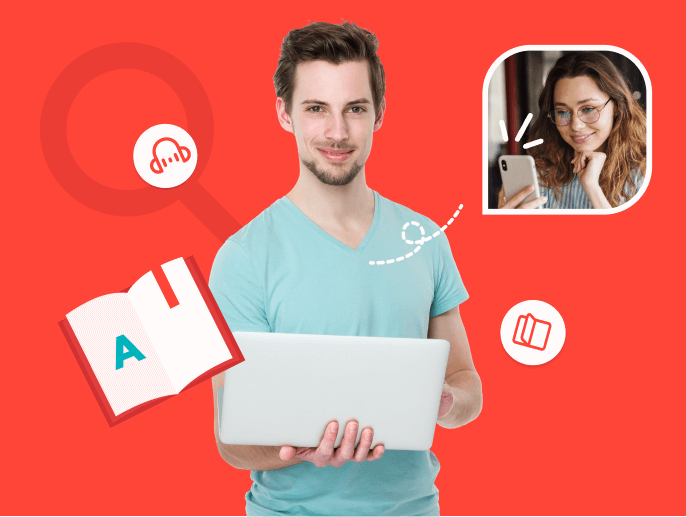 If the idea of 1-on-1 online lessons sounds interesting to you, we invite you to have a look at the online German teachers available on our website. On italki you can find hundreds of experienced German teachers and online tutors from all over the world. German lessons start from $10/hour, and you can book a Trial Lesson for even cheaper.