By and large, Spanish is one of the languages that is growing in popularity all across the globe. Looking at the increasing population of Latin-American population in the United States, the need to learn Spanish becomes even more evident. Whether you want to learn the language for work, school, or just as a pastime, you will never regret the time you spent learning.
Do you want to learn Spanish, but you wonder how to get started and learn the language quickly? In this case, you should stop overthinking and immerse yourself straight away into learning Spanish. In this article, we'll take you through six easy steps to show you how to learn Spanish easily and in record time.
1. Enrich Your Spanish Vocabulary
Words matter a lot when you're set to learn a new language. Memorize words and phrases that often appear in Spanish spoken language, and understand their meaning and how you can use them in sentences. Use a bilingual digital dictionary or listen to Spanish podcasts to learn the most common 1000 words in Spanish to make things easier. Once you've learned those words, you will understand over 60% of spoken Spanish.
2. Read Plenty of Spanish Materials
Once you have built a sizeable vocabulary, read as much Spanish as possible. Read materials such as Spanish magazines, news on your favorite sites, short stories, and plays. Ensure you read simple materials with a plot that's easy to follow. Make reading your daily habit, and look for the meaning of phrases and vocabulary you don't understand.
3. Learn the Basic Grammar Rules
You may not learn Spanish grammar to perfection as a beginner. However, you can learn the basic grammar rules from Spanish online classes and learning tutorials. This will go a long way in helping you construct simple Spanish sentences. Start by learning the past, present, and future tense. Set time every day to learn how to use each tense in sentences and proceed to other complicated structures with time.
4. Practice Speaking Spanish
You'll learn more easily when you practice speaking in Spanish. But holding conversations in Spanish is not easy when you live in a non-Spanish-speaking country. That's why it's very important to have an online Spanish tutor, fellow learners, or a native Spanish friend to practice with.
Another solution would be to look for language exchange apps and find Spanish speakers interested in learning your native language. Teach each other a few basics of your languages through conversations. You'll be surprised how you'll learn the Spanish language quickly.
5. Find a Good Spanish Tutor
To learn Spanish easily and have the best experience, you should be studying with a good Spanish teacher or a tutor. Remember that for the best results, the choice of teacher you will be working with is crucial. But how to find the best fit for you? Below, we will take you through some key considerations to help you find the best Spanish tutor.
Find Your Perfect Teacher
At italki, you can find your Spanish tutor from all qualified and experienced teachers. Now experience the excellent language learning journey!
Book a trial lesson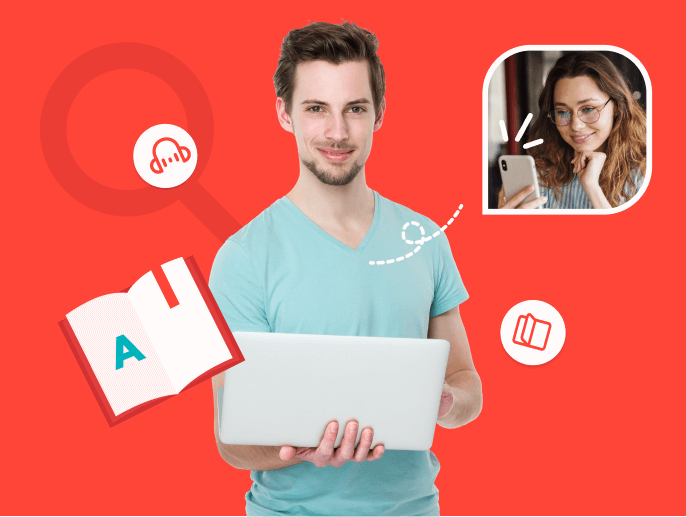 Here is a quick look at what you are to factor in as you look for a teacher to help you learn Spanish easily.
What experience do they have?
The Spanish tutor you are studying with should have vast experience in helping students learn the language, and they should be able to explain grammar rules and language concepts with ease. In addition to this, your ideal Spanish teacher should have a good mastery of your mother tongue. Finally, you shouldn't forget that good communication will be necessary from the very beginning. Your chosen tutor should communicate with you clearly and effectively as you learn Spanish.
How much do they charge per lesson?
This is the first thing that most students consider when looking for a language teacher. Prices for learning Spanish differ widely depending on the city you live in, the experience of the teacher, the nature of the lessons (in-person vs. online lessons) and many others. In general, online Spanish teachers will charge less than those who teach in-person, and online lessons are also more convenient and flexible. That's why we created italki.com: an online platform that puts students in touch with Spanish online teachers!
Do they love their job?
This is another question one should ask, they settle for the best teacher to trust. An ideal language tutor should be passionate about what they do, and this goes a long way in helping students to learn the language effectively.
6. Enroll in Spanish Online Classes
Nowadays, it is easy to learn a new language with the help of online language classes. You will find hundreds of different websites and mobile applications that offer online Spanish courses for all levels.
But one of the most effective ways to learn is with private 1-on-1 lessons, tailored to your needs. An experienced Spanish teacher will assess your current level and tailor your Spanish learning plan to suit your level, your preferences, and your needs. With 1-on-1 tutoring and help you will improve your language level quickly, with ease, and learn at your own pace.
Conclusion
If you want to learn Spanish easily, consider booking a 1-on-1 online class with professional Spanish teachers and tutors on italki. They will offer you customized lessons to match your learning pace, skill level, and interest. We'll also ensure you learn Spanish faster at your convenient time and place.
Want to learn a language at italki?
Here are the best resources for you!