Learning a new language is exciting because it opens up a whole new world to you that you couldn't access before, and learning Spanish is no exception. When you learn Spanish for travel, you can access the entire mundo hispanohablante and its approximately 450 million speakers worldwide. Learning Spanish for travel is an excellent way to strengthen your mental muscles while also using your skills in real-world situations.
You don't have to know the entire Spanish language to go on a trip. However, you should brush up on some of the most important vocabulary that will make your travels go more smoothly.
The best way to learn Spanish
1. Watch Spanish films
If you want to learn Spanish to travel quickly, watch Spanish films or telenovelas. Because the majority of telenovelas are in Spanish, this is an excellent way to begin learning the language.
Add Spanish subtitles so you can listen and read if you don't understand the words. Of course, you must include them in Spanish in order to understand how to pronounce and write a word. If you read subtitles in your native language, it is pointless. You can also take guidance from a Spanish translation app if you get stuck at some point watching a film or documentary in Spanish.
2. Listen to Spanish music
Listening to music is a great way to learn a language. It assists you in understanding word pronunciation and allows you to compare them to song lyrics to train your comprehension. Spanish music is fantastic, and it is ideal for those who enjoy dancing. Spanish songs are among the most romantic in the world.
So, listening to Spanish music is one of the most interesting strategies to learn basic Spanish when traveling. With this activity, the learning and entertainment go side by side.
3. Read Spanish books
Listening is a good way to learn a language, but it is also important to learn how to write words and how the words are written. And the best way to learn this is to read. Even if you are on a trip, you can also keep reading and listening to master the language.
If you start reading books in Spanish, you will quickly learn how to write words. It is a good workout, and it is more convenient than listening to music or watching movies because you can read at your own pace and repeat the process to memorize. It is entirely up to you; you set your own schedule. But don't forget to follow your reading schedule on a daily basis.
4. Be consistent
It is never easy to learn a new language. It appears difficult at first because you don't understand a word, and speaking is even more difficult. But you must not give up. If you want to improve, you must be consistent and train yourself extensively for several hours almost every day. The more you practice listening and speaking, the faster you will learn.
Learn Spanish with italki
We understand that learning a new language on your own is difficult. Every learner requires a proper direction, motivation, and professional guidance to excel in any new learning area. Learning Spanish is now super easy and highly organized with italki. This online language learning platform is excelling with every passing day with a massive increase in the number of learners from various parts of the world.
The best part is that you can learn Spanish online at your own pace without compromising your work. You can select the lesson plan based on your learning requirements. For example, if you want to learn Spanish for travel, you can choose a more practical learning style.
Finding a suitable online Spanish teacher is way easier than you can imagine because italki has a pool of experienced instructors, mostly native speakers, who can help you become a fluent Spanish speaker with in no time.
Find Your Perfect Teacher
At italki, you can find your Spanish tutor from all qualified and experienced teachers. Now experience the excellent language learning journey!
Book a trial lesson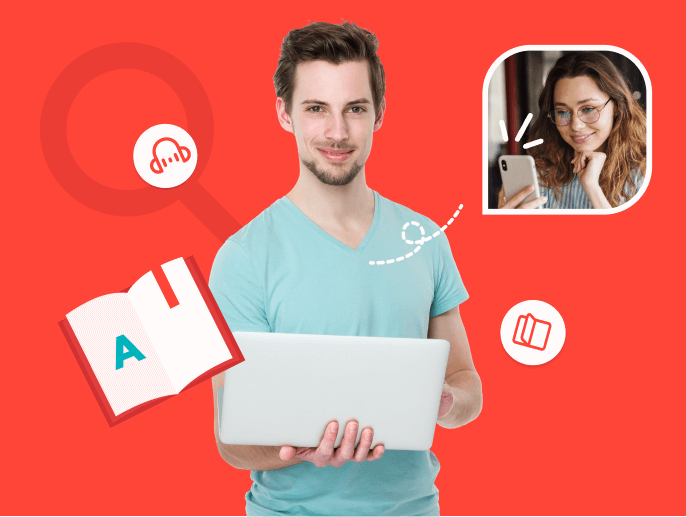 You can choose your desired learning model and get your tailored learning plan. After selecting your desired tutor, you can discuss with him/her about your aspirations and he/she will guide you with the practical ways to achieve your goal.
With italki, you can get conversational Spanish lessons, practice exercises, real-life scenarios, and additional reading materials. Book your lessons now and grab this once-in-a-lifetime learning opportunity.
Process of booking lessons with italki
The process of booking lessons is quite simple. All you are required to do is to visit italki, create your profile, and fill out all the details related to your learning goals, preferred learning style, and schedule. Afterward, go to the section 'find a teacher' to look for all the Spanish instructors available.
Select your preferred tutor. You can also book a trial lesson at a reduced price to experience the teaching style. This platform provides great liberty to every learner as you can select the tutor, lesson time learning mode, etc.
All the learning sessions are conversational, so it is important for you to take constructive feedback from the tutor and work on your weaker areas.
Now let's look at some commonly used Spanish phrases for travel as they are going to help you in your next trip to Spain or any Spanish-speaking region.
Basic Spanish greetings
| | |
| --- | --- |
| Spanish | English |
| Hola | Hi |
| Buenos días | Good morning |
| Buenas tardes | Good afternoon |
| Buenas noches | Good evening |
| ¿Cómo te llamas? | What's your name? (informal) |
| ¿Cómo se llama? | What's your name? (formal) |
| Me llamo… | My name is… |
| Mucho gusto | Nice to meet you |
| Quiero / No quiero | I want / I don't want |
| Me gustaría ; Quisiera | I would like (more polite) |
| ¿Dónde está…? | Where is…? |
| ¿Cuánto cuesta? | How much does it cost? |
| ¿Qué hora es? | What time is it? |
| ¿Tiene…? | Do you have…? |
| No funciona | It doesn't work |
Asking for direction
| | |
| --- | --- |
| Spanish | English |
| ¿Dónde está la estación de ferrocarril? | Where is the railway station? |
| Un tren | A train |
| La calle… | The street… |
| ¿Dónde hay un restaurante? | Where is a restaurant? |
| El baño | The bathroom |
| Un banco | A bank |
| ¿Dónde hay una casa de cambio? | Where is the currency exchange? |
| ¿Dónde está el banco? | Where is the bank? |
| Dinero | Money |
Travel phrases for hotel
| | |
| --- | --- |
| Spanish | English |
| ¿Dónde está la piscina? | Where is the pool? |
| ¿A qué hora es el desayuno? | What time is breakfast? |
| ¿Puedo solicitar una salida tardía? | Can I request a late check-out? |
| ¿Tiene servicio de habitaciones? | Do you have room service? |
| ¿Cuál es la contraseña de WiFi? | What is the WiFi password? |
| Una cama supletoria | An extra bed |
| Vista al mar | Ocean view |
| Vista a la ciudad | City view |
Phrases for the Airport and Ticket Offices
| | |
| --- | --- |
| Spanish | English |
| Su pasaporte, por favor | Your passport, please |
| Quisiera cambiar mi reserva | I would like to change my reservation |
| ¿Podría elegir mi asiento? | Could I choose my seat? |
| Quisiera cambiar mi asiento | I would like to change my seat |
| Este es mi equipaje de mano | This is my carry-on luggage |
| ¿Se ha cancelado el vuelo? | Has the flight been canceled? |
| ¿Dónde está la terminal internacional? | Where is the international terminal? |
| ¿Dónde está la puerta de embarque? | Where is the boarding gate? |
Phrases for any Medical Emergency
| | |
| --- | --- |
| Spanish | English |
| ¿Dónde está la farmacia? | Where is the pharmacy? |
| ¿Dónde está el hospital más cercano? | Where is the nearest hospital? |
| Seguro de salud internacional | International health insurance |
| No me siento bien | I feel sick / I don't feel well |
| ¿El doctor habla inglés? | Does the doctor speak English? |
| ¿Necesito una receta? | Do I need a prescription? |
| ¿Qué medicina necesito? | What medicine do I need? |
| La cita médica | Doctor's appointment |
Frequently asked questions about learning Spanish for travel
Q. How long does it take to learn Spanish so that you can travel?
A. It should take around 150-180 hours (four to seven months total) to learn enough Spanish to have basic, beginner-level conversations. This will bring you up to A2 level. However, if you only want to know enough to travel, two to three months is sufficient to reach A1.
Q. Should I learn Spanish in order to travel?
A. If you are planning a trip to a Spanish-speaking country and don't speak the language, you should think about learning some basic words and phrases to help you get around and communicate with the locals.
Q. Which country is the best to learn Spanish?
A. For beginners, Colombia or Spain are frequently regarded as the best places to begin.
Q. Is there a trick for learning Spanish?
A. Concentrate on listening and reading, expanding your vocabulary, and having fun with the language. Find content that you will enjoy, such as these Spanish short stories.
Conclusion
In this guide, we will highlight the best ways to learn Spanish for travel. Follow these strategies to learn basic Spanish before planning your trip to any Spanish-speaking country. We have also explored some basic Spanish phrases for travel. Make notes and memorize these phrases as they will help you undergo basic conversations.
Book your lessons with italki to learn Spanish right from scratch. Embrace your learning journey with the best Spanish tutor online and become a fluent speaker.
Want to learn a language at italki?
Here are the best resources for you!