A month is enough for a lot of things to be done. But, if you want to learn Spanish in a month, we truly appreciate your passion and enthusiasm. To achieve this goal, you will need to be able to write, read, listen, sing, and even dream in Spanish. It will be exhausting, but it will be well worth it.
Here are seven steps to help you get the most out of your month of Spanish learning.
Steps for learning Spanish in one month
1. Transform your life into a Spanish course
There are various checkpoints along the way to achieving Spanish fluency. You must be realistic about which of these you can reasonably achieve in one month.
You cannot expect to become a Spanish-speaking diplomat in 30 days if you start from scratch, but you can certainly learn a lot if you put your mind to it and have a good game plan. You could easily learn how to hold decent conversations and write messages, emails, or letters.
Whatever your starting point, the first step is determining how much you want to learn. Then, you will start laying the groundwork for how you are going to get there. Taking a class may be difficult if you need to start right away and have only one month to complete the task. Signing up for one and establishing a new schedule can take some time, and classes may last longer than a month.
In this case, picking up a good beginner's textbook and reading a chapter daily will go a long way. The reading exercise will teach you how to speak Spanish, so get yourself a book that excites you and develop a consistent reading routine.
Spending a total of 2-3 hours per day on your overall reading skills and vocabulary knowledge can get you a long way in a month. Combining this chapter-by-chapter textbook work with flashcards and vocabulary lists will benefit you more.
2. Immerse yourself in Spanish
If you are unable to travel abroad, there is still hope. No matter where you live, there are numerous opportunities to incorporate the language into your daily life. Aside from English, Spanish is the most commonly spoken language in the United States, with a significant portion of residents fluent or native in the language in a number of states.
Finding a Spanish-speaking community may be much easier than you think. There are several websites and groups available to accommodate you in this regard. Apart from this, you can visit a Hispanic museum, watch a Spanish-language film, or explore whatever your hometown has to offer related to your studies.
Instead of your usual English jams, books, and TV shows for the month, try replacing them with some Spanish entertainment. You can even go to your Facebook settings, change your language to Spanish, and experiment with even more Facebook learning methods.
Look! There are several ways to immerse yourself and learn Spanish in a month, you must be serious with your goal and must be willing to do everything in your capacity in order to achieve it.
Numerous Spanish content creators on Instagram and TikTok and numerous Spanish teachers post educational content. You can always combine the previous chapter-by-chapter textbook and vocabulary plan with these 30 minutes of active practice. Simply jot down any new vocabulary you come across while interacting with this Spanish-language media.
3. Get a personal tutor
It is clear that having a personal tutor has numerous advantages. When you have a tutor, you can be selective about what you learn because their goal is to teach you and only you. They will tailor the methods, resources, and lesson plans to your specific requirements.
Learning the most important things to you and having content tailored to your skill level will make the process much faster and easier. The tutor will work at your pace and with your learning preferences in mind. Furthermore, they will be able to correct you, which is essential in the language-learning process.
If you are having trouble finding a good tutor near you, don't worry; there are plenty available online. On italki, you can find a native Spanish-speaking tutor to teach you via Zoom or Skype.
Amazing features of italki
With italki, learning Spanish has never been easier or more organized. This online language-learning platform is growing by the day, with a massive increase in the number of learners worldwide.
The best part is that you can learn Spanish online at your own pace while still working. You can choose a lesson plan based on your learning needs. For example, you can select a more practical learning style if you want to learn Spanish in a month.
Finding a suitable online Spanish teacher is much easier than you might think, thanks to italki's pool of experienced instructors, mostly native speakers, who can help you become a fluent Spanish speaker in no time.
You can select your preferred learning model and receive your personalized learning plan. After you have chosen your tutor, you can talk to him or her about your goals, and he or she will advise you on the best ways to achieve them.
Conversational Spanish lessons, practice exercises, real-life scenarios, and additional reading materials are available through italki. Schedule your lessons now to take advantage of this once-in-a-lifetime learning opportunity.
Find Your Perfect Teacher
At italki, you can find your Spanish tutor from all qualified and experienced teachers. Now experience the excellent language learning journey!
Book a trial lesson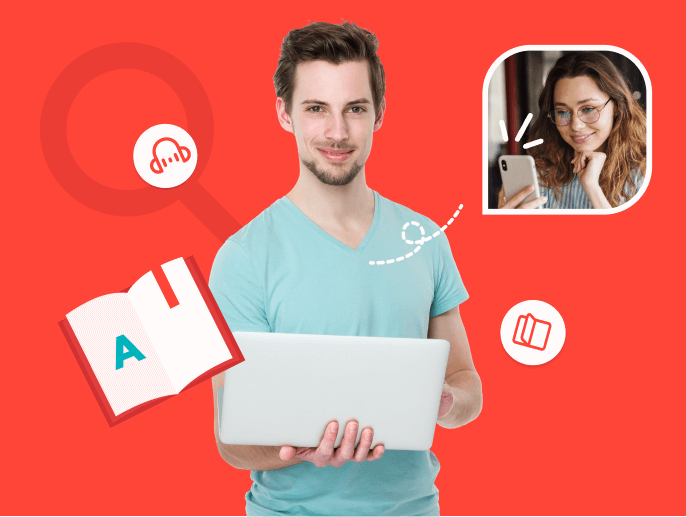 Booking lessons with italki
Visit italki, create a profile, and fill out all of the information about your learning objectives, preferred learning style, and schedule. After that, navigate to the 'find a teacher' section to search for all available Spanish instructors.
Choose your preferred tutor. You can also book a trial lesson at a discounted rate to get a feel for the teaching style. Every learner has a lot of freedom on this platform because they can choose their tutor, lesson time, learning mode, and so on.
This platform offers a timely feedback system, allowing learners to improve their weaker areas. Book your lessons today, and let the learning begin!
4. Study hard
If you want to learn as much as possible in a month, you must devote most of your free time to studying. Always keep a book, dictionary, and translation app on hand because you never know when you'll have some free time to study.
You can always do something in Spanish when you are on the bus, waiting in the queue, or working out. Fill your phone with Spanish reading material, such as e-books and audio, such as podcasts and audiobooks.
You can study whenever you have an idle moment, or you can multitask by playing some Spanish audio in the background. You will be surprised at how much you can learn in your spare time throughout the day.
The more time you spend studying in this manner, the better your Spanish will be at the end of the month. The recommended daily dose is at least 30 minutes of this.
5. Name everything you touch
Go to the store, get the largest set of sticky notes you can find, and label everything you own in Spanish. The foods in your pantry, the desk you're sitting at (el escritorio), the lamp (la lámpara), the computer you're reading on (la computadora), your bed (la cama), and your bar of soap (la barra de jabón). Name everything you touch in Spanish.
Purchase a set of Spanish Vocabulary Stickers, which includes pre-made, color-coded labels for over a hundred of the most common items in your home and office. This is not only a quick and easy way to study, but it will also catch you up on your vocabulary goals and give you the words you need to know the most.
6. Avoid using English purposely
It is said that you do not fully comprehend a language until you can think in it. This may be difficult depending on where you live, but completely replacing English with Spanish in your daily life can speed up the process.
If you need to contact a company, press the button that they indicate to proceed in Spanish. When you go grocery shopping, read only the Spanish-language labels and shop as much as possible at a Hispanic grocery store or in the Hispanic aisle at the supermarket.
Avoid using English on purpose. Instead, use Spanish as much as you can. It will boost your confidence as well.
7. Go Abroad
Spending 30 days learning Spanish in a Spanish-speaking country can be extremely beneficial if you can afford it.
Being in a Spanish-speaking country means that you will encounter Spanish wherever you go. You will be forced to use Spanish as well. Seeing it every day on street signs, advertisements, restaurants, and other places can help it stick in your mind.
FAQs about learning Spanish
Q. Which Spanish book is best for beginners?
A. McGraw Hill's "Easy Spanish: Step-by-Step". This book will help you break things down into manageable lessons for your 30-day challenge. With 15 chapters, doing 1 chapter every 2 days means you will finish the book and cover a lot of ground in a month.
Q. What is the biggest benefit of hiring a personal Spanish tutor?
A. A personal Spanish tutor will provide you with a customized lesson plan tailored to meet your learning needs and requirements. Having a customized lesson plan speeds up the overall learning process.
Q. Is going abroad necessary to immerse yourself in the Spanish language?
A. If you are unable to travel abroad, there is still hope. No matter where you live, there are numerous opportunities to incorporate the language into your daily life. You can find a Spanish-speaking community online to practice your Spanish skills.
Conclusion
If you want to learn Spanish in a month, follow these seven steps to meet your goal in the desired timeframe. You need to be very consistent in your learning approach. Otherwise, you will end up wasting all your time. There are some areas that are difficult to master within a month. For example, it is difficult to learn Spanish grammar in such a short time.
To learn Spanish grammar, get yourself a native Spanish tutor from italki. He/she will allow you to learn grammar rules from the basics, making Spanish easier for you.
Want to learn a language at italki?
Here are the best resources for you!