Spanish language shows have always been popular with audiences, including those with little to no understanding of the language, thanks to subtitles. Whatever genre you are looking for, there is a Spanish film for you. We have compiled a list of some of the best Spanish films available on Amazon Prime.
The best Spanish movies on Amazon Prime
English Title: "Cumbia Connection"
This film, set in Monterrey, Mexico, is energetic and passionate. The vocabulary is easily accessible due to the film's relatable theme i.e. the trials of adolescence confronting the protagonist.
The absence of dialogue in favor of letting song lyrics tell the story is a unique feature of this film. This choice enhances the viewer's cultural immersion.
English Title: "Sweetened Caramelized Milk"
"Dulce de Leche" is an indie love story set in Argentina that revolves around Luis and Anita, who meet by chance while having their school portraits taken. Their relationship develops into a passionate and sweet first love to which every viewer can relate.
The Spanish accent in this film is distinctly "Argentinian," and the use of the colloquial "vos" to mean "you" may initially confuse some viewers, but the dialogue is very accessible and easy to follow for beginners and advanced learners.
3. "La Sirga"
English Title: "The Towrope"
Alicia, a 19-year-old Colombian refugee, flees the war and arrives at her uncle's house. He doesn't want her to stay but agrees to let her in exchange for manual labor to get the guesthouse up and running.
"La Sirga" is a film with a collaboration between Colombia, France, and Mexico that aims to expand viewers' cinematic palette. The dialogue in this film is limited but complex, so intermediate to advanced speakers looking for a challenge will enjoy it the most.
English Title: "Just a Little Chemistry"
A predictable love story about a girl who falls in love with a celebrity, only to discover that love and chemistry aren't the same thing.
The plot revolves primarily around the protagonist's difficult decision between two very different men, which results in a number of dramatic and quick exchanges in rapid-fire Spanish. Because this film is set in Spain, it is excellent practice for anyone learning the language.
A lot of people ask the question, How to learn Spanish easily?. There are several strategies that speed up the learning process. These strategies make it easier to absorb new words, phrases, pronunciation, and sentence formation as a whole. One of the most engaging strategies is to learn Spanish while having fun. Looking for the best Spanish movies on Amazon Prime will help you learn Spanish without getting bored or overwhelmed.
English title: The Motorcycle Diaries
The coming-of-age story is unique in that it focuses on Argentine Marxist revolutionary and guerrilla leader Ernesto "Che" Guevara (Gael Garca Bernal). In real life, Che traveled across South America with his friend Alberto Granado (Rodrigo de la Serna) in 1952, before rising to power. The two witness how people in various social classes, including poor indigenous groups, are treated throughout their journey. Che kept a diary of his journey, which was later published as a memoir of the same name.
English title: The Skin I Live In
Plastic surgeon Robert Ledgard (Antonio Banderas) developed a burn-resistant artificial skin called Gal. It quickly becomes clear that he has been carrying out illegal experiments on a woman named Vera (Elena Anaya), whom he has held captive for years. One day, Dr. Ledgard's servant Marilia (Marisa Paredes) tells Vera about herself and the reason for his obsession with Gal. Vera, on the other hand, is concealing her own secrets, which connect her to Dr. Ledgard's wife and daughter.
English title: Wild Tales
If you can't decide which Spanish-language film to watch on Amazon Prime, this dark comedy anthology film hits the sweet spot. The two-hour film is made up of six short films about various characters from various walks of life. The six stories are about injustice and humanity, ranging from a man who has left a bad impression to a father who cannot retrieve his car.
8. Mar Adentro
English title: Sea Inside
Based on the true story of Ramón Sampedro (Javier Bardem), the drama follows his 28-year campaign to end his life through euthanasia. The avid sailor was involved in a recreational diving accident that left him quadriplegic. He is denied despite his efforts to obtain court approval for his request. But Ramón's friends are all in, so he devises a plan.
English title: Like Water for Chocolate
This 1992 Mexican film, based on Laura Esquivel's 1989 debut novel, follows Tita (Lumi Cavazos), the youngest of three sisters. She is designated as her mother's (Regina Torné) caretaker, never to marry, as per family tradition. Tita falls in love with Pedro (Marco Leonardi) years later. Tita's older sister, Rosaura (Yareli Arizmendi) marries him instead in an unexpected turn of events. But Tita and Pedro's love story is far from over.
10. El Orfanato
English title: The Orphanage
Laura (Belén Rueda) was adopted from a Spanish orphanage in 1975. Decades later, she returns to it with her husband, Carlos (Fernando Cayo), and their adopted son, Simón (Roger Prncep), with the intention of reopening it for disabled children. However, trouble arises quickly when Simón befriends an invisible boy named Tomás. Simón goes missing shortly after, and while looking for him, Laura discovers more than she bargained for.
11. La Misma Luna
English title: Under the Same Moon
Rosario (Kate del Castillo) crosses the US-Mexico border without proper documentation in order to provide for her son, Carlitos (Adrián Alonso), whom she abandons. After not seeing her in four years, Carlitos decides to make the perilous journey to see his mother. He faces many challenges, including poverty, violence, and run-ins with immigration officers, but cherished memories eventually bring him back to her.
English title: Mom
Magda (Penélope Cruz) is diagnosed with stage 3 breast cancer. She is determined to overcome it with the love and support of her husband (Luis Tosar) and son (Teo Planell). Magda is happily surprised to learn that she is pregnant with a baby girl while fighting the disease. Becoming a mother for the second time is yet another reason to fight for her life.
You must explore these 12 best Spanish movies on Amazon Prime as they are going to help you in your language-learning process. If you are looking for a private Spanish tutor to polish your speaking and writing skills, explore italki. This learning platform is simply unmatchable if you want quality teaching methods and styles.
Learn Spanish with italki
This is the best online platform for learning Spanish at home. You only need to create a profile and find the best tutor for your needs. The amazing features of this platform set it apart from other language-learning mediums:
The enrollment process is extremely simple. You can book your lessons with a few simple clicks. The flexibility of this online learning medium is very well known. The learner is free to choose the best time for learning. It has a comprehensive list of Spanish teachers. The learner can select the tutor who best meets his or her learning needs. All of the sessions at italki are conversational in nature.
Find Your Perfect Teacher
At italki, you can find your Spanish tutor from all qualified and experienced teachers. Now experience the excellent language learning journey!
Book a trial lesson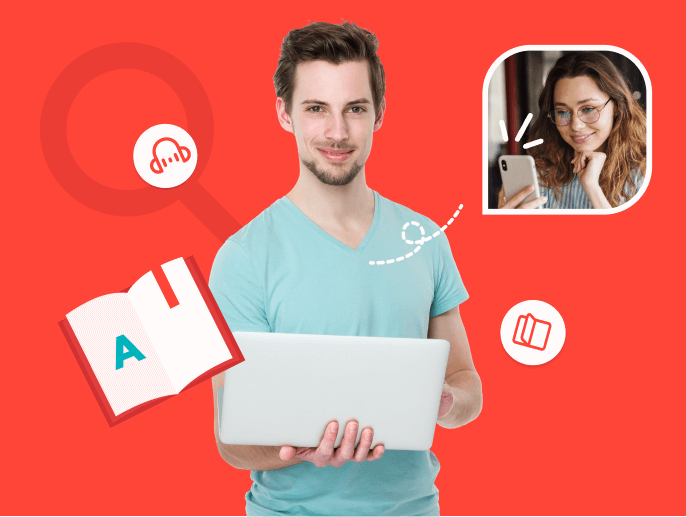 Learners can customize the learning plan to meet all of their needs under the supervision of a Spanish teacher through conversational Spanish lessons. The tutors provide additional learning material, exercises, and quizzes to help students track their progress.
Enrollment process at italki
Go to italki
Make a profile for yourself
Fill in all of the required information
Navigate to the 'Find a Teacher' section
Use the filter to find a Spanish teacher
Select the teacher who best meets your needs
Schedule a trial lesson at a discounted rate
Follow the tutor's instructions
Request feedback
Keep track of your progress
FAQs about Spanish movies
Q. How can Spanish movies help in language learning?
A. Watching films in Spanish is a great way to practice your language skills by hearing the words and phrases you have learned in a new context. This will allow you to broaden your vocabulary while also understanding how it is applied in everyday situations.
Q. What is the most effective learning strategy that you can use while watching Spanish movies?
A. After seeing a scene a few times, repeat the dialogue aloud. You can pause the video to speak at your leisure. It will help you develop your pronunciation.
Q. What kind of movies should I watch to learn Spanish?
A. Make sure to select films that you enjoy. If you enjoy comedies, put on some funny films. You are not required to watch that romantic story simply because it is a classic.
Conclusion
In this fun-filled guide, we have explored the 12 best Spanish movies on Amazon Prime. There are plenty of other movies available online. Choose the ones that suit your taste. It is a great way to learn a language without getting overburdened. You can also use Spanish learning apps to explore the words you don't understand.
Apart from that, nothing can replace a tutor's importance when mastering a new language. Check out italki to get the best Spanish tutor. Book your lessons. Pull up your socks and start learning.
Want to learn a language at italki?
Here are the best resources for you!