What's the best way to learn Spanish on your own?
Learning a language on your own needs time and dedication, but it's possible. A lot of people around the world have learned foreign languages by themselves, and they have enjoyed the process. They have proven to everybody that it is doable. If you want to learn Spanish on your own, welcome aboard!
In this article, we've put together 15 recommendations to help you find the best way to learn Spanish on your own. Plus, we'll give you free resources to help you keep track of your plan to improve your Spanish, all by yourself!
1) Set small goals
The best way to learn Spanish on your own is by starting with small goals that you can break down into weeks. Keep a record of your lesson plan, so you can see what you have studied and what you have left to cover. You need a tracking plan that is very visual, something that allows you to keep track of your studies.
Gamification is a technique that applies video game mechanics to everything in the world. You can make these small goals into levels, and every level you beat gets you a reward until you get to the final boss which is the evaluation.
2) Get Spanish books
The best way to learn Spanish on your own is with the help of good language books and study materials. Get grammar books, vocabulary books, and test preparation books.
If you don't have a Spanish teacher, and you are preparing to study on your own, you'll need at least a few textbooks. Study one unit at a time and take it one step at a time. Don't get discouraged. Do the exercises even when they are too difficult, and don't forget that the answers are usually in the book.
Don't cheat when you exercise on your own!
The best way to learn Spanish on your own is when you challenge yourself and push your limits. Dedicate time and effort and the results will be worth it.
3) YouTube could be the best way to learn Spanish on your own
Once you study a unit from your book, you can reinforce the knowledge using YouTube videos. There is a lot of quality language learning content on YouTube made by Spanish teachers and native Spanish speakers. Use it to support what you have just learned. Practice and repeat. When you repeat over and over, you will get better at what you just learned.
A tip: prefer content developed by native speakers, made and explained in Spanish.
You need to get used to the sounds of the language. Also, as we previously mentioned, the best way to learn Spanish on your own is when you challenge yourself!
4) Write examples and sentences
Use what you learned from your textbooks, YouTube, and from different sources to create example sentences. Use the grammar and vocabulary you have learned to compose short paragraphs or essays.
They don't have to be 100% correct, the goal of this writing exercise is to help you to get used to using Spanish. The more comfortable you feel, the more confident you will become. The more you practice, the more you will improve. This is the time to make mistakes.
And if you study with a Spanish tutor or a private Spanish teacher, don't forget to show them your writing exercises for review and discuss your mistakes together.
Find Your Perfect Teacher
At italki, you can find your Spanish tutor from all qualified and experienced teachers. Now experience the excellent language learning journey!
Book a trial lesson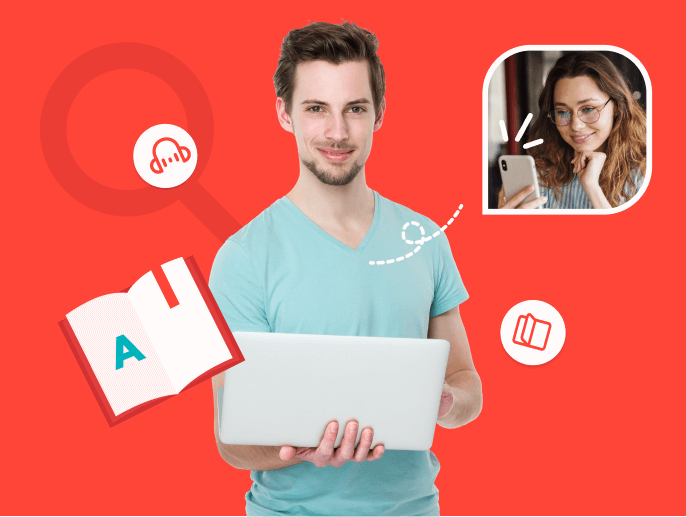 5) Watch Spanish movies
You can watch your favorite movies and series, but switch the audio to Spanish. If you can't follow along using just audio, use Spanish subtitles. In this way, you can improve your auditive comprehension, and you associate the words you are hearing with the words you are reading. The key here is to expose yourself to Spanish.
6) Surround yourself with the Spanish language
If you want to study, set a time apart and pause the video, try to understand what's being said, take notes, and have your dictionary on hand. On the other hand, when it comes time to relax, get a movie set with your audio and subtitles and Spanish, and just let it go… forget about mistakes, and try to enjoy the movie. Don't do both, or you will end up getting frustrated eventually, and you won't enjoy your time.
7) Repeat and repeat
The best way to learn Spanish on your own is by repeating your lessons and exercises. Do imitation exercises. Choose phrases from podcasts or YouTube videos in Spanish and repeat them five to eight times each. The goal is to get your vocal apparatus used to produce Spanish sounds. The more you practice, the more natural it will be for you. Moreover, this is an easy practice that you can do on your own.
8­) Do what you love in Spanish
If you like sports, watch them with the narration in Spanish. If you like to cook, use recipes in Spanish. If you like to do exercise routines, pick one that is led by an instructor in Spanish. Do the things you love in Spanish – you won't feel like you're studying!
9) Set your smartphone and computer in Spanish
Surely, the closest relationship we have right now is with our smartphone – we always have a screen in front of us! Make sure you expose yourself to Spanish from your electronic devices. It's a way to familiarize yourself with the vocabulary and become more comfortable with the language.
This is effective because so far it is pretty sure that you know how to navigate through your devices, and changing it to Spanish, will teach you new vocabulary without complications.
10) Keep a diary in Spanish
Write down what you do every day in Spanish. If you do the same thing every day at work, with your family, with your friends, challenge yourself. Write about more specific things. Did you see something funny on your way to work? Did your coffee taste a little strange this morning?
Write in your journal every day, your Spanish doesn't need to be perfect, it needs to be familiar. This will allow you to learn new words and how to write and express complete ideas in Spanish.
11) Record yourself speaking
You may not like to hear your voice, but it is a way to improve your Spanish. Talk about whatever you want, your story, a movie, a book, or the news of the moment, it can even be about your favorite fruit! Record yourself speaking for a minute or two and listen to yourself. Do you notice any mistakes? How is your pronunciation? Use your smartphone recorder as a tool.
12) The best way to learn Spanish on your own: Be consistent
Do something related to Spanish every day. It's not as useful to study five hours one day a week and then forget about Spanish the rest of the week. Do something every day to practice. If you are tired, stressed, or very busy, just spend 5 minutes. Be consistent.
Finally, if you've decided to learn Spanish on your own, it could be really helpful to take a few Spanish lessons with a private teacher. On italki it is possible to learn Spanish online with top Spanish tutors from all over the world. In this way, you can continue learning Spanish on your own, but you can be sure that you are on the right path.
On italki.com you will be taught by native Spanish speakers who will do everything to make your experience more enjoyable and efficient.
Want to learn a language at italki?
Here are the best resources for you!