Are you aware of the benefits of learning Spanish? Spanish is one of the most beautiful languages, with millions of speakers worldwide. Knowing Spanish will enable you to expand your social circle and open the door to endless opportunities. In this post, we will take you through the ins and outs of the best Spanish online courses that are highly engaging and effective.
The best online Spanish lessons for you
If you are looking for conversational one-on-one classes. Here is a strong online platform recommendation for you: italki.
1. italki
From learning how to speak Spanish to becoming a fluent Spanish speaker, italki is the best online learning platform that allows you to function at your own pace. It has some unique features that make it a go-to learning medium for thousands of people around the world.
Features
Tailored learning sessions: Learning Spanish becomes a breeze with tailored lesson plans that meet learning objectives and requirements. Italki allows you to learn Spanish online through personalized learning sessions. These sessions will assist you in determining your learning goals and objectives.
Experienced Spanish tutors: The majority of italki's tutors are native speakers. You can choose a Spanish teacher online from a list of experienced and professional teachers based on your desired learning schedule and budget. All of these teachers will create personalized learning plans for you based on your needs.
Find Your Perfect Teacher
At italki, you can find your Spanish tutor from all qualified and experienced teachers. Now experience the excellent language learning journey!
Book a trial lesson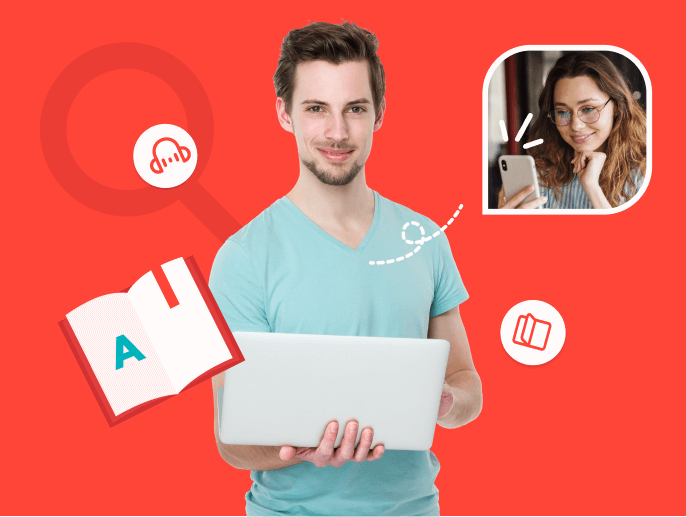 Flexible learning schedules: What could be better than learning Spanish at your own pace and on your own time? This one-of-a-kind platform understands people's hectic schedules and gives you as much flexibility as possible.
Conversational learning formats: You will fully engage with the conversational Spanish tutors when you use italki. The conversational learning style makes the learning process more engaging and lighter. You can select the learning format that best suits your learning objectives and goals.
The enrollment process at italki
Visit italki. Fill out your profile with all of the required information. To find a Spanish teacher, select the 'Find a teacher' option and use the filter for Spanish teachers. Choose a teacher who shares your learning objectives and requirements. Schedule your lessons.
It is highly recommended that you follow the additional material, exercises, and scenario-based content provided by your Spanish tutor. Accept constructive criticism and work on your weak points.
Average cost: $149.95 – $449.85
Rocket Languages is ideal if you are not on a tight budget and want a comprehensive, classroom-style course covering Latin American culture. The Rocket Spanish course is full of useful, everyday Spanish and closely resembles classroom-style instruction.
Classes are made up of half-hour audio lessons, for a total of over 120 hours of lesson time per level. Lessons are designed like conversations between a learner and a native Spanish speaker. The dialogue is then broken down, and the grammar and vocabulary are explained.
The dialogues feel less dramatic than many other course dialogues. They are also less formal and more genuine, sounding like a friendly conversation. Rocket Spanish also keeps track of your progress and lets you speak and even record your voice in a roleplaying scenario. After each lesson, you can assess your knowledge and rate how easy or difficult it was.
| | |
| --- | --- |
| Pros | Cons |
| It teaches you not only about the language but also about the culture surrounding it | It only takes you to upper-intermediate/pre-advanced user of Spanish |
| The material is very comprehensive | It can get repetitive at times |
| The interface is user-friendly and nice to the eyes | It is quite expensive |
3. BaseLang
Average cost: $149/month
There is no better program for native speaker tutoring if you are willing to pay the relatively high fee. BaseLang is distinctive in that it is based on having unlimited Spanish classes with native teachers and is extremely effective at improving your conversational skills.
It has two programs: Real-World and Grammarless, as well as a Spanish curriculum to accompany these courses and the ability to track your progress. Real-World is relaxed, whereas Grammarless is a more intensive program that claims to get you conversational in a month.
Access to unlimited tutors is also very flexible—you can book classes at the last minute and choose essentially any lesson length you want. You get the first week for $1, then pay monthly for Real-World and one-time for Grammarless.
| | |
| --- | --- |
| Pros | Cons |
| Highly focused on improving speaking and listening comprehension skills | It's quite expensive if you are on a budget |
| Super flexible scheduling | Limited to Latin American Spanish |
| Unlimited access to hundreds of native teachers | The website can be slow at times |
4. Busuu
Average cost: $3.48 – $13.95/month
Busuu prioritizes speaking over other apps, making it a good choice for those looking to improve their communication skills. The program's effectiveness is also enhanced by cultural tips and a community of native speakers. Busuu offers bite-sized lessons that can be studied at your own pace.
With its speech recognition tool and ability to answer prompts through speech, it encourages you to improve your speaking skills more than most other apps. It also emphasizes listening to dialogues throughout the course or in the community.
On Busuu, you can find people who are native speakers of your target language, exchange messages with them, and receive feedback on your answers from the larger community.
While a free version is available, it is quite limited and only allows you to learn one language. If you are serious about learning, the paid version is most likely the best option. You can pay for a three-month, twelve-month, or twenty-four-month plan by selecting one of two premium options.
| | |
| --- | --- |
| Pros | Cons |
| Allows you to create a personalized study plan | Only 12 languages are available, and only one in the free version |
| Useful cultural tips that help you learn when and how to say something appropriately | Some language courses are of lower quality than others |
| Comprehension checks enable you to think critically about what you're learning | The method and content is lacking slightly in entertainment value |
5. Babbel
Average cost: $7.45 – $11.15/month, $349 Lifetime plan
Babbel is a good place to start if you want a practical, well-structured Spanish course. Everyday scenarios assist you in learning the most important aspects of the language first. Babbel focuses on practical language usage, emphasizing instruction in real-world vocabulary rather than just teaching random words.
Each lesson lasts approximately 10-15 minutes, is created by a team of experienced linguists, and focuses on a specific concept or vocabulary theme. The exercises help you memorize the content by combining text, audio, and images. According to the Common European Framework of Reference, lessons range from A1 (beginner) to C1 (proficient). However, you can move around the different levels.
| | |
| --- | --- |
| Pros | Cons |
| The curriculum has a logical flow of progression | There isn't much offered for advanced learners |
| Teaches applicable, usable language | The exercise format isn't varied much |
| Includes tips that explain concepts related to what you're learning in a lesson | Limited language choice |
Average cost: $24.99 – $49.95/month, $149.95 – $249.95/year
Transparent Language is a flexible but well-structured program that uses exercises and methods to allow you to practice all language skills. You can study Castilian or Latin American Spanish.
Transparent Language provides online Spanish programs for students ranging from beginners to advanced levels. These adaptable programs allow you to chart your own learning path. You will learn the skills you need to understand and communicate in Spanish by practicing typing, speaking, writing, and reading.
The program also employs game-like learning methods, and the app is compatible with touchscreen devices, making it an appealing option for any Spanish learner.
| | |
| --- | --- |
| Pros | Cons |
| It's very well structured in terms of content | The quality/price ratio isn't the best |
| The lessons are challenging and force you to be focused | There's very little emphasis on grammar |
| The exercises allow you to practice all the major language learning skills | It can get a bit repetitive after a few lessons |
7. Lengalia
Average cost: $4.99 – $29.99/month
Lengalia provides general grammar courses ranging from beginner to advanced levels. This program is unique in that it also provides professional courses on specialized Spanish topics such as business Spanish, medical Spanish, negotiating, and more.
If you are thinking about taking a vacation in a Spanish-speaking country, you will appreciate their "holiday" courses designed for tourists. Listening, reading, speaking, and writing practice will help you prepare for any situation that may arise. Begin with a free trial, then transition to monthly payments, with discounts for paying ahead of time.
| | |
| --- | --- |
| Pros | Cons |
| Lessons allow you to really practice all four language learning skills | Its user community is rather small and not very engaged |
| The free tools, especially the vocabulary trainer and the verb conjugator, are excellent | Exercises can get very repetitive |
| The courses are very well structured and appropriate for each level | It only includes Castilian Spanish |
All the above-mentioned language learning programs have their advantages and disadvantages. You can check their reviews before choosing any one of them.
Frequently Asked Questions
Q. Is it possible to learn Spanish through online courses?
A. Online courses can help you improve your Spanish skills whether you're a beginner or a more advanced speaker. There are a variety of classes available to meet your needs, from learning Spanish vocabulary to understanding the different dialects of Spanish.
Q. Is it possible for me to learn Spanish on my own?
A. With today's technology, teaching yourself Spanish is more than possible. In fact, learning Spanish on your own can help you become fluent faster because you can learn at your own pace and with resources that suit you. First, determine how much time you can devote to studying Spanish daily.
Q. Can I learn Spanish at the age of 40?
A. Studies show that learning a second language improves intelligence, memory, and concentration and lowers the risk of dementia and Alzheimer's. So what if you are over the age of 40 and want to learn a second language? The good news is that it is possible.
Conclusion
In this guide, we have highlighted some of the best online Spanish courses available for 2023. You can check their reviews to see the feedback from previous learners. Finding a good online Spanish course can speed up your learning process to a great extent.
If you want conversational sessions, book your lesson with italki. Get your tailored plan and start speaking Spanish like a pro!
Want to learn a language at italki?
Here are the best resources for you!