Learning Spanish requires persistence and patience. If you want to become a fluent speaker, trying to speak once will not serve the purpose. Learning how to become fluent in Spanish will be your first step to become fluent.
There are some helpful techniques that can help you become fluent in Spanish. These techniques are super friendly and if you succeed in designing the right strategy for yourself, you can answer the famous question i.e. how to become fluent in Spanish.
Meaningful techniques to become fluent in Spanish
Following are some meaningful techniques that you can use to become fluent in Spanish. You can use these techniques at your own learning pace.
Consult Spanish media
You can watch Spanish-language channels on YouTube, movie networks, television channels, Netflix, Hulu, and other platforms. Anything with high-quality, authentic Spanish video content that you can watch on a regular basis.
Once you have found the right video content to watch, the "subscribing" method will help you improve your fluency in the following ways:
It broadens your vocabulary.
You get excellent pronunciation practice.
You will be exposed to native speakers through natural-sounding conversations.
Plan for at least one to two hours per week of Spanish content watch-time, or one movie per week. Turn on the Spanish subtitles. You will be listening to and reading Spanish, which will improve your overall comprehension.
For every 30 minutes of video content, write down three to five new words or expressions. Keep a small notepad handy to jot down new words you come across as well as their context. How did the word appear in the video? Make a note of it. This will provide you with about 20 new expressions and vocabulary words each month.
Enroll yourself in a specialized program
Immersion in authentic content like that also helps to improve your pronunciation and accent.
However, selecting the appropriate program can be difficult. You must consider what is appropriate yet challenging for your skill level. You can enroll yourself with italki's lesson plans. You can now learn Spanish online with a native Spanish teacher, who will help you develop your command of Spanish pronunciation through well-structured lesson plans tailored according to the learner's needs.
Find Your Perfect Spanish Teacher
At italki, you can find your Spanish tutor from all qualified and experienced teachers. Now experience the excellent language learning journey!
Book a trial lesson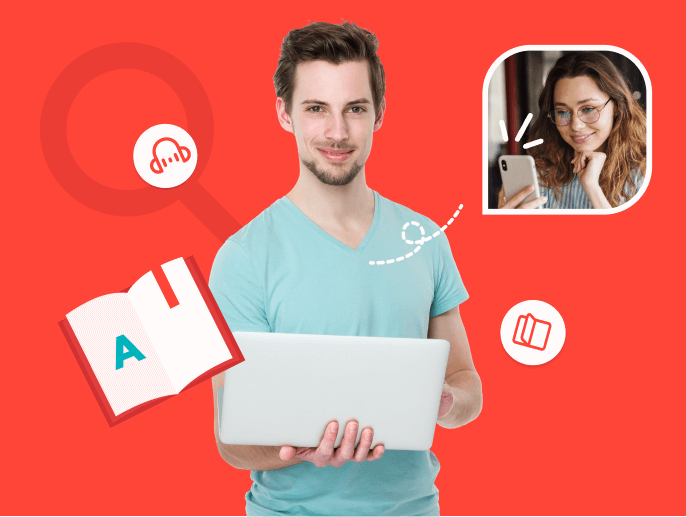 You can also seek help from programs offering Spanish content. To get the most out of new vocabulary, use multimedia flashcards and personalized quizzes, which both test speaking abilities and other language skills.
Keep speaking Spanish
If you are looking for the fastest ways to learn Spanish, then practically speaking Spanish is surely one of them. Conversations with native speakers force you to use a broader vocabulary and explain things more thoroughly.
Getting into the habit of having weekly conversations integrates Spanish into your daily life and allows you to develop a solid foundation of conversational Spanish. Finding native conversation partners is now easier than ever thanks to applications like Skype and online language exchange networks.
Seek help from Audiobooks
Audiobooks are fantastic tools for increasing your literary vocabulary, reading comprehension, and writing skills for those interested in gaining serious, all-around fluency or studying Spanish literature.
Following a literary work with audio is much more difficult than following a TV talk show or sports report. To make this an effective strategy, look for books you have already read and enjoyed in English, then find the Spanish version as well as the audio version.
Look for writing styles that are less complex, such as those found in Young Adult literature. Alternatively, you can choose an audiobook that covers a topic that you are well-versed in. All of these strategies will help you avoid becoming confused or discouraged after turning to page two.
Podcasts on topics of interest, in addition to audiobooks, are excellent resources for students!
Visit abroad
Over 20 Spanish-speaking countries can be found in the Americas, Europe, and Africa. Moving abroad is essential for achieving fluency in any language, and it truly enriches your life.
There are numerous university exchange programs, international co-op placements, and teaching programs available to help you get started. Another significant advantage of this strategy is that Spanish-speaking countries are generally less expensive to live in than English-speaking countries, so your savings will go a long way. You don't need a lot of money to live comfortably in cities like Lima, La Paz, and Bogotá.
Arrange a Spanish-speaking partner
Whatever the nature of the relationship, finding someone you get along with well will expose you to new ideas and experiences. Find someone who is both entertaining and understanding. It will motivate you, encourage you, and provide a safe environment in which you can freely practice and become a Spanish language expert.
It is extremely beneficial because you will be speaking with this person on a daily basis. And you will not only talk about superficial topics, but also about your likes and dislikes, work stories, past experiences, future hopes and dreams, feelings, fears, and so on. What a range of vocabulary and verb tenses!
Write Spanish on a daily basis
Always keep a small notepad or journal on hand. Whenever you have a spare moment, try to write down your thoughts in five to ten complete Spanish sentences. Writing in this format on a regular basis is a great way to be creative, express yourself, and improve your Spanish fluency.
Furthermore, it is a practical technique that can be done anywhere and at any time. It's ideal for downtime at work, at home, on the train or bus, or even in a cafe on a beautiful Sunday morning. Writing will help you learn Spanish adjectives and tenses.
For this technique, try to use vocabulary you already know and gradually incorporate new words you hear while watching TV or listening to audiobooks. When you are ready, have your language exchange partner or a native Spanish speaker read over your entries and make note of any repeated spelling and grammar errors.
Learn Spanish grammar
To begin, you should learn how to learn Spanish grammar. You must also comprehend its significance and place it on your path to fluency. Grammar should be learned as a supplement to your vocabulary lists, listening and speaking exercises, and writing practice.
When you see constructions that you don't recognize, study grammar. When you're stuck and don't know how to use a tense, a preposition, or even a word you've found without context, consult grammar rules.
Learn your grammar because if you don't, you will be able to speak Spanish but not fluently.
Listen to Spanish music
Developing fluency through music can be one of the most enjoyable activities you can engage in. To be honest, it's a little magical. You're doing something you enjoy (listening to music or singing along) while also learning. It is a win-win situation.
These were some of the most helpful techniques that can assist you to become fluent in Spanish. Along with these, there are several apps to learn Spanish. These apps will help you build Spanish vocabulary, and pronunciation with practical exercises to increase your exposure.
But most importantly, you should have a clear picture in your mind of what it will be like to be a fluent Spanish speaker. You will never be able to truly assess your progress and accomplishments if you don't have a strong vision or a clear end goal.
Conclusion
Keep your learning objectives intact and you will see your Spanish fluency becoming more personalized to your needs. You will no longer be imitating or translating. You'll be too preoccupied with speaking and communicating for that.
Want to learn a language at italki?
Here are the best resources for you!