Have you ever considered learning Spanish on the go? By learning a new language through passive language learning, you can make your daily commutes more productive and meaningful. You no longer have to choose between driving and studying Spanish. You can do both simultaneously.
Passive language learning is an extremely effective method for reinforcing and strengthening language skills. Surprisingly, you can learn without actively studying. According to research, even when heard passively, the brain can recognize and retain learned vocabulary. The disadvantage of this technique is that it will only improve your comprehension, not your ability to speak.
When you want to improve your comprehension, passive language learning is an excellent supplement to active language learning. To ensure a well-rounded improvement in your target language fluency, balance passive learning with active speaking or writing.
We will now explore some best Spanish learning apps that you can use to absorb Spanish. So let's get started!
8 best apps to learn Spanish while driving
AnkiApp
The AnkiApp is an excellent example of a niche app that can be used in conjunction with other language learning methods and activities. Anki elevates the concept of flashcards to a whole new level. Users can create their own text, sound, and image flashcards or download pre-existing ones.
Consider driving to work while listening to a pre-selected list of flashcards. You would choose these flashcards based on the topics you are learning in your other language learning activities, and you would be able to focus on pronunciation and learn Spanish while driving.
Advantages
Cross-platform mobile and desktop
Test your knowledge
Measure your progress
Cloud access
Disadvantages
Limited to flashcards
Some features aren't free
Mondly
Mondly has been named an "Apple Best New App" and an "Editors' Choice" in Google Play. This intelligent app offers a variety of learning options, including common situational topics, vocabulary builders, language combinations, real-life conversations, grammar features, and daily lessons.
Some are ideal for learning Spanish while driving, while others necessitate your undivided attention and a more "active" approach.
Advantages
Kid's version
Augmented reality
Virtual reality
Disadvantages
Not all activities involve passive learning
Not Spanish focused
Pimsleur
Pimsleur is a platform that focuses on conversational language learning and offers 30-minute lessons that are portable. These core lessons are the most effective tool that this app provides for learning Spanish while driving.
Pimsleur, on the other hand, complements its services with flashcards, games, reading lessons, role-playing activities, and a skill badge system based on common phrases. If you prefer to concentrate on conversational Spanish rather than grammar, this is the app for you.
Advantages
30-minute lessons
No grammar
Available live and offline
Disadvantages
Each premium level costs $150
No grammar
FastLingo
This app is designed for those who want to improve their grammar while also working on their pronunciation and listening skills. First, Fastlingo thoroughly explains the various grammar concepts to users. Then it allows you to record your sentences with your own voice and checks and corrects them as needed.
Listening to your own voice while applying previously studied grammar concepts is a good way to learn Spanish while driving.
Advantages
Record your own sentences
No internet usage
Grammar focused
Disadvantages
Basic design
Limited free version
No iPhone version
FluentU
This app provides audio dialogues for users to listen to while driving. The FluentU approach is centered on pop-culture products such as music videos, movie trailers, inspiring talks, and news, which tend to capture your attention and make learning more enjoyable.
Select the audios you want to listen to the next time you get in your car and download them to listen to later. Simply connect your phone via Bluetooth to your car to begin listening to Spanish while driving.
Advantages
Pop culture audio
Offline usage
Disadvantages
No grammar
No complementary activities
Rosetta Stone
Rosetta Stone has reinvented itself several times over the years to remain relevant. The Rosetta Stone app, which is available for iOS and Android, offers high-quality online and offline lessons.
Its audio lessons are an excellent way to learn Spanish while driving. It allows you to disconnect from your screen and focus on listening to native Spanish speakers.
Advantages
Pronunciation feedback
Native accent
5-10 minute lessons
Disadvantages
Rocket Languages
This app provides language learning techniques such as writing, reading, speaking, and listening. The latter two are excellent options for learning Spanish while driving. Flashcards, personalized lists, and voice recognition are also available in Rocket Languages.
This app takes a thoughtful approach. Its interactive audio course is in the form of a podcast that you can listen to wherever you go.
Advantages
Lessons that can be downloaded
Lifetime access
Culture lessons
Disadvantages
Limited free trial version
Mosalingua
Mosalingua is one of the most comprehensive language-learning apps available today. It provides a variety of tools and activities to help you learn up to 6,000 keywords and expressions in phases based on your level and schedule.
You can use Mosalingua to create personalized flashcards, learn new words in current news contexts, and learn Spanish while driving or at home.
Advantages
Downloadable audiobooks
50+ dialogues
Slang and idioms
Disadvantages
8 languages in 1
Expensive package to enjoy all features
One of the best ways to learn Spanish is to explore the app that works for you. Download it and start learning. There's an app for everything these days, and language learning apps are in high demand. However, not every app is appropriate for every student. You will only be able to choose the best app for you once you have defined your goals and how you intend to achieve them.
One advantage of downloading the best apps to learn Spanish while driving is that you can turn it into a family activity and learn Spanish together. Making your family bilingual and fluent together is a fantastic goal that will give your car trips new meaning.
If you are looking for a platform to learn Spanish online, try italki. This website has got some amazing and highly experienced teachers who will help you become a fluent Spanish speaker. If you want the best Spanish tutor for yourself, italki is the right place for you. Get registered and start learning!
Find Your Perfect Teacher
At italki, you can find your Spanish tutor from all qualified and experienced teachers. Now experience the excellent language learning journey!
Book a trial lesson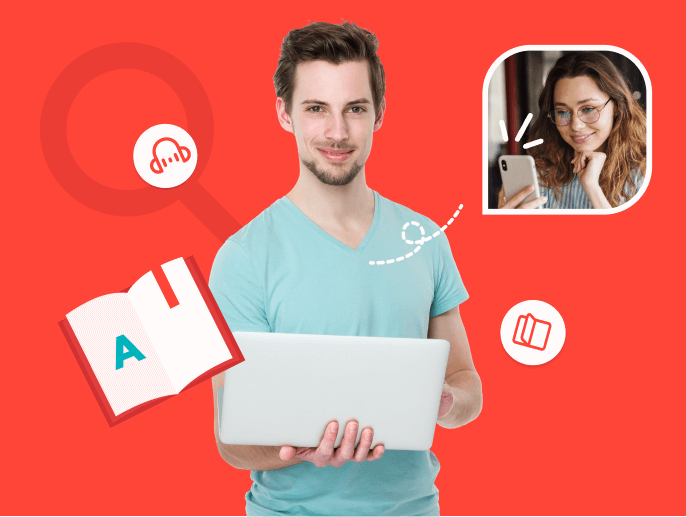 Frequently asked questions
Q. What is the most effective method for learning Spanish while driving?
A. Podcasts in Spanish are an excellent way to learn the language while driving. They have been shown to aid learning and can be a fun way to pass the time while stuck in traffic. Podcasts are fantastic because they can be both educational and entertaining.
Q. What is the most successful way to learn Spanish?
A. Download an app on your phone.
Q. What is the key to mastering Spanish?
A. Make an effort to develop a "good ear" for Spanish. Listening to Spanish music, watching Spanish movies, or watching Spanish cable TV are all simple and enjoyable ways to accomplish this. Practice your SPEAKING! The only way to learn a language is to actually speak it.
Conclusion
Download the best app to learn Spanish while driving. You can also make it a family activity. It is always great to learn and grow together. Listening to native speakers can also help you develop your desired Spanish accent. Go for the mediums that suit your learning goals.
It is an era of technological advancements and every learner should take advantage of massive learning materials available online.
Want to learn a language at italki?
Here are the best resources for you!