If you are having fun while learning a language, chances are you will learn much faster and stay motivated to keep going. You can play these games to reinforce Spanish grammar skills, prepare for your next Spanish test, or advance your learning while having fun. So what are you waiting for?
Let's have a look at some of the most interesting Spanish learning games:
The best games to play for learning Spanish
1. Word Toss
Suitable for: Beginners
Price: Free
Word Toss is an excellent game for beginners who want to learn new words in Spanish while having fun. It was technically designed for children, but that doesn't mean adults can't play it. You can play from English to Spanish or Spanish to English, and your goal is to read the word in the lower part of the screen and explode the balloon with the correct translation.
A new set of words will appear if the word is correct. If you select the incorrect balloon, your points will be deducted, and you will receive one strike. If you get three of them, your game is over, so choose wisely. This game is excellent for practicing vocabulary.
2. The Numbers Game
Suitable for: Beginners
Price: Free
This Spanish Uno game is by far the best and most entertaining number game you can find on the internet. It is ideal for learning and reviewing Spanish numbers up to six digits. After you have selected a digit range to practice, a Spanish saleswoman and a series of products will appear on the screen.
You select the product you want to purchase, and the saleswoman will inform you of the price in Spanish. Your mission will be to enter the correct price before the timer runs out. If you enter the correct price, you can purchase the product at that price or bargain until a new price is obtained.
3. The Dialogue Game
Suitable for: Intermediate or advanced learners
Price: Free
The Dialogue Game is ideal if you want to practice your dialogue skills and review what you have learned. You will see a list of different dialogues once you select the grammar area or topic you want to practice. You can read the transcript first and then listen to the dialogue as you go.
When you are ready, click "Start Playing" to bring up a new page. You will then hear two people converse and be asked some questions from which you must select the correct one.
We recommend you look for interesting ways to learn Spanish, for instance, you can learn Spanish in the car while driving, as such strategies are helpful to ensure effective learning while having fun.
4. Advanced Vocabulary Builder
Suitable for: Intermediate learners
Price: Free
Digital Dialects has a lot of ways to learn Spanish, but the Advanced Vocabulary Builder is the most meaningful section. When you open the "Advanced Spanish" section, you will notice four sections: vocabulary builders one and two, animals, birds, insects, and verbs (in the infinitive).
Each category will provide you with a lengthy list of new words to study. Read and study them thoroughly. The new vocabulary is difficult because it is intended for advanced speakers.
Once you have memorized the list of words, click "Play Game" to be taken to a new page where you can put your knowledge to the test. Words will appear on the upper side of the screen, and you must select the correct translation by pressing the appropriate red arrow.
If you think you made a mistake, simply click "Change." Before moving on to the next round, you will be told if your answers were correct or incorrect at the end of the round. It is a great game to test your language skills and knowledge retention.
5. 4 Fotos 1 Palabra (4 Pics 1 Word)
Suitable for: Intermediate or advanced learners
Price: Free, with payment needed to remove ads
The goal of 4 Fotos 1 Palabra (4 Pics 1 Word) is straightforward: arrange letters to guess the mystery word from four different images. It is an unusual vocabulary tool because it doesn't teach you words directly and requires some thought.
It is also useful for learning multi-meaning words. You won't see a doll (mueca) and a wrist (also mueca) together if you play the English version of this game. This game is unsuitable for beginners because it is designed for native speakers (albeit at a third-grade reading level).
6. Freerice.com
Suitable for All levels
Price: Free
Freerice.com is a gamified quiz site with an addictive format and an appealing concept. The World Food Program donates 10 grains of rice to hungry people for every correct answer, which is paid for by sponsored ads that appear with each question.
The site defaults to English vocabulary questions, but you can switch to Spanish by clicking on the Subject panel at the top. The site has a built-in learning curve: correctly answer questions, and you will quickly move up a level and be presented with rarer, more difficult words.
Wrong answers will revert you to the previous level, but with a few more correct answers, the site will give you another chance at the word you missed and allow you to move back up. This is a good site for beginners, but the diverse vocabulary means that even advanced speakers can learn some new words and brush up on those they have forgotten.
7. Bingo
Suitable for: Beginner
Price: Free
Bingo consists of selecting two vocabulary sets and combining them on a bingo card, which you then mark off one by one as you hear the correct translations. The color scheme alone indicates that this site is geared toward younger learners, but adult learners will appreciate the ability to target a specific vocabulary set.
You can also choose between English-to-Spanish and Spanish-to-English challenges to keep your practice diverse and your vocabulary fresh.
Spanish learning games serve as a great tool to boost Spanish speaking and writing skills, but one must seek professional guidance if he/she wants to sound like a native Spanish speaker.
Master Spanish with italki
Want to be a fluent Spanish speaker? Look no further; we are here to guide you with the best Spanish learning platform online: italki. This platform is famous for its incredible features, enabling learners to master the desired language at their own pace.
Amazing features of italki
You can learn Spanish online with italki and get a lifetime learning opportunity under the supervision of the best tutors and engaging reading content.
Highly experienced tutors: Nearly all the tutors at italki are native speakers. You can find the tutor of your choice and discuss your goals and aspirations with them. Finding an online Spanish tutor at italki just takes a few clicks. You can get the list of tutors on the website and choose the one that fits your needs.
Find Your Perfect Teacher
At italki, you can find your Spanish tutor from all qualified and experienced teachers. Now experience the excellent language learning journey!
Book a trial lesson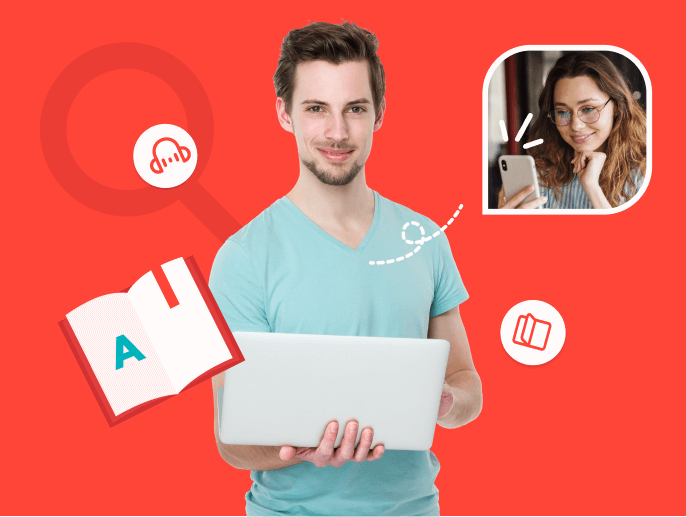 Flexible learning schedule: You can choose the learning schedule yourself without compromising your daily routine. Consult your tutor, design your learning schedule, and keep following it to achieve the desired outcome.
Conversational learning mode: The tutors at italki strongly believe that conversational mode is essential to ensure quality learning and knowledge retention. Choose your conversational Spanish tutor and have regular sessions with interactive quizzes and exercises.
Additional learning material: You can get additional learning material, practical exercises, and real-life scenarios to polish your Spanish speaking and writing skills. Be consistent and follow the instructions provided during the lessons.
Tailored lesson plans: This is the best feature of italki. You can customize your lesson plans based on your learning goals and objectives. It is the best practice to follow the learning style and pattern that work best for you.
How do you enroll yourself with italki?
The enrollment process is quite easy. Visit the website, create your profile, and fill in the required information. Enter your preferred style, schedule, etc. You will see the option of 'find a teacher' at the top right corner.
Choose the tutor. You can also book a trial lesson to assess the overall learning experience. The trial session is available at a reduced price. Set your learning schedule and objectives if the teaching approach aligns with your requirements.
You will definitely learn Spanish fast if you follow the constructive feedback provided by your tutor and track your progress at regular intervals.
Frequently asked questions about Spanish learning games
Q. Are games good learning tools?
A. Many empirical studies have demonstrated that educational games and new technologies have an impact on education and improve learning effectiveness.
Q. What are the outcomes of game-based learning?
A. Games can be a useful tool for increasing learner's engagement, motivation, and learning outcomes.
Q. What is the Spanish game like Ludo?
A. Parchis is similar to Ludo but with a few subtle rule differences, increased complexity, and improved strategy.
Conclusion
Spanish learning games can enhance your language skills to a great extent. There are plenty of games available online. Play one that excites you and ensures learning while having fun.
Book your lessons with italki if you want to become fluent in Spanish. Professional mentorship is essential if you want to learn the language at a deeper level. Visit the website and develop your tailored lesson plan today!
Want to learn a language at italki?
Here are the best resources for you!