Are you interested in learning Spanish as a foreign language? Learning a new language can be exciting and demanding at the same time, but it is possible and you might not necessarily need the help of a teacher.
This article will dive into the most efficient ways to teach yourself Spanish.
Spend time with Spanish speakers
Engage people who speak Spanish around your area and build your vocabulary as you converse with them. You can visit Spanish restaurants or bars. In countries such as the USA and the UK, Latin Americans and other native Spanish speakers regularly organize cultural groups to bridge the cultural gap and promote their culture and traditions.
Moreover, in some big cities, Spanish language learners tend to meet and exchange regularly. Depending on the city where you live, you can find and join Spanish culture and language groups on MeetUp.com and other similar websites.
Another learning strategy is to transform your home into a Spanish learning hotspot: adapt your environment to your learning routine, place flashcards and post-its on the objects surrounding you, and listen to Spanish radio and TV. Moreover, there are many podcasts and YouTube channels that promote Spanish learning and education.
Take some online Spanish Courses
A highly effective method for learning on your own is to enroll in an online Spanish course. Let's face it; we have much travel with our laptops, tablets, and phones at all times; This means that you have access to any online language courses anytime, anywhere. You can learn Spanish online during your lunch break or on your way to work. You can also check the Coffee Break Spanish Reading Club, which is a fantastic way to learn new words and phrases and deepen your vocabulary.
Want to learn a language at italki?
Here are the best resources for you!
Spend an hour a day on grammar exercises from a textbook
Look for an excellent Spanish grammar book with a CD and an answer key. Such grammar books are also available in PDF and digital formats and represent reliable ways of boosting your grammar and reading skills. Grammar books are also an excellent source for learning the basics, which will help you build your vocabulary at a later stage.
Find a Spanish Language Partner to help you out
Another way to study Spanish online is with the help of a language partner. A language partner will challenge you and make your language-learning journey less solitary and more pleasant. If you're not currently living in a Spanish-speaking country, you can find a partner via websites such as Conversation Exchange and many others.
On these websites, language learners create personal profiles to introduce themselves and their needs. They'll list their gender, age, hometown, native language, practicing a language, hobbies, and purpose for their studies. Most of them look for a fluent language partner, hoping both partners gain language skills.
Having language exchanges with someone else will help you with pronunciation, and idioms, and you'll learn about Spanish culture. If you're not located in a Spanish-speaking country, you can consider looking for a local language partner, but it's always better to do a language exchange with native speakers.
Listen to learn Spanish faster
When listening to podcasts, radio, news, or movies, use your listening skills and pay close attention to everything you hear. Try to repeat and speak the language as you hear it. Write down new phrases and ask a native Spanish speaker when you don't understand. Listening to real-life speech and conversations will make your Spanish more natural compared to only learning from textbooks.
Study with a Spanish tutor
Finally, one of the most effective ways to learn Spanish is with the help of a private Spanish tutor. Certainly, attending private classes is not a self-teaching method, but it is a perfect way to enhance your language learning, especially if you're not exposed to Spanish regularly.
Find Your Perfect Teacher
At italki, you can find your Spanish tutor from all qualified and experienced teachers. Now experience the excellent language learning journey!
Book a trial lesson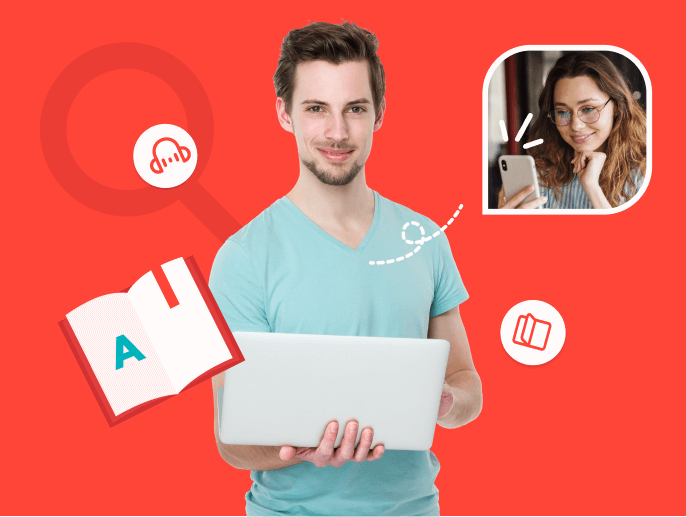 Depending on where you live, finding a native Spanish tutor may not be easy. On italki, you can connect with professional Spanish teachers and tutors online. Your italki tutor will customize your lessons according to your needs and current level. For as little as $10, you can begin to learn Spanish online on italki.