For every Spanish learner, it is quite important to make language study enjoyable and interesting. Watching the best TV shows to learn Spanish will make learning easier and less frustrating. These eight series will broaden your knowledge of Spanish accents, cultures, history, and more, whether you are just starting out or already fluent.
Watching TV series or telenovelas to learn Spanish is an effective strategy for understanding the speech and accent of native Spanish speakers. The more you listen to native speakers, the better. It also motivates you to sound like them.
We recommend you find a comfy seat and watch these TV shows to learn Spanish in 2023:
Recommended Spanish TV shows for learning Spanish
1. "La casa de papel" (Money Heist)
Genre: Drama/Thriller
The enigmatic Professor and his band of skilled robbers attempt to print 2.4 billion euros while holding 67 people hostage at the Royal Mint of Spain. These robbers don't want to cause harm, rob a small family business, or assault elderly women on their way to the market. They want to take on a system that has been frustrating them for years and make more money for themselves.
"La casa de papel" will teach you Spanish that you won't learn in school. You will be a crime and legal vocabulary expert without ever having to open a book. Plenty of realistic dialogues and slang help you understand the language spoken in real conversations as well.
2. "Luis Miguel, la serie" (Luis Miguel – The Series)
Genre: Biographic series
This show describes the life of music legend Luis Miguel, best known for hits such as "La Incondicional" and "Por Debajo de la Mesa" (Under the Table). "Luis Miguel, la serie" depicts his rise to international stardom, his love for his family, and how fame affected their personal lives.
The incredible Diego Boneta plays Luis Miguel, an added bonus to a biographical series that is a must-see for any Latin music fan. It is a great show to improve your Spanish vocabulary.
3. "Élite" (Elite)
Genre: Mystery
Three working-class teenagers are given scholarships to a wealthy school. Add murder, drugs, millennial teen drama, and a slew of high-school clichés to the mix, and you have "Élite."
Sexuality and related themes are prevalent throughout the film. The shadow of a murder hangs over discovery, exploration, and betrayal, and no one knows who is to blame. "Élite" takes place at the Las Encinas School in Madrid's mountains. Castilian Spanish is spoken in the show. Furthermore, the majority of the dialogues are made up of slang and informal conversations between friends. So, it is a great show to learn casual Spanish phrases and expressions.
4. "Fugitiva" (Fugitive)
Genre: Crime/thriller
"Fugitiva" tells the story of a mother who gives up everything to save her children over the course of four days. It is a tribute to strong women. To women who, like the main character Magda, believe they have had enough suffering. "Fugitiva" stars Paz Vega, one of Spain's most well-known actresses. It is a fast-paced series that keeps you hooked from the first minute.
"Fugitiva" is a treat for the senses in Spanish. Listening carefully means hearing Mexican, Castilian, and Vega's Andalusian accents. Using some of the best apps to learn Spanish along with these TV series is highly recommended. Whenever you get stuck at any point, you can use an app to understand the meaning or a concept. Use multiple resources to expand your language knowledge and skills.
5. "El Chapo"
Genre: Crime "El Chapo"
"El Chapo," based on the life of Joaqun "El Chapo" Guzmán Loera, is a series filled with action, drugs, and violence.
It tells El Chapo's story from when he was a teenage drug dealer to when he became the world's most powerful and famous drug lord as the Sinaloa Cartel's leader. The series also covers his downfall, going all the way back to 2016.
Use this series to improve your Mexican slang, particularly when discussing narcotics and crime. The conversations are very well structured and give the impression of a real-life informal conversation.
6. "El marginal" (The Marginalized)
Genre: Crime
Miguel, a former Argentine cop, is sent to a prison undercover to try to locate a kidnapped girl. Once inside, he will have to infiltrate the prison's corrupted hierarchy and make friends with the right people in order to save the child.
However, he becomes trapped inside the prison due to his new false identity. Nobody knows he's there, and treated the same as every other inmate. Let the escape attempts begin.
Juan Minujn has a wonderful Argentinian accent, which makes it ideal for learning Spanish. "El marginal" is also a great place to learn Lunfardo (a type of Argentine slang).
7. "Alguien tiene que morir" (Someone Has to Die)
Genre: Drama
"Alguien tiene que morir" is a drama series set during the Franco era in the 1950s that follows the journey of Gabino, a young man who returns to his family in Spain after living in Mexico for several years.
Nobody expected him to come back with a friend named Lázaro. Lázaro is a young and attractive Mexican ballet dancer who causes problems for Gabino's conservative family. "Alguien tiene que morir" has a diverse cast, allowing you to hear both European and Mexican Spanish accents. It is also a great resource for anyone interested in Spanish history.
8. "Siempre bruja" (Always a Witch)
Genre: Drama/Fantasy
"Siempre bruja" follows Carmen, a 17th-century witch who makes a pact with a powerful wizard and is transported into modern-day Colombia.
This show is popular among younger viewers because it is full of mystery, magic, and romance. Fans of "Charmed," "Buffy the Vampire Slayer," and "The Chilling Adventures of Sabrina" will most likely enjoy this.
It should be noted that the series has received some criticism for its controversial themes and treatment of historical injustices. On the other hand, it also has a large fan base that is eagerly awaiting the return of a new season.
You must watch these best TV shows to learn Spanish in 2023. Nothing is better than ensuring fun and study at the same time. If you want to learn Spanish from scratch and aspire to become a fluent Spanish speaker, getting a personal tutor is the most feasible option for you.
Looking for a tutor? Go explore italki!
Why is italki best to learn Spanish online
Learning Spanish online is easier with italki as compared to other language learning platforms because it provides a great deal of freedom in terms of schedules and preferred learning practices.
You can book a tutor of your choice and learn Spanish on flexible learning schedules. All the online Spanish tutors at italki are highly professional with years of experience in language learning.
Find Your Perfect Teacher
At italki, you can find your Spanish tutor from all qualified and experienced teachers. Now experience the excellent language learning journey!
Book a trial lesson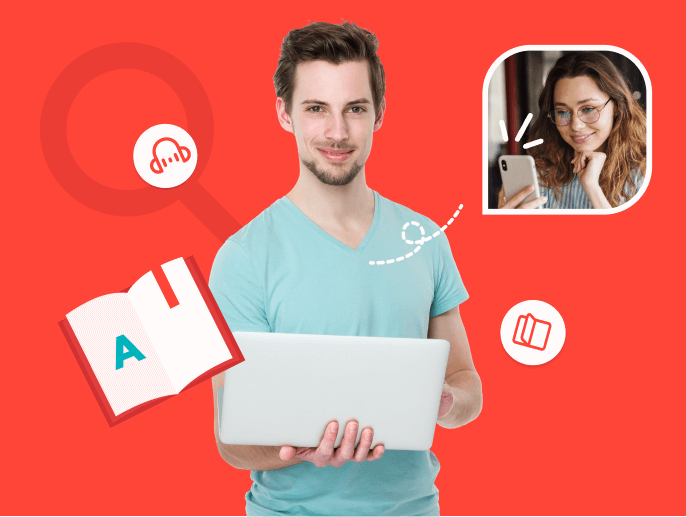 This platform allows you to learn Spanish online through personalized learning sessions. These sessions will assist you in determining your learning goals and objectives. Under the supervision of a conversational Spanish teacher, you can make the learning process more engaging and lighter. You can select the learning format that best suits your learning objectives and goals.
How do I book lessons at italki
Visit italki. Fill out your profile with all of the required information. To find a Spanish teacher, navigate to the option 'Find a teacher' and use the filter for Spanish teachers. Here, you will find an entire list of Spanish tutors available at italki. Choose a teacher who meets your learning objectives and requirements. Schedule your lessons.
It is highly recommended that you follow the additional material, exercises, and scenario-based content provided by your Spanish tutor. Accept constructive criticism and work on your weak areas. Keep an eye on your learning track.
Frequently Asked Questions
Q. How do you understand Spanish TV shows if you are a beginner?
A. You can use English subtitles at first, then switch to Spanish subtitles as you improve, allowing you to read and listen at the same time. This will assist you in recognizing new vocabulary and expressions.
Q. How do you have stress-free learning while watching TV series?
A. Even if you watch something ten times, don't put too much pressure on yourself to remember everything you hear. Simply select phrases that you believe will be useful and write them down. Try using them in your conversations to develop fluency.
Q. How important is repetition, when it comes to language learning?
A. Repetition is the key when it comes to language learning. Hear the dialogues again and again to understand the flow of words, their pronunciation, and flow.
Conclusion
Now that, you have the eight best TV shows to learn Spanish, Netflix must be one of your major learning resources. Make notes while watching these TV series and refer to them again and again to develop your knowledge at a gradual pace.
Reach out to italki to get the best online Spanish tutor. A good teacher is essential to keep you on track. Book your lessons. Discuss your learning objective and requirements. Schedule your sessions and get ready to speak Spanish like a native speaker!
Want to learn a language at italki?
Here are the best resources for you!