Are you in trouble dealing with Spanish words and phrases? If you are on the go and in dire need of assistance with a word or phrase, you can use these Spanish translation apps. In fact, having these translator apps can make you learn and speak Spanish faster than you can even imagine.
In this post, we will explore some of the most authentic and user-friendly Spanish translator apps that you can use to understand different Spanish words and phrases so let's get started!
Google Translate
iOS and Android
Both speaking and typing text can be translated using this app. Additionally, it offers instant camera translation; all you need to do is point your phone's camera at a Spanish menu, sign, or other pieces of writing to see a translation appear.
Users who frequently use translations can save them in the phrasebook feature. This is a fantastic technique for reviewing frequent phrases and adding them to your vocabulary. With the addition of plenty of Spanish words, you can become fluent in Spanish. A daily addition to the vocabulary list is a prime factor in gaining fluency.
A cool feature of Google Translate allows it to be integrated with other phone applications. Are you conversing with a friend or browsing a Spanish website? If you require translation, call the app.
Anyone who likes to go off the beaten path will love the offline translator because it works so well.
Microsoft Translator
iOS and Android
Almost everything a translator could do is done by Microsoft Translator. From the text, voice, or camera, you can easily translate. For some pronunciation practice, read aloud the translated phrases. You can even save the translations of your most frequently used words so that you can quickly review them.
It is possible to have a real-time conversation with the multiple-user translation. It really is as easy as connecting devices and talking to people.
Anyone visiting a Spanish-speaking nation would benefit greatly from using the phrasebook and pronunciation guide. Additionally, suppose you will be traveling somewhere without reliable internet access. In that case, you can download the Spanish dictionary for offline use as it could be a great tool to learn Spanish for free. Use the offline version where you need and translate the words easily.
SpanishDict
iOS and Android
SpanishDict is an extremely thorough Spanish translator app. You will notice a number of cool features on the home screen right away.
You can search for particular words and phrases using the search bar on the home page. You can also find verb conjugations there. When you are trying to determine the differences between tenses on the fly, this is incredibly helpful.
You can access a word of the day through this app as well. You are given the word in Spanish, followed by its definition and an audible pronunciation of the word. Every single day, without fail, the word of the day will help you expand your vocabulary.
There is a phrasebook that you can keep on hand for quick, basic communication. The greetings and introductions, as well as the terms for camping, sports, sightseeing, shopping, and health, are all included. Studying the phrases is made simpler by the categorization of the phrases. You can enter your own phrases for translation as well.
Talkao Translate
iOS and Android
Actual conversations are made possible by this Spanish translator app. Words, phrases, and text passages come to life thanks to the voice translator's conversion of written text to audio.
Additionally, the app provides dictionaries of English and Spanish synonyms, that deal with expanding one's vocabulary. It provides users with two ways to get translations: speaking or writing, making it extremely user-friendly.
Please be aware that the definitions provided here, like those provided by many other translators, aren't always exact, especially when dealing with phrases or complete sentences. Instead of using this as a grammar checker, use it to quickly check a word or start a conversation.
If you want to develop Spanish speaking skills without the need to use any translator, you can check out italki. With all the right resources, italki has made it super easy to learn Spanish with the learner-friendly instructional techniques used by Spanish tutors online who will provide you with the required confidence and techniques to speak Spanish in public spaces. You can also have a free trial to assess the program before enrollment.
Find Your Perfect Teacher
At italki, you can find your Spanish tutor from all qualified and experienced teachers. Now experience the excellent language learning journey!
Book a trial lesson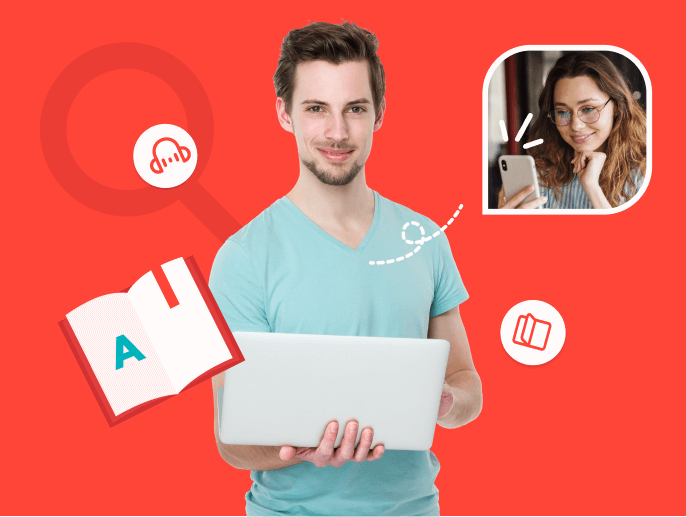 Speak & Translate
iOS
By speaking the word or phrase you want to be translated into your microphone and pressing the button, this app will translate it into the language of your choice. The app can also be used in reverse. Someone may be attempting to explain something crucial to you in Spanish, but you need help understanding what they are saying. You can instantly translate it into English by simply holding your phone in front of them and having them speak into the microphone.
There are two versions of this app. One is free, while the other has a monthly fee of about $6.99. The unpaid app is fairly complete. The main distinction is that you can use the premium version offline and with the photo feature.
Speak to Voice Translator
Android
Over 100 languages are translated by the Speak to Voice Translator. It's excellent for communicating with other global citizens in any language they speak as well as learning Spanish. Instant voice and text translations, voice-to-voice conversations, and multiple translations of words and phrases are all features of the app.
The ability to find the precise information you require is provided by the compilation of translations from four high-quality sources, including Google and Microsoft.
Learn Spanish
iOS and Android
The bright illustrations should not deceive you; this app is not just for kids. This app's straightforward layout makes it simple to navigate and locate what you are looking for. The app's name implies that it is loaded with vocabulary and phrases. These are divided into various categories, including weather, time, numbers, animals, colors, food, and so on.
There is a turtle that will slow down a word for you when you click on it. You can now practice saying the word correctly and assess how well your accent matches that of the machine. This app is especially helpful for beginners because it always simplifies the phrases that are given.
Spanish Dictionary+
iTunes
A dictionary is a valuable resource at all times. Even a word of the day, flashcards, scanning functionality and a number of games are included in this app.
Each day, Spanish Dictionary + will give you five new words to learn, one from each of the categories of general, academic, common, standard, and advanced. The word of the day is first presented in English before you can view it in Spanish by selecting "dictionary."
This app's flashcards are selected from your saved favorites. When you come across a word in your dictionary that you are unfamiliar with, all you have to do is bookmark it. The flashcard game will then pull up those words for you when you play it.
This app offers three different games: Guess Word, Multiple Choice, and Boost Memory. You will be competing against yourself and your personal bests in these games.
Translate Shake
Android
Because using Translate Shake is so much fun, translating between English and Spanish almost becomes like playing a game.
The outdated method of translating is to type your text and select "Translate." The fun alternative is to simply shake the phone before speaking. You'll hear the translation spoken back to you.
If you need an urgent translation before you forget the word or the opportunity passes, this is a great tool for anyone who is physically unable to type.
Users of this app can communicate even if they are still at a beginner level thanks to the speech feature. All translations may also be saved for later review.
Frequently asked questions about Spanish translator apps
Q. What is a good Spanish translator?
A. The most well-known app for translating text, documents, and webpages between languages is Google Translate, if not the most well-known tool overall.
Q. What is the most popular translator?
A. Google Translate is the most widely used translation tool, even though its effectiveness largely depends on the text and language involved. The website offers an input text box that can handle texts of any size and automatically translates between languages.
Q. What is usually the problem in translation?
A. The language structure may change.
If you are a beginner, it is feasible for you to use Spanish translator apps and Spanish dictionaries online to understand different Spanish words, expressions, and phrases. These apps are also effective to set a healthy learning pace.
Conclusion
You can also make flashcards using these Spanish translator apps and design Spanish learning notes for yourself. It will improve your Spanish vocabulary making it easier for you to speak Spanish in front of people.
Want to learn a language at italki?
Here are the best resources for you!