Duolingo Spanish is one of the most popular apps for learning Spanish in the world, and for good reason. People love this product because it has a completely free base version and a cool course design that makes learning Spanish fun. But, are there any other worthy options to explore?
Duolingo Spanish being one of the most popular apps for learning Spanish in the world has given rise to a very significant question 'can this free e-learning tool based on games really work for learning Spanish'?
In this comprehensive review of the Duolingo Spanish program, we will address this question.
The cost of Duolingo Spanish
Duolingo provides a free version of its course. That is correct: you are not required to pay anything. However, before you rush off to sign up for Duolingo as your preferred language program, keep in mind that the free version does have some limitations.
The free version is ad-supported which means you will see annoying sidebar and pop-up ads, there are daily usage limits, and you must adhere to a strict curriculum. In other words, Duolingo follows the standard "freemium" software subscription model and makes most of its money from paid, premium subscriptions. If you choose to pay for their paid subscription, Duolingo Plus, it will cost you approximately $84 per year (or $7 per month).
Duolingo's Plus plan removes those annoying ads, includes unlimited usage (no "hearts" caps), allows you to test out of units and move ahead, and adds personalized lessons to review your mistakes, among other features. So, if you are looking for the best app to learn Spanish, the free version of Duolingo Spanish may not benefit you in that way.
Is Duolingo Spanish-worthy
We believe that the premium features provide a much better experience, but this will most likely reduce your budget. However, if you want to try Duolingo Plus, they do offer a 14-day free trial so you can experiment with the upgraded plan and see if you like it as much as the free version.
But, if you are willing to pay for a Spanish learning course, why would you use Duolingo? The lack of a price tag is a big part of Duolingo's appeal. So, if you are going to pay for a course anyway, why not consider one of the other lesson plans that offer better interactive sessions (one-on-one)? You can learn Spanish from italki's Spanish tutors who will help you develop your Spanish base at your desired pace and style. The availability of a free trial is one of italki's strengths. It gives you the facility of getting the experience before actual enrollment.
Find Your Perfect Teacher
At italki, you can find your Spanish tutor from all qualified and experienced teachers. Now experience the excellent language learning journey!
Book a trial lesson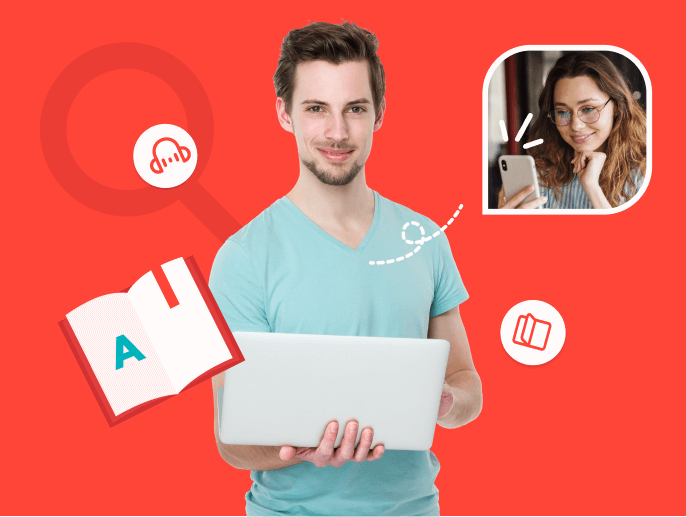 How does the Duolingo Spanish app work
There are various checkpoints within Duolingo's Spanish learning "tree". And there are 20 to 30 modules that cover skills, concepts, and thematic topics within each checkpoint (e.g. emotions, travel, and present tense).
Each module is made of up 6 levels, and within each level, there are 3 to 4 lessons. That may sound like a lot of work but know that each lesson is very short, taking only about 5 to 10 minutes to complete. So, basically, you must complete various modules that are capped by checkpoints, and each module consists of several levels and lessons.
Duolingo Spanish also dictates the order in which you complete modules. New modules become active once the previous one has been completed, and the same is true for the individual lessons within each module. However, if you have a paid Duolingo Plus subscription, you can test out individual modules (or entire groups of modules) by passing a short quiz.
In addition, as you complete each lesson, you earn experience points (XP points for short), as well as Duolingo currency known as "lingots." The XP points relate to your daily goals and allow you to track your progress, while the lingots can be used to purchase additional features within the Duolingo store.
Duolingo Spanish is attempting to make your language-learning journey more enjoyable. They believe that by designing their program in the form of a questing game, you will be more engaged and committed in the long run.
Duolingo Spanish lesson structure
The program is quite structured. Each one only takes 5 to 10 minutes to complete and goes by quickly. This is largely because each lesson consists of a dozen or so quick-hit, interactive drills and exercises.
They offer Listening practice. You might hear a native speaker say a word or phrase, then choose it from a list, or you might hear a full sentence and be asked to type it in.
They also offer Fill-in-the-blanks. You might see a cartoon graphic of a man next to a sentence with a blank to fill in, and you click the word "hombre" to finish the sentence.
Pairs that match. You may be shown ten different words, five in English and five in Spanish, and asked to correctly match them up.
Verbal Practice. You might listen to a native speaker say a phrase or sentence, and then be asked to repeat it.
Writing Complete Sentences. You could be tasked with translating full sentences from English to Spanish and vice versa.
Mock Conversations. You might need to complete mock conversations by selecting the correct response from a list of phrases.
Benefits of Duolingo Spanish
Free version
One of the clear highlights is the availability of a free version of Duolingo. That's pretty uncommon in today's world, and who doesn't like free? It means you don't even have to enter your credit card information to gain full access to their program.
There are some drawbacks to the free version, but if you are on a tight budget it's difficult to argue with the free.
Variety of drills
Duolingo provides a wide range of drills and exercises covering listening, speaking, reading, and writing. It's great for learning if you can get practice work in a variety of mediums.
Furthermore, the variety makes the program more interesting and enjoyable. One can never get bored during individual lessons.
English translation
Duolingo lessons include English instructions, hints, and translations, which not all language learning programs do. Rosetta Stone, for example, is a firm believer in complete immersion. To put it another way, they speak very little (if any) English. And, while some believe this strategy has some merit, some also believe it can frustrate users.
Smooth digital platform
Their dashboard is extremely clean and simple to use, with a daily goal tracker and a scoreboard where you can compete against other users, invite friends, and keep track of your streaks.
The downside of Duolingo Spanish
Lack of focus on speaking
Duolingo lessons do not help you improve your speaking skills. True, speaking exercises are included in their lessons, but they aren't very good.
You are basically asked to repeat words and phrases in a hoover. You hear a phrase and are immediately asked to repeat it. There are just no real memory aids or contextual settings to help you make sense of the words and boost retention.
Grammar instruction is not a priority
Within the Duolingo lessons, grammar instruction doesn't seem to be a priority. To be clear, we are not suggesting that they stifle you with dense, boring grammatical principles; in fact, we believe that can do more harm than good, especially when you're first learning a new language.
Being a learner, it is important for you to learn Spanish grammar because you cannot make sentences without it.
Annoying ads
Duolingo's free version contains advertisements. There's nothing unusual about that with free software, but there's no denying that they are distracting and detract from your main goal.
Frequently asked questions about Duolingo Spanish
Q. How many hours does it take to finish Duolingo Spanish?
A. To finish a language tree on Duolingo in 6 months, you will need to spend a minimum of 130 minutes per day on Duolingo, for a full 180 days. That's 2 hours and ten minutes.
Q. What type of Spanish does Duolingo teach you?
A. Duolingo Spanish teaches you European Spanish.
Q. Can you put Duolingo on your resume?
The Duolingo English Test is a convenient, fast, and affordable way to get an accurate, certified English proficiency score that can be easily added to your CV.
Duolingo Spanish has a lot of positive aspects. This Spanish learning app is free, has a good variety of drills and exercises, and is a great digital platform. However, there are some disadvantages to using Duolingo Spanish.
If you want to become fluent in Spanish, you can look for other learning programs such as italki, to get a one-on-one learning experience that fits best with your learning requirements as well as your learning goals.
Want to learn a language at italki?
Here are the best resources for you!