Struggling to find a Spanish tutor online? Let's explore top resources for finding the best online Spanish tutors, as well as how to choose the best ones, organize your lessons, and other tips for making the most of your online Spanish learning experience.
This guide contains different resources for finding a Spanish tutor online. All you need to do is to analyze each option and make the best choice for yourself. You need to align your learning goals with the services these platform offer and enroll yourself in one of them.
italki
Pricing: $4+/hour
This platform features a wide range of Spanish tutors from various backgrounds and educational levels. Plus, the lessons are extremely affordable (and flexible).
Find Your Perfect Teacher
At italki, you can find your Spanish tutor from all qualified and experienced teachers. Now experience the excellent language learning journey!
Book a trial lesson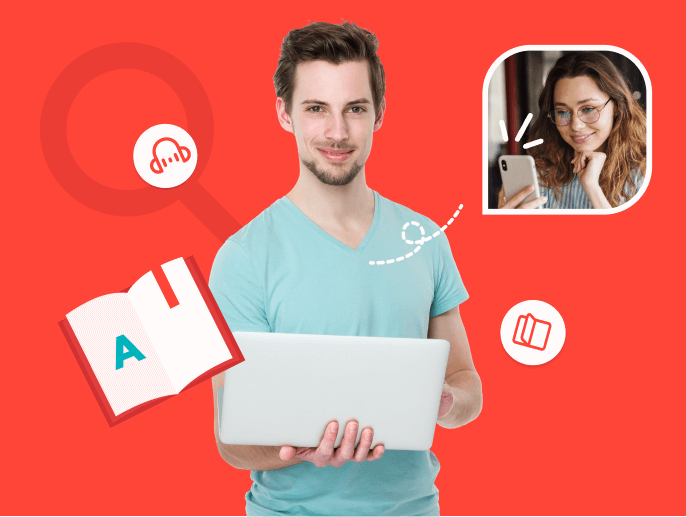 There are hundreds of Spanish tutors available, and the search feature allows you to quickly narrow them down to someone with the accent you want and is available at a time and price that works for you. Sounds amazing, right?
You have the option to learn Spanish online with accredited teachers ("Professional Teachers") or regular native speakers willing to patiently practice with you ("Community Tutors"). The lessons are paid for and scheduled on the site, and they can be held in the "italki classroom" or another video chatting software like Skype or Zoom.
Preply
Pricing: $3+/hour
Preply has over 9,000 online tutors just for the Spanish language. You can search for and choose a tutor based on their profiles, which include their nationality, language specialties, service rates, English proficiency, and the current number of students they teach.
Once you have found the right tutor, you can select from a variety of hourly lesson packages. Preply even allows you to have a "trial lesson" with tutors before making a decision to see if they are a good fit for your needs. Preply's tutor pool offers a wide range of hourly rates, allowing you to find a tutor who meets both your language goals and your budget.
Furthermore, your tutoring sessions are scheduled around your availability—you can begin and end your lessons whenever you want, with the option to reschedule if something comes up.
Verbling
Pricing: $5+/hour
This user-friendly platform makes it quick and easy to find tutors. The search results appear more fluid than on most other sites. When you hover over a teacher, their availability and YouTube introductions appear.
The classes are held on the website and via a version of Google Hangouts that highlights the software's benefits and drawbacks. However, whiteboards and chats cannot be saved, and the software prevents you from sharing email addresses. If any of that is important to you, you may want to consider another option.
WyzAnt
Pricing: $10+/hour
This website connects you with qualified tutors in your area who you can meet in person or learn online. WyzAnt is a fantastic resource for finding excellent Spanish teachers in your area.
The website is professional and polished, and it features tutors who are well-educated and qualified in your area. WyzAnt also inquires about your grade and skill level as a student. Slots range from elementary to adult, and you will be paired with someone who has been trained to meet your specific needs.
Each tutor discloses their hourly rate, and you can view some of the ratings that other people have given them. The majority of the tutors appear to be available for in-person sessions, but some also provide online training.
Spanish55.com
Pricing: $31-$35 per lesson, depending on your subscription plan
This platform begins with a virtual consultation before providing access to high-quality tutors for a monthly fee. According to many reviews, the platform is well-managed, and its teaching staff is of high quality.
The tutoring plan at Spanish55 begins with a virtual consultation that serves as your "trial experience." During the consultation, you can discuss your Spanish language objectives with your prospective tutor so that a teaching schedule can be developed.
Following that, you select your tutoring subscription plan and gain access to your personal student portal, where you can view your tutor's availability and schedule your lessons whenever you want.
The pricing system is based on a monthly subscription, but you can change it whenever you want.
AmazingTalker
Pricing: $11+/hour
You can search for or be matched with a tutor using this user-friendly platform. AmazingTalker allows you to search for and privately message potential Spanish tutors. From there, you can schedule a lesson with the tutor, who will cover any topic you specify.
If you need assistance in finding the right tutor, you can also use the "Match me with tutors" option and specify the type of material you would like to use during lessons. AmazingTalker will then match you with the tutor who best meets your current requirements.
Another appealing aspect is the "pay-as-you-go" pricing system. Unlike other tutoring services, AmazingTalker allows you to pay for lessons as you go. If you believe you would benefit from individual or isolated tutoring sessions, this can be extremely beneficial.
SpanishSkype
Pricing: $12+/hour
These low-cost lessons are held via Skype, with the option to contact your tutor via email if necessary. SpanishSkype is exactly what it sounds like i.e. you get one-on-one Spanish lessons with a tutor, and all you need is a Skype account to sign up.
It is a great option if you don't want to deal with any digital baggage that comes with other tutoring platforms. Currently, there are around nine to ten Spanish tutors available, all of whom are native speakers with extensive teaching experience.
Every lesson is 55 minutes long and is tailored to your specific needs. Outside of class, you can email your tutor and request additional materials as needed.
Live Lingua
Pricing: $19-25/hour
This platform matches you with tutors based on your learning preferences and needs, and they are excellent at evaluating your progress. The tutoring system at Live Lingua is strong and efficient, and there's a lot to like about it.
You can begin requesting Spanish lessons as soon as you sign up. Aside from "Standard Spanish," Live Lingua also offers specialized courses such as "Spanish for Business" and "Spanish for Priests."
After you have defined your learning objectives, you will be matched with a tutor who matches your needs and skill level. The evaluation system is a very useful feature. Your tutor will consistently assess your skills and provide feedback on how you are doing as you progress through your lessons to keep you motivated and grounded in your studies.
As part of its Live Lingua Project, Live Lingua also provides a wealth of free content. Many useful Spanish language handouts and content are available, ranging from PDFs to MP3 audio files and you don't even have to be enrolled in a course to access them.
Before you hire a Spanish tutor online, make a list of the requirements. At the very least, these are the characteristics you must seek:
Native speaker: You will not only learn to speak Spanish like a native, but you will also be able to select which accent or local dialect you want to focus on (such as Mexican, Chilean, Colombian, etc.). There are significant differences between Spanish in Spain and Spanish in Latin America. Plus, you can conduct basic Spanish conversations with native teachers. It will help you sound like them within months.
Experience level: Do you prefer an experienced or inexperienced instructor? You might want an inexperienced tutor from time to time, especially if you're intermediate or advanced.
Teaching style: We all have different learning styles, and as the excellent "How languages are learned" points out, the best learning style for learners is the one they believe is best. You need to find something that works for you and a teacher who matches your learning style.
Frequently asked questions
Q. What do Spanish tutors do?
A. Spanish tutors have a thorough understanding of the concepts of Spanish language learning. Spanish tutors answer questions, participate in lessons, and guide students as needed to ensure proper language mastery. Spanish tutors use a platform's online resources to share information before offering live videos and chat lessons.
Q. Is it worthwhile to hire online Spanish tutors?
A. Everyone can benefit from an online Spanish tutor. You don't have to waste time driving to and from class. It's a one-on-one situation (which means no listening to other students mangling the language). It is less expensive than language schools.
Q. How effective is online tutoring?
A. Research was conducted that showed that the tutoring program students had higher standardized test scores and grades than the control group, and they were less likely to repeat a grade.
Q. How Much Does a Spanish Tutor Online Cost?
A. You can expect to pay anywhere from $5 to $35 an hour for a Spanish tutor online, depending on the tutor's experience level, group or private classes, and the platform you use to book lessons.
Conclusion
If you want to find the best way to learn Spanish, then finding a good Spanish tutor is surely one of them. Align your learning requirements with the tutor's specifications to make a good decision.
You can also explore some best ways to teach yourself Spanish as self-efforts and guidance from an Online Spanish tutor make the best combination. Be consistent in your learning approach and develop your Spanish skills at a gradual pace.
Want to learn a language at italki?
Here are the best resources for you!