Many people believe that you need ample money in order to learn a second language. This is simply not true. There are several platforms to learn Spanish for free and some offer to learn at a very minimal price range. These online resources are powerful enough to let the learner be fluent within no time.
It is a myth that the only way to learn fluently, native-level Spanish is to quit your job, buy a plane ticket, and spend a year physically immersed in Spain, Mexico, or Peru. In this post, we will explore some platforms to learn Spanish for free.
Duolingo
Duolingo is a practical, visually appealing, and user-friendly language learning platform that offers a variety of exercises for the beginning to upper-intermediate language learners. The entire learning app is free and divided into modules, allowing you to progress at your own pace and unlock more special features as you master the language.
There is a premium version available for purchase, but the free version contains all of the app's best features.
italki
italki is a language learning community where you can find a language tutor and study with them 1-on-1. With italki, you can connect with people around the world, who share your enthusiasm and passion for languages. You can learn Spanish, English, French, German, Japanese, Italian, Korean, Chinese, and other languages.
The Spanish teachers on italki are certified and experienced. They can teach you according to your learning goals.
Besides, there are several learning tools for you to use for free, such as, italki vocabulary, podcasts, quizzes, language tests, italki classroom, italki learning community of a large number of language learners and teachers. You can ask any kind of questions related to the language. All the resources are free to use.
Memrise
Memrise is all about flashcards, but it goes above and beyond what other flashcard apps have to offer. It allows you to choose between basic and advanced Spanish, as well as regional variations such as Castilian Spanish, Mexican Spanish, and Argentinian Spanish.
There's even a large selection of flashcard-based courses to choose from. This app is fantastic for practicing your vocabulary, reading, and writing skills.
Mondly
This program offers new Spanish lessons every day that is focused on real-life situations. You will learn useful phrases, listen to native speakers, and practice speaking Spanish. Mondly enhances your language journey by utilizing speech recognition software and spaced repetition.
Mondly does have a free plan, but the premium memberships offer even more.
SpanishPod101
SpanishPod101's lessons are built around audio and video clips. Each clip lasts between three and fifteen minutes.
Free membership entitles you to a new lesson every week as well as vocabulary lessons every day. You can also skip ahead in a lesson if it is too easy, or backtrack if it is too difficult. You must pay to use features such as one-on-one conversations with teachers, lesson notes, and study tools.
Señor Jordan
Seor Jordan was one of the most popular YouTube Spanish teachers! Unfortunately, this channel no longer updates, but his short videos are still known for being engaging and even hilarious at times.
Jordan's teaching style is very conversational, so he manages to make dull subjects like grammar interesting.
Most favorite aspect of Seor Jordan is that he includes links to teaching materials in the description of his videos. Use these materials to test your knowledge of the vocabulary and grammar in each clip.
If you are looking for the fastest way to learn Spanish, refer to Spanish YouTube channels available for free.
Tu escuela de español
Immersion in a language is usually the best way to become fluent, making this a great way to learn Spanish. Tu escuela de espaol (Your Spanish School) teaches entirely in Spanish.
The teacher is not visible in these videos. However, the lessons are still similar to those found in a typical Spanish classroom. While the videos give the impression that you are in a classroom, the teacher manages to keep things interesting.
El Blog para Aprender Español
Another YouTube channel with videos set up like real classrooms is El Blog para Aprender Espaol (The Blog to Learn Spanish). Each video is entirely in Spanish, just like Tu escuela de espaol.
The favorite aspect of El Blog para Aprender Espaol is that the creators make a concerted effort to assist learners in developing multiple language skills. El Blog para Aprender Espaol isn't as engaging as Tu Escuela de Espaol, but the videos still teach you what you need to know.
Dreaming Spanish
This channel has over 1,500 videos that will teach you Spanish from beginner to advance. Different teachers from various regions are featured in the videos, which will assist you in learning different accents.
The videos are entirely in Spanish, so if you want to learn Spanish quickly, effectively, and engagingly, this channel is the free treasure you have been looking for.
Being a Spanish learner, your goal is to become fluent in Spanish. To achieve this goal, you can also consult Spanish podcasts.
Notes in Spanish
Notes in Spanish provide interesting and engaging podcasts, and listening to them does not feel like studying. The website includes resources for beginners, intermediate, and advanced students. The podcasts are free, but you can purchase worksheets to go along with them.
A wide range of topics is available, including household items, holidays, locations, customs, and much more. Because the podcasts are short—most are under 30 minutes long—they serve as bite-sized lessons.
Unlimited Spanish
The instructor speaks slowly and clearly enough for beginners to follow along in these lessons, which are entirely in Spanish. This immersion technique, combined with short stories and accompanying exercises in the lessons, enables beginner and intermediate learners to think in Spanish.
It might be strange to start with Spanish-only lessons. Fortunately, each podcast includes downloadable transcripts that will allow you to follow along with the audio.
To be able to hold basic Spanish conversations by learning Spanish through games. All you need to find is the right game to learn Spanish for free.
Spanish-Games.net
You can practice Spanish grammar and vocabulary related to various topics by playing games ranging from the nostalgic hangman to spelling games and mix-and-match types of games.
To adapt to the type of games, tutorials, and topics displayed onscreen, you can switch between Castilian Spanish and Latin American Spanish, as well as your level of fluency (from beginner to intermediate).
OnlineFreeSpanish
Online Free Spanish was designed specifically for children, but anyone who wants to have fun while learning Spanish is welcome to give it a try. It's divided into 20 lessons that cover a variety of topics (from the alphabet to vocabulary words about toys, fruits, and numbers), and it promises hours of entertainment and learning.
Each lesson includes a variety of games to practice the topic as well as printable coloring pages with the vocabulary covered.
Foro de Vandal
Do you enjoy playing video games? Then this is the place for you!
Active discussions cover a surprising range of topics, including soccer games and teams, gaming software, bugs, fan art, voice-over experiences, game design, game-inspired films, and general gaming opinions and frustrations—all written in Spanish!
There are a few platforms that provide Spanish lessons for free.
SpanishTutoring.com
SpanishTutoring.com is a fantastic resource for beginning students. Spanish lessons are offered for free and are organized by topic.
Grammar issues, conversational etiquette, seasons, places, and standard greetings are just a few of the topics covered. The lessons include exercises and quizzes to help students assess their knowledge.
The audio is clear and concise, making it ideal for modeling pronunciation. Learners should use this feature to improve their conversational skills.
These are some of the platforms that allow you to learn Spanish for free. But, if you want to learn Spanish online via one-on-one lessons, you can get enrolled in italki. Here, you will find the best Spanish tutor who will teach you all the aspects related to Spanish reading and writing.
Find Your Perfect Teacher
At italki, you can find your Spanish tutor from all qualified and experienced teachers. Now experience the excellent language learning journey!
Book a trial lesson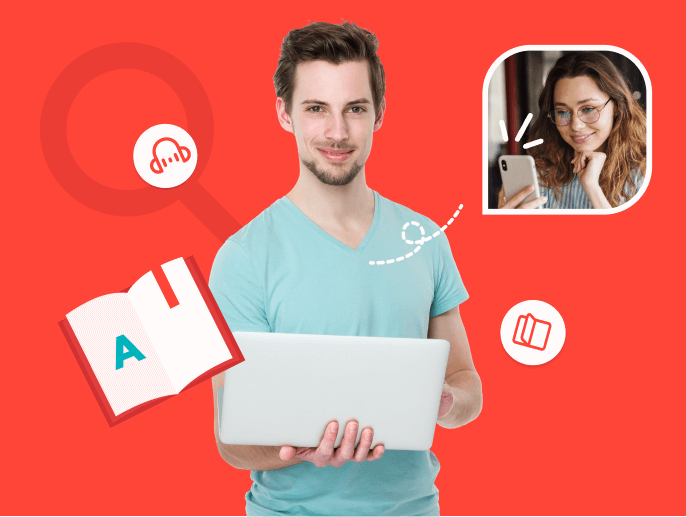 Frequently Asked Questions about learning Spanish
Q. What's the best way to learn Spanish for free?
A. Online courses, software, language exchange/tandem learning with a native speaker, and media resources like podcasts, TV shows, and movies.
Q. How long will it take the average person to learn Spanish?
A. If you start out as a beginner and spend an average of 1 hour per day working on your Spanish, you should be able to reach conversational fluency within 8 – 12 months. That translates to roughly 250 – 350 hours of time spent.
Q. How many words do you need to be fluent in Spanish?
A. If you think about native-level fluency, you'll need to master between 20,000 and 40,000 words, and as you can see the margin is quite large. If you want to have a basic conversation, experts say that you'll just need around 3,000 words.
Conclusion
There are several platforms, channels, and podcasts available to learn Spanish for free. All you are required to do is to find the right platform for you to get started. You can also create flashcards to learn Spanish. It is considered to be one of the most effective strategies to use for learning a new language.
Want to learn a language at italki?
Here are the best resources for you!