Do you want to learn Spanish online? We will outline some of the best Spanish business courses that you can consult. We will walk you through the best Spanish online courses that aren't just entertaining, but also effective.
Want to learn a language at italki?
Here are the best resources for you!
Learning Spanish is now super easy. There are plenty of online courses available to learn business Spanish. You need to look at all the options that we are going to discuss in this guide and decide the one that aligns with your learning goals. So, without any further delay let's get started!
Rocket Languages
Pricing: $149.95 – $449.85
If you are not on a tight budget and want a comprehensive, classroom-style course covering Latin American culture, Rocket Languages is a great option. The Rocket Spanish course is packed with useful, everyday Spanish and closely resembles classroom instruction.
Classes are made up of half-hour audio lessons, for a total of more than 120 hours of lesson time per level. Lessons are organized in the form of conversations between a learner and a native Spanish speaker. Following that, the dialogue is broken down and the grammar and vocabulary are explained.
Rocket Spanish also keeps track of your progress and lets you speak and even record your voice in a roleplaying scenario. After each lesson, you can assess your knowledge and rate how easy or difficult it was.
The best part is that it teaches you not only the language but also the culture that surrounds it.
FluentU
Pricing: Free trial, $11.99 – $29.99/month
FluentU is an excellent option for learning Spanish through an immersion-based program that is tailored to your needs. The authentic content exposes you to the language as it is spoken in real life, assisting you in learning more natural speech.
FluentU provides a versatile way to improve your Spanish skills. You decide what you want to learn and how fast you want to learn it. You can improve your Spanish regardless of your current skill level by watching authentic video content.
FluentU includes an adaptive testing system as well. Quizzes transform videos into Spanish lessons by incorporating images, video clips, and example sentences into exercises and flashcards.
BaseLang
Pricing: $149/month
There is no better program for native speaker tutoring if you are willing to pay the relatively high fee. BaseLang is best as it is based on having unlimited Spanish classes with native teachers, and it is extremely effective at improving your conversational skills.
It has two programs: Real-World and Grammarless, as well as a Spanish curriculum to accompany these courses and the ability to track your progress. Real-World is a more relaxed option, whereas Grammarless is a more intensive program that claims to get you to conversational in a month.
Access to unlimited tutors is also very flexible—you can book classes at the last minute and choose essentially any lesson length you want. You get the first week for free, then pay monthly for Real-World and one-time for Grammarless.
LingQ
Pricing: Free plan, $7.99 – $12.99/month
LingQ excels in its wide range of audio recordings, videos, and podcasts, making it ideal for those who prefer to learn through a variety of media. You will also have access to a forum and a language-learning community. If you can't decide what kind of material you want to learn, LingQ might be the app for you.
It has a large library of audio and video materials, as well as the ability to import any other Spanish materials you find on the internet. You will have an entire community of language learners to lean on for help and advice, and you will be able to attend group classes and one-on-one lessons virtually.
Babbel
Pricing: $7.45 – $11.15/month, $349 Lifetime plan
Babbel is a good place to start if you want a practical, well-structured Spanish course. Babbel focuses on practical language usage, emphasizing instruction in real-world vocabulary rather than just teaching random words.
Each lesson lasts approximately 10-15 minutes, is created by a team of experienced linguists, and focuses on a specific concept or vocabulary theme. The exercises help you memorize the content by combining text, audio, and images.
According to the Common European Framework of Reference, lessons range from A1 (beginner) to C1 (proficient). However, you can move around the different levels.
Transparent Language
Pricing: $24.99 – $49.95/month, $149.95 – $249.95/year
Transparent Language is a flexible but well-structured program that uses exercises and methods to allow you to practice all language skills. You can study Castilian or Latin American Spanish.
Transparent Language provides online Spanish programs for students ranging from beginners to advanced levels. You will learn the skills you need to understand and communicate in Spanish by practicing typing, speaking, writing, and reading.
The program also employs game-like learning methods, and the app is compatible with touchscreen devices, making it an appealing option for any Spanish learner.
Memrise
Pricing: Free plan, $8.49/month, $29.99/year, $119.99 Lifetime
Memrise is an effective program for those of us who learn vocabulary visually. However, the language skills you can practice are somewhat limited, making it unsuitable for advanced learners.
Memrise employs flashcards, quizzes, questions, and interactive resources such as natural speaking clips to help students learn. You can achieve that native tone, improve your memory, and sharpen your listening skills all in one place with this combination of methods.
The content is memory-focused, and you can access plenty of it with a free account. It was founded by a memory expert and a neuroscientist. Memrise is a great supplement to your Spanish learning and is a popular choice for many beginners to intermediate learners looking to build a solid foundation in Spanish vocabulary.
Coursera
Pricing: Free, with some pricing options
If you don't mind sifting through the Coursera database, you can find some really useful Spanish courses for free. Coursera provides several Spanish online courses for students.
Although there isn't as much variety for complete beginners, if you're an intermediate or advanced learner, you can access some excellent courses from reputable institutions on this platform.
Despite offering courses from top universities, Coursera provides more flexibility than a traditional college course because you can work at your own pace to become fluent in Spanish.
Mango Languages
Pricing: $7.99 – $17.99/month
Mango Languages uses repetition to teach vocabulary from the ground up. A native speaker will teach words and phrases, frequently asking the learner to recall and pronounce the words.
You can learn Castilian or Latin American Spanish (or any of the other 70 languages available), and the lessons are relatively short, you can complete them whenever you have a few minutes to spare.
Notes in Spanish
Pricing: Free, with $97 – $ 247-course packs available
A great option for auditory learners who want to learn about Spanish culture. Notes in Spanish began as a podcast about Spanish culture, food, and a variety of other topics for beginners to advanced speakers. These can both broaden your knowledge of the world and of the Spanish language.
The audio episodes are free, but you can buy worksheets and other materials to go with them.
Apart from these, you can look for Spanish teachers online to learn Spanish in a much-organized manner. We recommend you enroll with italki. Here, the teachers will make you learn Spanish based on your learning goals and current knowledge level.
Find Your Perfect Teacher
At italki, you can find your Spanish tutor from all qualified and experienced teachers. Now experience the excellent language learning journey!
Book a trial lesson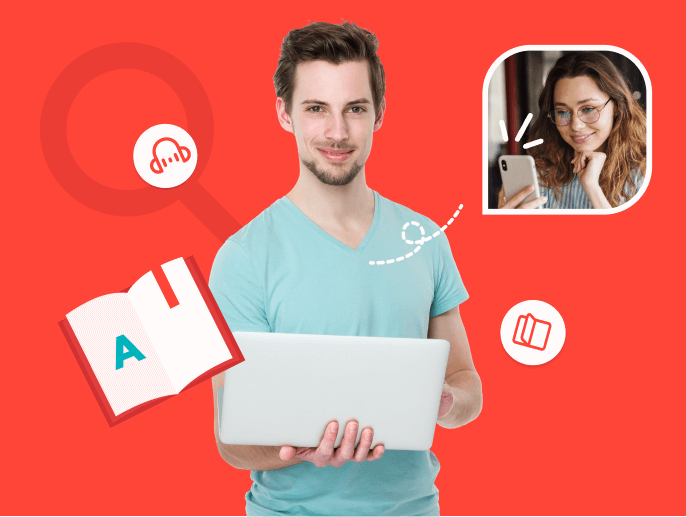 Frequently asked questions
Q. What kind of Spanish course fits best for me?
A. Some lessons include placement tests, while others are level-specific. Before enrolling in a course, ensure that it meets your requirements.
Q. Would I Benefit From a Spanish Online Course?
A. Online courses are typically less expensive than in-person classes, and you have the added benefit of being able to access your course from virtually any location at any time.
Q. What will an online Spanish course teach me?
A. The content and method of instruction in online Spanish courses vary. In general, you can expect to learn common vocabulary, pronouns, and verb conjugation, as well as basic grammar.
Conclusion
In this guide, we have highlighted some of the best online courses to learn business Spanish. Along with these, you can also look for the best Spanish dictionary apps to understand the meanings of difficult Spanish words and get them translated into your native language.
Start by learning the Basics such as how to say how are you in Spanish and try incorporating such phrases and words in your daily conversations. Stay curious and happy with Spanish learning!
Find Your Perfect Teacher
At italki, you can find your Spanish tutor from all qualified and experienced teachers. Now experience the excellent language learning journey!
Book a trial lesson